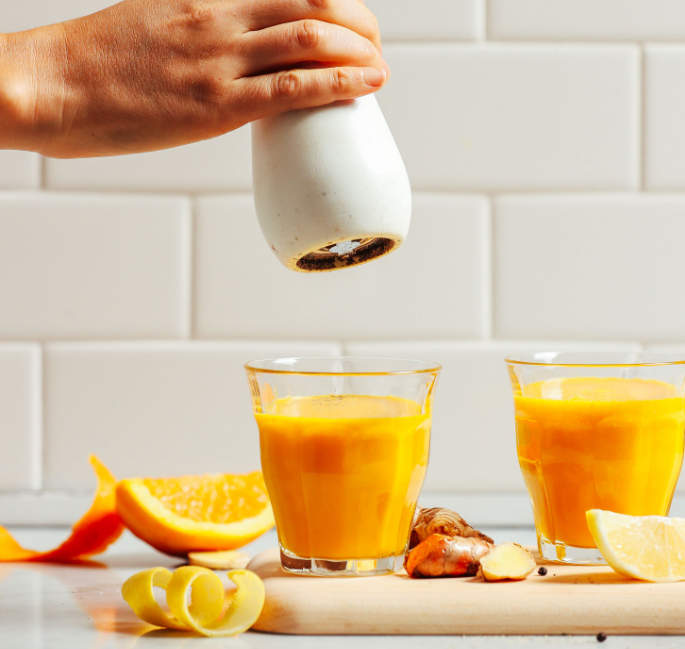 Best Ginger Turmeric Wellness Shot Recipe
Jump start your day with an anti-inflammatory Ginger Turmeric Wellness Shot – full of ingredients like immunity boosting fresh ginger, turmeric root, lemon, pepper and honey. All you need is 5 minutes and a blender to make this cost effective Ginger Shot at home.
In Indian households, ginger and turmeric are touted as a "cure all" for just about any ailment. Sick? Haldi doodh (turmeric milk) and ginger honey tea. Bloated? Ginger tea. Bad skin? Turmeric face mask. Overall wellness from natural ingredients is embedded in Indian cuisine, culture, and medicinal remedies.
Ginger turmeric shots are a great way to incorporate the health benefits of ginger and turmeric into your daily routine. Here's a simple and effective recipe for a ginger turmeric shot:
Ingredients:
1-inch piece of fresh ginger
1-inch piece of fresh turmeric root (or 1 teaspoon of ground turmeric)
1 small lemon
a pinch of black pepper (to enhance turmeric absorption)
a teaspoon of honey or maple syrup (to sweeten, if desired)
Method:
Peel the ginger and turmeric, then chop them into small pieces for easy blending.
Squeeze the juice of the lemon into a blender or use a citrus juicer to extract the juice.
Add the ginger and turmeric pieces to the blender along with the lemon juice.
If using ground turmeric instead of fresh turmeric root, add it to the blender as well.
Add a pinch of black pepper to enhance the absorption of turmeric's active compound, curcumin.
Blend all the ingredients until you get a smooth and well-combined mixture.
Strain the mixture using a fine-mesh strainer or cheesecloth to remove any fibrous bits.
Add a teaspoon of honey or maple syrup to sweeten the shot, if desired.
Pour the ginger turmeric shot into small glass bottles or an airtight container for storage.
Store the shots in the refrigerator and consume within 3-4 days for maximum freshness and potency.
Remember to shake the shot well before consuming, as the ingredients may settle over time. It's recommended to start with a small amount (1-2 ounces) and gradually increase the quantity as per your tolerance and preference. Enjoy the shot as a daily health booster, preferably on an empty stomach in the morning for optimal absorption.