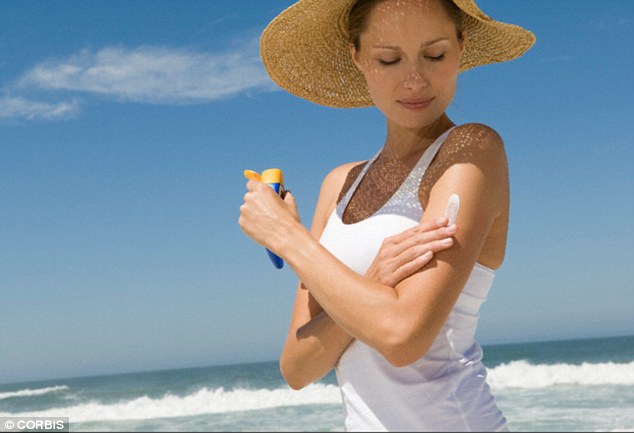 In tropical countries, sun protection is absolutely necessary to protect the skin. Intense UVA/ UVB rays can wreak havoc on your skin causing hyperpigmentation, premature aging, skin cancer and sunburn. Unfortunately, sunscreen and sunblock are known for being sticky, leaving the dreaded white cast and feels heavy to the skin. Here are the most highly rated sunblocks and sunscreens, easily found in Indonesia:
Skinaqua Moisture Gel SPF 30 PA+++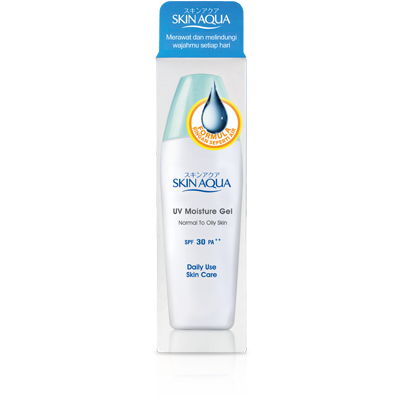 Light formula similar to water.
Contains SPF 30 PA ++ for dual protection against UV-A and UV-B rays,
Improved Hyaluronic Acid and Collagen that moisturizes, softens and maintains skin elasticity
Vitamin B5, E and C which nourishes the skin.
Skinaqua is a popular sun protection series in Indonesia that provides different types of sun protection from  brightening, moisturizing to sensitive skin. Amongst all of the types, one of the most popular type is the Moisture Gel SPF 30 PA+++.
Many have testified that this sunscreen does not break them out, gives no white cast and easily absorbs into the skin. However it can feel sticky on the skin and looks shiny, which is why reviewers recommend a light touch of powder.
Innisfree Eco Safety No Sebum Sunblock SPF 35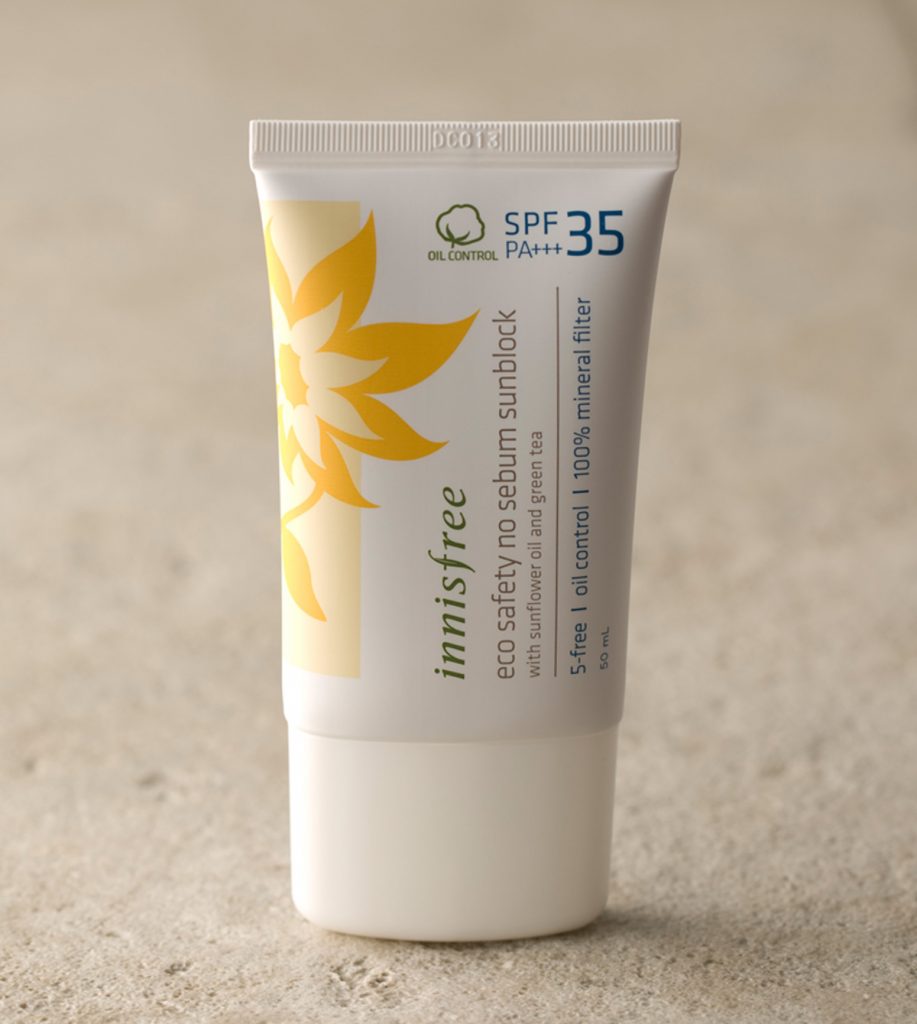 A mild, smooth sunblock with ECOCERT organic sunflower oil to keep skin healthy.
Innisfree Eco Safety No Sebum Sunblock SPF 35 PA+++ is highly rated by people with oily skin. It is said to be mattifying, non-sticky, absorbs easily into skin and offers good oil control. Its pore-filling properties also meant that this product would make a great primer before applying makeup. Despite all of its benefits, this product leaves a slight white cast to its wearers.
This sunblock is not ideal for people with dry skin as many claimed that it was too drying.
Biore Aqua Rich Watery Essence SPF 50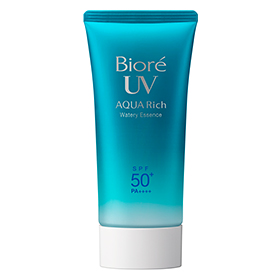 New Improved Biore UV Aqua Rich Watery Gel SPF 50+ PA++++ gives you longer lasting UV protection with its new waterproof and sweatproof formula! It has strong resistance against water and perspiration and high staying power on skin with UV veil. It also contains Hyaluronic Acid, Royal Jelly Extract & Citrus extract to keep skin hydrated and can be used as a makeup base. Light, watery texture that is easily absorbed and does not leave any sticky after feel. 
This product is water-based and boasts high SPF-protection. It is therefore the ideal sun-protection for oily skin. According to many reviewers, Biore Aqua Rich Water Essence leaves no white cast, can be easily absorbed, doesn't break skin out, irritate skin or alter makeup. It is also said to have a light texture which is easy to blend, giving wearers the comfort as if they're not wearing anything on their face. Other than these benefits, it also wears nicely under makeup.
Girls with dry-skin reportedly like this product as well, because it doesn't dry out their skin but hydrates it.
Parasol Face Sunscreen Cream SPF 33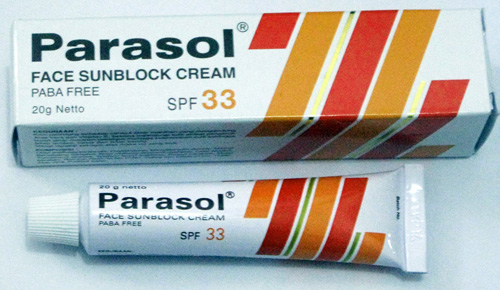 A sunscreen that protects against the sun with aloe vera & vitamin E. It protects the skin from being damaged by the sun and keeps the skin moist, soft and smooth. It can also be used as a good makeup base.
For those with sensitive skin, Parasol SPF 33 would be the perfect sun-protection product for you. Recommended by doctors, this sunscreen is said to protect the skin from harmful UV rays and is safe for those with sensitive and acne prone skin. The texture is said to be thick with a matte and non-greasy finish, which can be easily absorbed into the skin.
Over time, people with oily skin will likely experience a slight greasiness while people with dry skin will experience drying and patchiness as a result of its matte finish.
Wardah Sunscreen Gel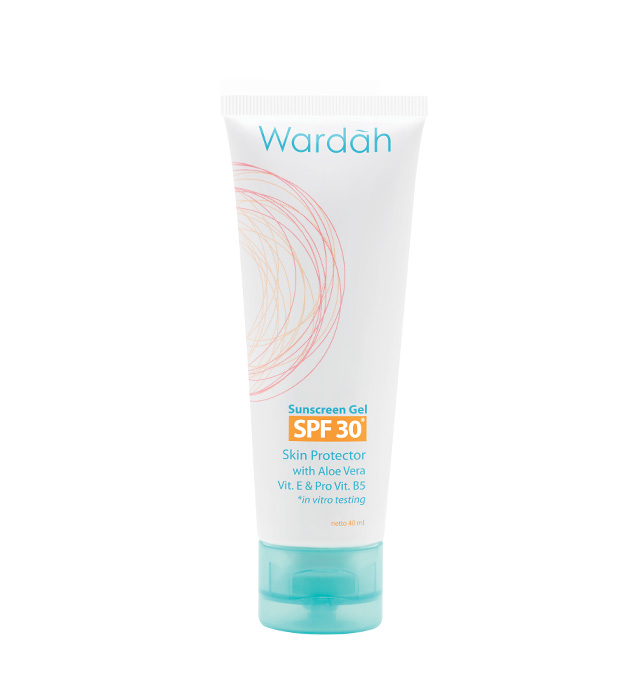 Double action; protect the skin from exposure to sunlight and moisturizes the skin. Formulated into a mild and soft gel form. Comfortable to use and not sticky.
Wardah is a local halal cosmetics brand in Indonesia, in which one of its well-known products including halal sunscreen gel. Many Muslims use because of it's halal claim, although its sunscreen gel is generally suitable for people with drier skin. This product doesn't dry out the skin nor does it contain oil-control properties, which makes it too greasy for oily skin. It leaves a slight white cast, which it fades after a while.
Sebamed Multi Protect Sun Cream SPF 50+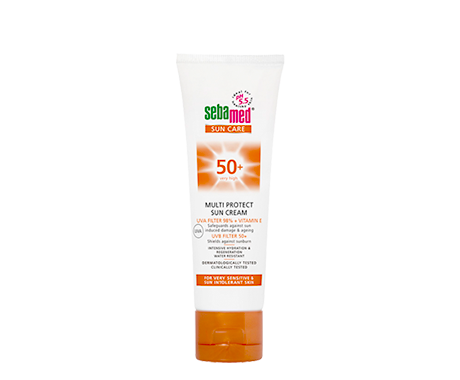 Available in SPF 15, 20, 25, 30, 50 and 50+
UVA protection: 98 % UVA absorption (higher than Australian Standard)
Perfumed or non-perfumed
Alcohol free
Free from paraffin, parabens, PEG bonds and PABA esters, acrylamide
Other than Parasol, Sebamed is also a sunscreen brand that doctors would recommend. Although it has a heavy texture, it is easily absorbed into the skin. It claims to moisturize dry skin, while people with sensitive and acne-prone skin wore it as it does not irritate or cause pimples.
However, people with oily skin may not like this product, as some say it is too greasy for their skin.
Vaseline Healthy Sunblock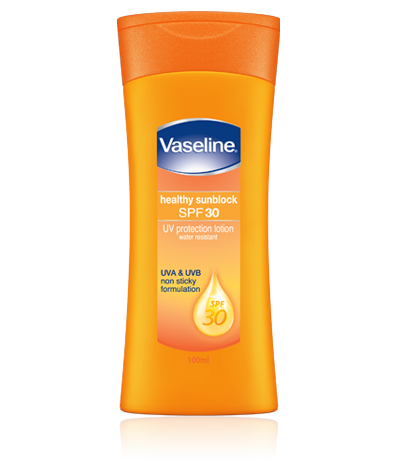 Water resistant sunblock for healthy looking skin and sun-protection.
One of the most highly recommended sunblock for body and face is the Vaseline Healthy Sunblock SPF 30. Despite taking 15 minutes to be fully absorbed into the skin, this product is touted as lightweight. Users of Vaseline healthy sunblock also note a slight white cast that disappears a while after the application.
Even though most people prefer not to wear sunscreen or sunblock because of the stickiness, sun-protection is absolutely necessary. Tropical climate in Indonesia is not limited to seasons nor areas. Office workers in a building should also wear sun protection as UV rays can penetrate glass windows and affect your skin's health.
Which is your favorite sun protection cream/gel/lotion?