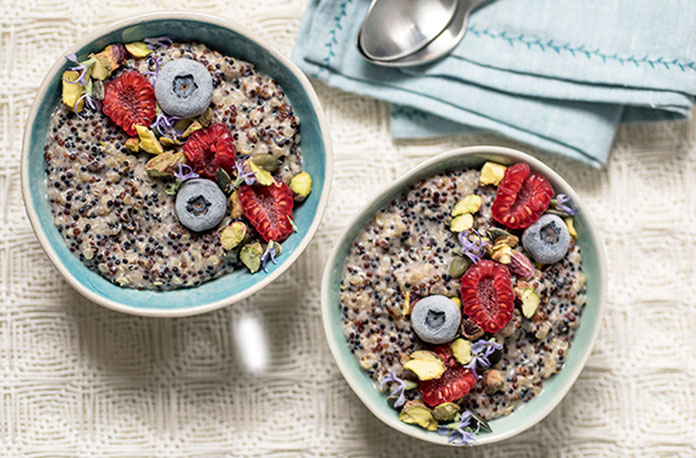 People all over the world are obsessed with finding that magical pill in order to stay younger, feel fresher and live longer. Yet it's a combination of factors found in blue zone areas is what makes its citizens live longer.
Blue Zone 
Blue zones is a term coined by Dan Buettner to refer to "zones" in the world with the longest average life expectancy. The areas referred to are Sardinia, Italy; the islands of Okinawa, Japan; Nicoya Peninsula in Costa Rica; Ikaria, Greece; and Loma Linda, California. Though at first glance any of these regions don't share much in common, but one factor that's similar is having a big, balanced breakfast that consists of plant-based foods.
Tropical Black Bean, Cheese, and Papaya Burrito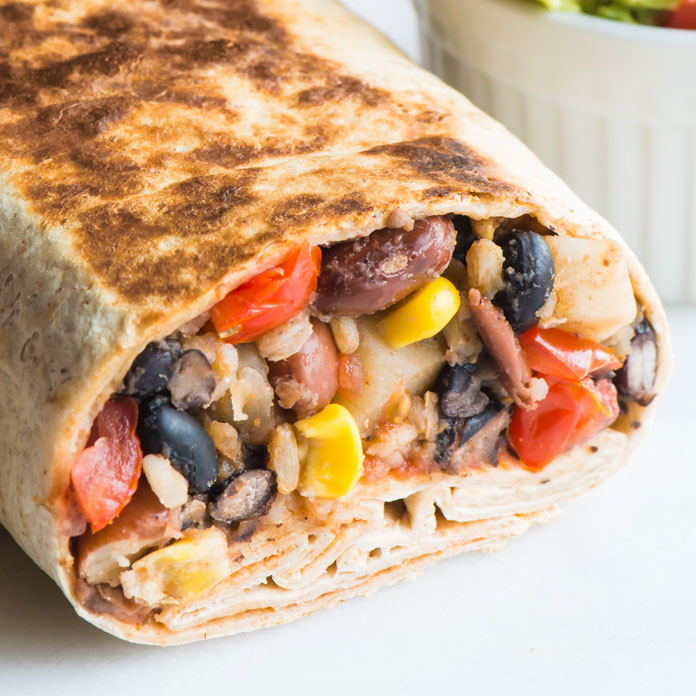 Ingredients:
5 oz Fresh Express Baby Spinach
1/2 yields Lime Juice Raw
2 garlic clove
1/2 tsp sea salt
15 oz Canned Black Beans
1 cup Salsa, Chunky, Hot
2/3 cup Papayas
3 stalk scallion(s)
1/4 cup fresh cilantro
6 Sprouted Whole Grain Tortilla
6 oz shredded Monterey jack cheese
Method:
1. Add spinach, lime juice, garlic, and salt to a food processor. Cover and pulse until minced. Transfer to a small bowl. Set aside.
2. Stir together the beans, salsa (drained of excess liquid), papaya, scallions, and cilantro.
3. Top each tortilla with the Monterey Jack cheese (or vegan cheese), spinach mixture (drained of excess liquid), then the bean mixture. One at a time, fold in sides of burrito and roll up tightly. Wrap tightly in unbleached parchment paper, then in aluminum foil, and freeze.
4. To enjoy one burrito, remove the foil and leave wrapped with the parchment paper. Place on a microwave-safe plate. Microwave on HI for 2 minutes and flip over. Microwave until done, about 1 1/2 minutes more. Microwave times vary. Enjoy with a fork and knife. (Hint: If desired, serve with additional papaya, a side salad, or guacamole.)
Sunshine Smoothie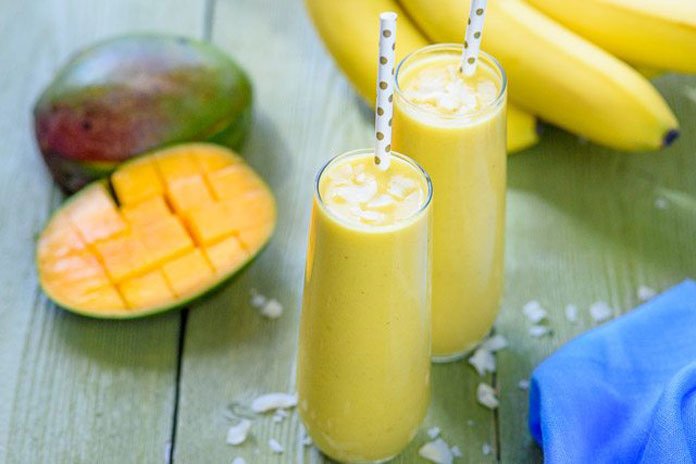 Ingredients:
1/2 cup Lifeway Lowfat Kefir
1/2 cup Frozen Mango Chunks
1/4 cup cottage cheese
1 tsp pure vanilla extract
1 oz almonds
1 Ice Cube
Method:
1. In a blender combine kefir, frozen mango, cottage cheese, vanilla extract, almonds and ice.
2. Blend until smooth. Add more ice cubes if thicker consistency desired.
Smoked Salmon Avocado Toast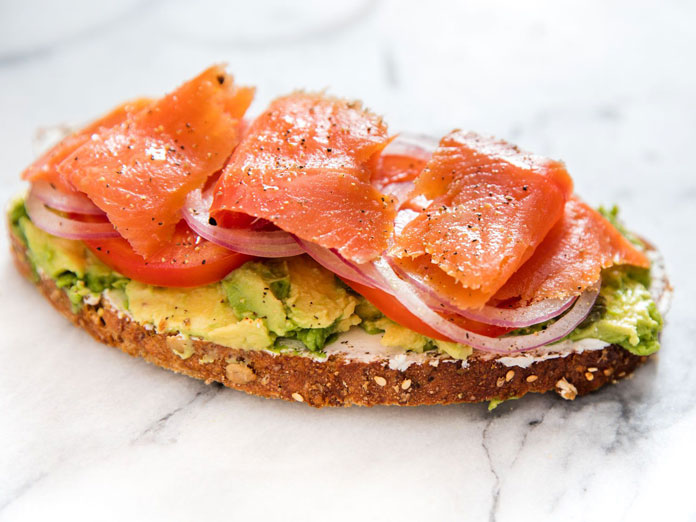 Ingredients:
2 slice Sprouted Whole Grain Bread
1/2 medium avocado
3 oz Smoked Salmon
1 pinch Perfect Pinch Salt Free Garlic & Herb Seasoning
Method:
1. Toast the two slices of bread and peel the avocado, spreading evenly between the two pieces of toast.
2. Sprinkle the avocado with the seasoning and top with wild salmon.
Carrot Cake Oatmeal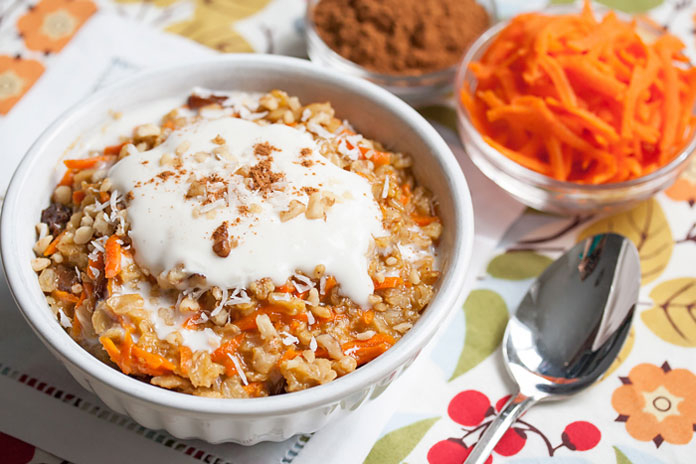 Ingredients:
1/3 cup Old Fashioned Oats
1 cup Unsweetened Vanilla Almond Milk
1 tsp Chia Seeds
1 oz Walnuts, Chopped
2 tsp Coconut Sugar
1 tsp Cinnamon, Ground
1/4 tsp Nutmeg (Ground)
1/4 tsp Spices, cardamom
1/4 cup Grated Carrots
Method:
1. Pour the almond milk, spices and grated carrots into a sauce pan on medium heat. Bring just to a boil, reduce heat to low, and simmer for 3 minutes.
2. Add the oatmeal and simmer, stirring continuously, for 5 minutes (or until the oatmeal takes on your desired texture). Remove from heat.
3. Stir in the coconut sugar and walnuts, then serve immediately.
Quinoa Porridge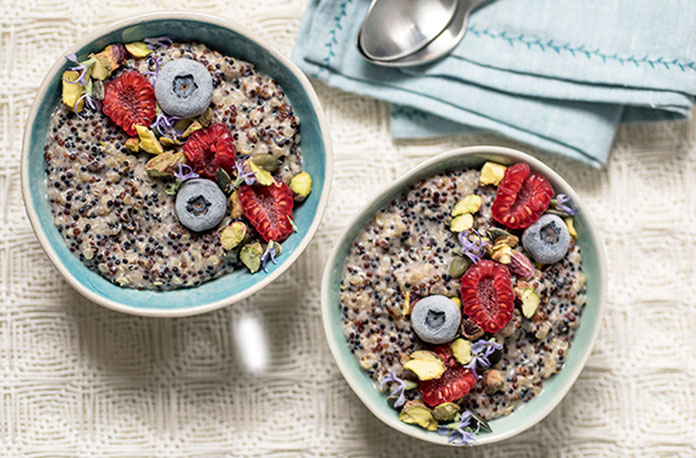 Ingredients:
1/3 cup dry quinoa
1/4 Medium Apple
1 tbsp Golden Raisins
1 tbsp Natural Almond Butter
3/4 cup cup of milk
1/4 tsp Cardamom
1/4 tsp Cinnamon, Ground
Method:
1. Add the quinoa, chopped apple, golden raisins, almond butter, whole milk, cardamom and ground cinnamon to a medium saucepan.
2. Cook the quinoa according to manufacturers directions (using milk, instead of water).
3. This dish can also be enjoyed warm or cold the next day.
Savory Tuscan Oatmeal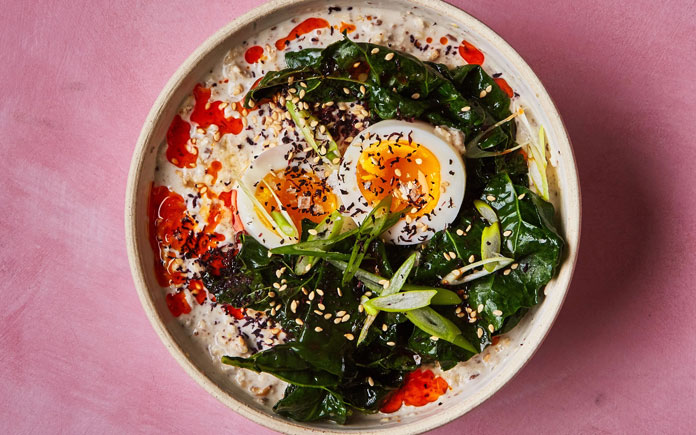 Ingredients:
1 tbsp olive oil
1 medium red onion
3/4 tsp sea salt
1 garlic clove
2 cups low-sodium vegetable broth
14 1/2 oz Fire Roasted Diced Tomatoes
1 cup dry gluten-free oats
15 oz No Salt Added Cannellini White Kidney Beans
5 oz Kales, Mixed Baby
3/4 tsp fresh rosemary
1/4 cup Parsley
3 Lemon Wedge
Method:
1. Heat the oil in a large saucepan over medium-high. Add the onion and 1/4 teaspoon of the salt and sauté until the onion is softened, about 2 1/2 minutes. Add the garlic and sauté until fragrant, about 30 seconds.
2. Add the broth, diced tomatoes (including all the liquid), and remaining 1/2 teaspoon salt and bring to a boil. Add the oats, beans, kale (or mixed greens), and rosemary, reduce heat to medium, and stir until the oats are fully cooked, about 5 minutes.
3. Transfer to bowls, sprinkle with the parsley leaves, and serve with the lemon wedges.
Crunchy Spiced Chickpea Toast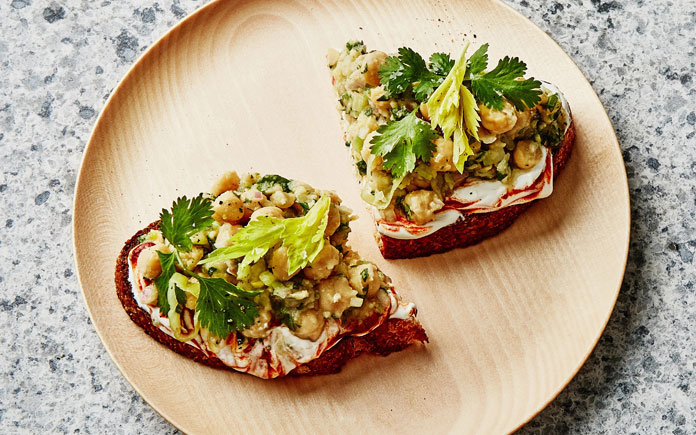 Ingredients:
2 slice Whole Wheat Sourdough Bread
1 Avocado
1/4 cup Roasted Chickpeas
1/4 tsp Feta Cheese
1/4 tsp Cayenne
1/4 tsp Ground Ginger
1/4 tsp Cinnamon, Ground
5 leaf fresh mint leaves
1/4 tsp Salt
1 tbsp lemon zest
Method:
1. Spread mashed avocado onto both slices of sourdough.
2. Toss roasted chickpeas with salt, cayenne, ginger and cinnamon.
3. Top chickpeas on toast.
4. Garnish with feta cheese, chopped mint leaves and lemon zest
Which recipe are you most interested in trying? Share your opinion in the comments section below!