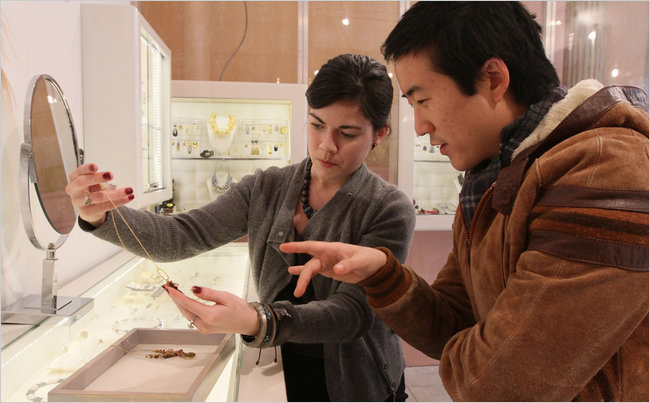 Buying jewelery requires a thought process. Whether you want to purchase it for a formal or informal occasion, it must also be versatile enough to be used with various colors. Which is why this list is necessary so that you will not make any rash decisions during your purchase.
General Tips
Different styles rule jewellery buying for wedding and other occasions. While for formal occasions, women are experimenting with unconventional designs, styles and branded jewellery, the wedding jewellery designs are unchanged traditional, heavy sets of gold, diamonds and pearls.
Choose jewellery according to your lifestyle and dressing habits. It may not be advisable to wear heavy jewellery with a slinky Western gown or vice versa.
Vast differences in the prices reflect quality variations. So, do not get carried away by a throwaway deal. Use your mind. Question yourself before buying anything.
When ever you are buying or selling jewellery, you should always shop around for the best price.
In buying gold jewellery, always insist on a guarantee card specifying the karatage of gold. Also remember that gold purity is defined in K or KT, not CT (as often used by jewellers). In case of discovery of fraud on gold karatage you cannot hold on to a guarantee card wherein the purity is defined as CT.
Todays look is glossy. The more they glitter, the better it is. You can buy diamond embedded pendants much more attractive than the chunk of gold hanging from a gold chain. Look for a good craftsman, as their setting is critical. A platinum finish is preferred for this effect. The white look has staged a comeback, after a spell of yellow gold settings. The idea behind it is that platinum being a very hard metal by nature proves to be the most apt to set diamonds, be they small or big. Moreover its fineness is 950 components to 750 for yellow gold, the ideal caratage to set diamonds.
Multicoloured metal settings using platinum are good for designer diamond wear. Besides, the popular 2 stone studded jewellery of yellow and white, multiple colour combinations are now in vogue making use of red, ash, pink and other colours of gold.
Huge necklaces which have more metal than the gemstones studded in them are out. Also gone are the designs with simple floral and vineyard creeper designs where the stones are scattered to give the ornament a good surface area. The girl of today does not believe in snobbish and bulky jewellery. Sleek, trim and suitably studded necklaces clinging to the collar-bone are the most wanted ones. Diamond necklaces today have gemstones in proportion to the precious metal used. The most upmarket ones have the precious metal hardly visible and are studded right to the clasp.
Modern motifs in abstract designs, making use of geometric inspirations from various sources, are in.
Diamond studded watches are in vogue. Even men love to sport a diamond watch. Although an original diamond-studded Swiss watch piece may cost more than a million rupees, an inexpensive alternative is to get one made from a jeweller.
Buying necklaces for a bride are a tricky affair. It is still typical of any Indian wedding to have a heavy set of gold, diamonds and pearls. Look for good craftsmanship no matter what you choose.
The diamonds will be expensive, but going in for smaller sizes and reasonably sizes and reasonable good quality would enhance the look of jewellery piece. If you can have the earring and the tika of the set designed in detachable format, you will be able to use it later with lighter jewellery.
Do not blindly follow trends, fads and fashions in jewellery. Expensive items like gold, diamonds and sapphires are not only beauty enhancements but a sound investment one which you do not dispose of when the particular design is out of vogue.
Look towards the culture of India. These traditional and inexpensive pieces of jewellery can be moulded by your jeweller in a more expensive setting to enhance your glamour.
Choose or order unusual settings which will create designs with a difference. Sparkling gemstones in novel settings or combined with semi-precious stones will give your jewellery a futuristic look.
Buy a lot of smaller diamond pieces. They can be worn on any occasion with any dress. The slight roughness of these is preferable to the symmetrical roundness of larger pearls, though they are, much more difficult to choose.