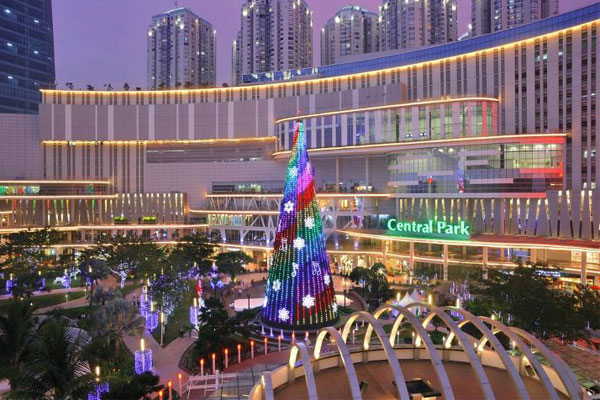 Most expatriates prefer to return to their home countries in order to celebrate Christmas with family and friends, however for those who cannot or choose not to do so, Christmas celebrations in Jakarta can still be festive and memorable.
Although Christians make up only about 10% of Indonesia's population, there is still a lot of evidence of the Christmas season in shopping malls and hotels most of which are decorated with a Christmas theme during the weeks leading up to the holiday. Christmas music can be heard in the shopping malls and on the radio, and even the local Indonesian TV stations carry special Christmas programs. Christmas day is a national holiday in Indonesia, and the international schools all have breaks of at least three weeks in December and January.
On Christmas Eve or Christmas Day foreign-language churches hold worship services that are open to the public. The expatriate community organizes many special activities such as carol singing, Christmas parties, gift exchanges, special musical performances or concerts, and visits from Santa Claus with opportunities for children to be photographed with Santa ideal for sending to family and friends back home.
As an expatriate family, you may try to recreate Christmas as closely as you can, according to the traditions of your home country. Or else you may choose to create new traditions for your family during their stay in Indonesia. You may even choose not to limit yourself to customs and traditions from home, as part of the experience of living overseas is discovering and enjoying the customs and traditions of other nationalities within the expatriate community.
To recreate a traditional Christmas in Jakarta it is easy to find most of the special foods and Christmas goodies you will need. Supermarkets stock turkeys, cranberry sauce, hams, Christmas puddings and cakes, Weihnachtsstollen, candy canes and other delicacies. Tropical pine trees as well as artificial Christmas trees can be purchased and many beautiful decorations can be found in Jakarta for trimming the tree. A huge variety of Christmas cards is available in shops, most of them with greetings in English. Sending holiday greetings to family and friends at home can also benefit local charities if you buy greeting cards with an Indonesian flair create by groups such as Maranatha and Unicef available through many of the expatriate women's organizations.
Christmas bazaars organized by the various community groups help their members and the expatriate community in general get into the holiday spirit and make it easy for shoppers to find whatever they need for Christmas as well as interesting gift items. An amazing variety of goods and handicrafts from throughout Indonesia and from many other countries can be found at these bazaars, including decorations of various kinds, Christmas crackers and stockings.
Many expatriates also opt for new and different ways to celebrate the holidays during their stay in Indonesia, such as Christmas at the beach or at Puncak where the cooler climate may inspire them to light a fire in the fireplace while hanging up the family's Christmas stockings.
Although they are generally not Christian, household staff usually enjoy the Christmas atmosphere in the home, and it is a nice gesture to include them by placing a small gift for each one under your tree.
Hotels and restaurants in Jakarta offer special Christmas lunches or dinners, and holiday treats in their bakeries throughout the festive season, and many of them cater particularly for children. Christmas is, above all, a time for children and it is important for them to be reassured that even though they are far from home, Santa Claus, Father Christmas or Sinter Klaas will find their new home in Indonesia and deliver the anxiously awaited gifts. He may have to find another way in, as Jakarta houses have no chimneys! But we all know that Santa is very adaptable and inventive!
We wish all of our readers a very happy and peaceful Christmas!
Provided by: Colliers International