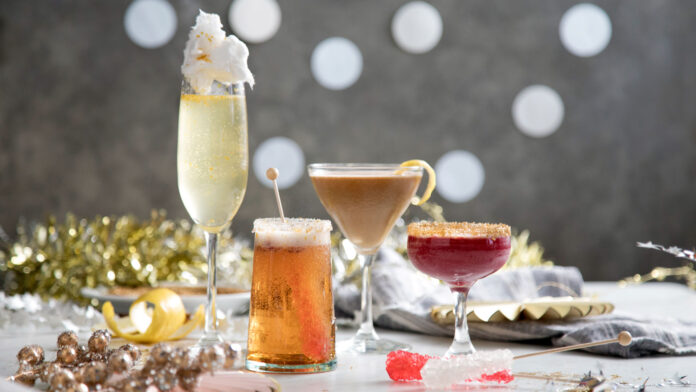 Cocktails to make your New Year's eve party unforgettable
December 31 is one of the most exciting and hopeful nights of the year: The New Year is full of limitless potential and so are you. Since holiday parties are back in full swing, it might be your turn to throw together a glitzy and glamorous New Year's Eve party, so you need a cocktail menu that will keep the spirits bright. Whether you're an amateur mixologist or a certified home bartender, with the right tools and ingredients, you can serve a luxurious list of liquor-based beverages for the 21-and-up crowd as the ball drops and "Auld Lang Syne" plays you into 2024.
What do you need to make New Year's Eve cocktails?
New Year's Eve is the perfect opportunity to make an array of classy and seasonal drinks that will satisfy everyone's taste. Champagne and other similar bubbly white wines are a NYE staple, with millions of glasses being raised at midnight. Sparkling white wine makes a lively ingredient in many light and refreshing drinks that are perfect for December 31. Wintry favorites like mulled wine or cinnamon-tinged classics are also unique and uplifting, and with the proper recipes, instructions, equipment and components, you can create cocktails that will captivate the crowd.
Common ingredients include
• Prosecco: This Italian sparkling white wine is one of the most common substitutes for champagne, which might be out of your budget. It's dry, bubbly and makes a great topper to add fizz to your cocktail.
• Gin: One of the most popular drink bases, this botanical-forward spirit is popular for many boozy or refreshing cocktails. It's the heart of a good martini and adds a punch to drinks like the French 75.
• Vodka: This spirit has a neutral taste that makes it ideal for making a drink stronger without adding any additional flavors. On the other hand, flavored vodka can liven up a drink while supplying it with that extra boost of booze.
• Red wine: While sparkling white takes center stage on NYE, red wine is the central ingredient for a warm and wintry mulled wine punch.
• Apples, spices and other additions: Seasonal drinks during the cold months typically feature mulled spices like star anise, cloves and cinnamon sticks, while some also call for apples, orange peels, apple cider or ginger.
• Brandy: Distilled wine is the primary component in this spirit, but some brandies are flavored with apples, pears, plums or other ingredients. It's sweeter and less boozy than spirits like whiskey, making it ideal for lighter cocktails.
Equipment you may need includes
• Bar tools: In order to make tasty cocktails, you'll need the tools to measure, mix, shake and serve. You can purchase tools like a shaker tin set or mixing glass or you can invest in a handy cocktail tool kit with measuring jigger, mixing spoon and strainer included.
• Spice muddler: There are a couple of options for muddling your spices: a wooden muddler or a mortar and pestle. Both make it easy to crush and mix spices and herbs, so it's simply a matter of personal preference.
• Glassware: Some useful glassware to pick up for New Year's Eve includes Irish coffee-style mugs for hot drinks, stemmed coupes for fancy chilled cocktails and champagne flutes for the midnight toast. Tall Collins and short rocks glasses are also staples for any cocktail menu.
Cocktail Recipes to try:
1. Festive 10 Homemade Infused Alcohol Recipes
2. 5 Mojito Recipes to Try
3. Lychee Mango Martini
4. Watermelon Martini
What is your favorite cocktail drink? Do share in the comments below…