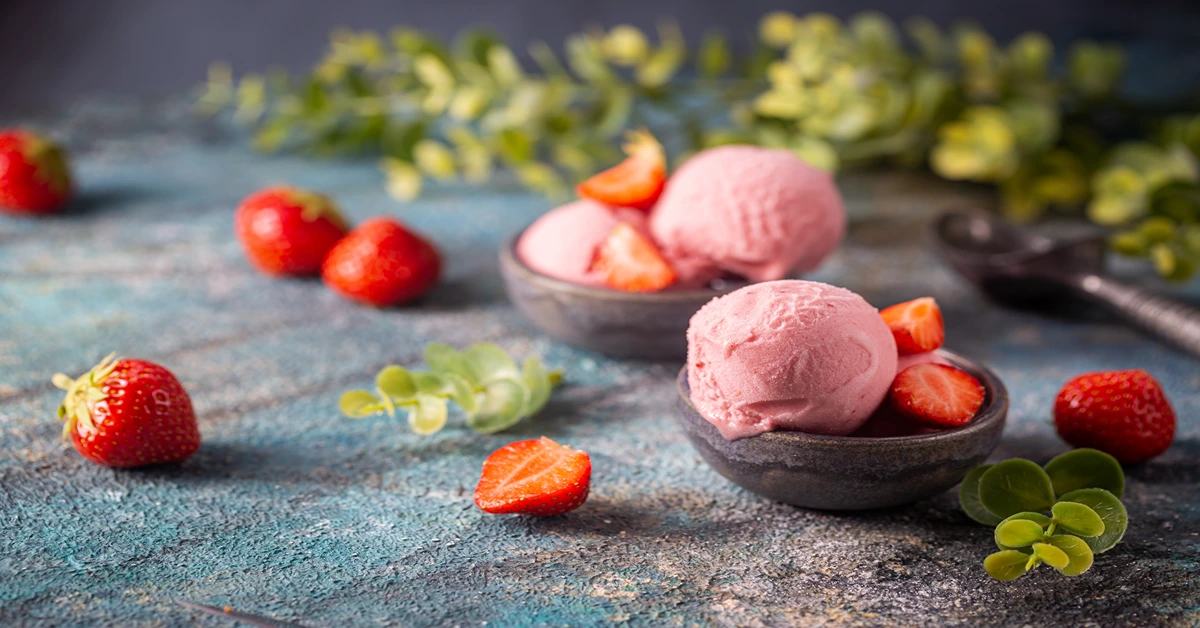 Unlike traditional ice cream, sorbet does not contain any dairy. It is made from a mixture of fruit juice or puree, sugar, and water. The ingredients are combined, churned, and then frozen to create a refreshing and flavorful frozen treat.
Sorbet ice cream comes in a variety of fruit flavors, and it's a popular choice for those who are lactose intolerant or looking for a dairy-free option. The texture is typically smooth and light, with a fruity and sweet taste. It's a great option for a refreshing dessert, especially during warmer months.
Even if an ice cream machine is unavailable, you can experiment with crafting it in your own kitchen using this strawberry sorbet recipe, which demands just 3 fresh ingredients!
Ingredients for Strawberry Sorbet:
3 cups of strawberries
2 tablespoons of genuine honey
1/4 cup of water
Steps for Preparing Strawberry Sorbet:
Take frozen or thoroughly washed strawberries, then introduce them to a blender or food processor for pureeing.
Integrate warm water and genuine honey into the blender. Blend until all components are thoroughly blended without any lumps.
Transfer the mixture into a sealed container and freeze. Allow it to freeze completely.
For a smoother consistency, re-blend the frozen sorbet mixture twice to guarantee flawless texture.
Strawberry sorbet is now ready!
Suggestions for Crafting Strawberry Sorbet:
1.Opt for fresh or frozen strawberries for optimal sorbet outcomes.
2.Dice the strawberries and freeze them prior to processing to achieve a slushy-like texture.
3.After pureeing, return it to the freezer for 40-45 minutes. Retrieve and scoop with a spoon or ice cream scoop until the sorbet is uniformly crushed or scraped off. Repeat this procedure 2-3 times.
Best of luck with your homemade strawberry sorbet, and relish the delightful freshness in each mouthful!