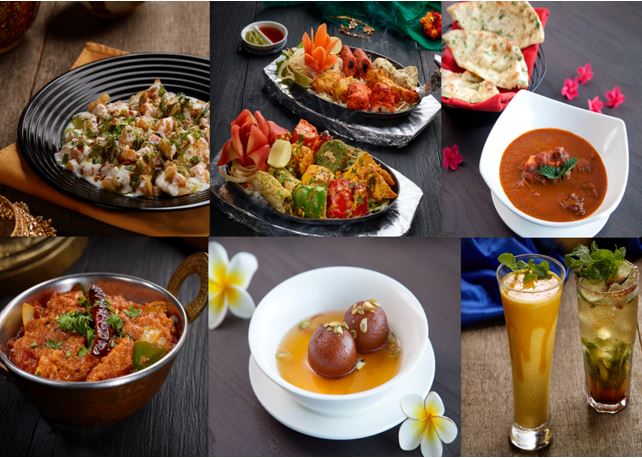 Ganesha ek Sanskriti first opened its doors in 2003, quickly establishing itself as one of the most iconic Indian restaurants in select destinations, across Indonesia. Currently Ganesha operates two restaurants in Jakarta (BRI building &Kemang), two restaurants in Bali (Ubud & Kuta) and one restaurant in Yogyakarta (Sheraton Mustika Hotel).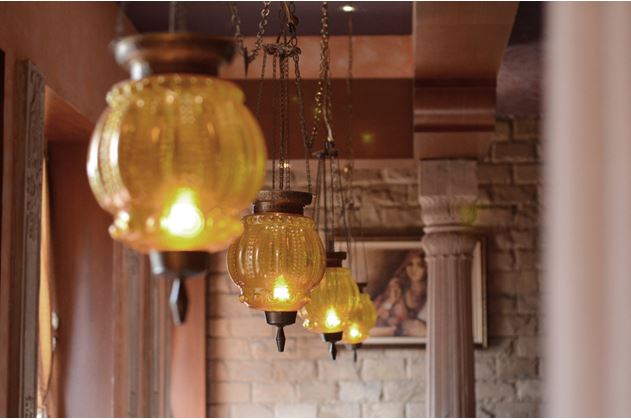 Ganesha ek Sanskriti, stands for Ganesha, a culture. The restaurant aims to not only satisfy the demanding palate of our diners through authentic Indian taste, but also to lead our guests to India through art, music and décor.
Our Favorite Menu Items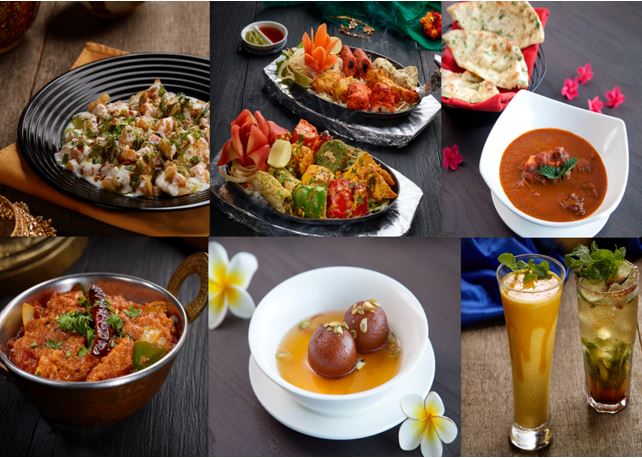 We possess a dedicated team of chefs selectively invited from India, specializing in different aspects of Indian cuisine such as: tandoor, curry, mithai, Indian-Chinese and South Indian delicacies. Our menu encapsulates the diverse flavors across India. As Indians, Chaat is an essential part of life where our team are absolutely fond of the mélange of sweet, savory and tangy sauces in Papdi Chaat.
In addition, one of our most delighted items is the kebab platter. It is essentially, the perfect combination among our tandoori items. We serve Veg Platter which consists of: Tandoori Gobhi, Paneer Tikka, Hariyali Kebab, and Veg Seekh Kebab. Whereas, the Non-Veg Platter consists of: Chicken Tikka, Seekh Kebab, Fish Tikka, Murgh Malai Tikka, and Tandoori Prawn. You can't possibly wrong with a kebab platter and chilled beer on a hot sunny day.
For the main course, our Kadai Paneer and Rogan Josh carry the ability to evoke sense of nostalgia for home-cooked food, which will bring you straight to India (figuratively). Finish your appetite with the one and only undisputed king of Indian desserts: Gulab Jamun.
For drinks we serve a new cocktail called, 'Delhi Crush', which consists of Bombay sapphire Gin, infused with cucumber and coriander, with a dash of chili and lemon. One glass won't be enough. In addition, our signature mocktail called, 'Ganesha Breeze' is a mixture of brown sugar, mint leaves and lime with a splash of ginger ale.
As always, we cook any Indian dish which your heart desires, let us know therefore we can prepare in advance.
Our Services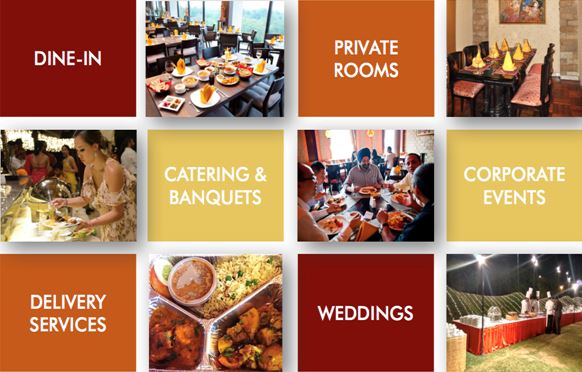 Over a decade we have been demonstrating worth of experience serving individuals, corporations, government entities, and schools. Our team is well-trained in handling diverse occasions. All of our outlets are suitable for in-house parties. Whether it ranges from a small meeting to a large wedding in Bali, we got you covered! We arrange expertises to do both table service and buffet set up.
Ganesha ek Sanskriti also offers outdoor catering services in Jakarta/West Java, Jogja/Central Java, and Bali. In addition we provide you our delivery team available at day and night. Our standard operational hours are from 11 AM – 11 PM. Last but not least, we also have lunch boxes, homemade namkeen packets, and mithai hampers.
For Inquiries please contact Reza Malik at mktg-jkt@ganeshaeksanskriti.com
Current Promotions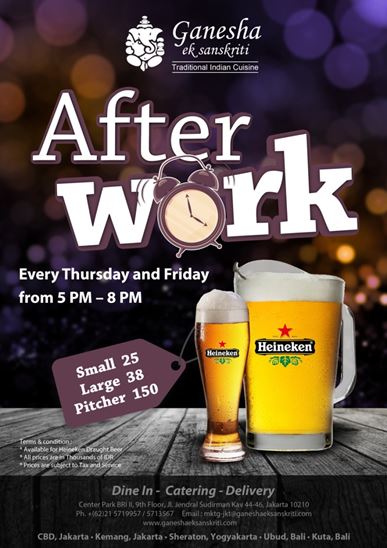 Grab a chilled beer after work for a special price on Heineken Draught!
*Available at Ganesha BRI, Jakarta
*Terms & Conditions applied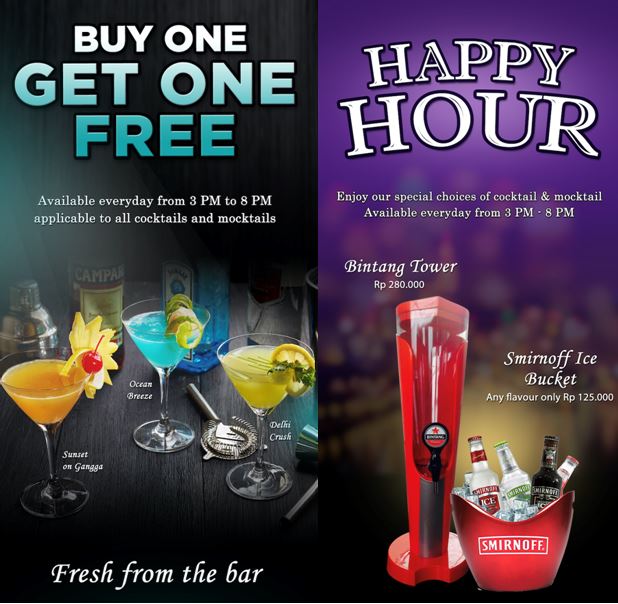 Applicable for happy hour every day from 3 PM to 8 PM
*Available at Ganesha BRI, Jakarta
*Terms & Conditions applied
Our Locations
Ganesha BRI, Jakarta
Center Park BRI II, 9th Floor
Jl. JendralSudirmanKav 44-46, Jakarta
+(62)21 5719415 / +(62)21 5713567
Ganesha Kemang, Jakarta
Kemang Square, 2nd Floor
Jl. Kemang Raya No. 5, Jakarta Selatan
+(62)21 7196836 / +(62)21 7196837
Ganesha Ubud, Bali
Jl. Monkey Forest, Ubud, Bali
(100 meters from Monkey Forest)
+(62)361 4792544 / +(62)361 4792545
Ganesha Kuta, Bali
Lippo Mall Kuta, Ground Floor #01-02
Jl. Kartika Plaza, Kuta, Bali
+(62)361 8978056
Ganesha Yogyakarta
Sheraton Mustika Yogyakarta Resort & Spa, 8th Floor
Jl. LaksdaAdisucipto KM 8,7, Yogyakarta
+(62)274 484253 / +(62)851 00933963