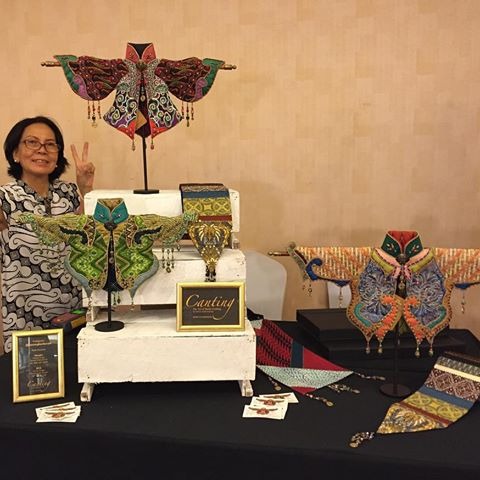 Intricately designed wall hangings or handcrafted beaded mini jackets made from antique batik fabric make exquisite Indonesian souvenirs. The brainchild of Ibu Hartati, who along with her husband, Pak Johannes Ongkosutjahjo and her friends, Lila Noerhayati and Kirono Arundatie, established Batik Canting in 1998.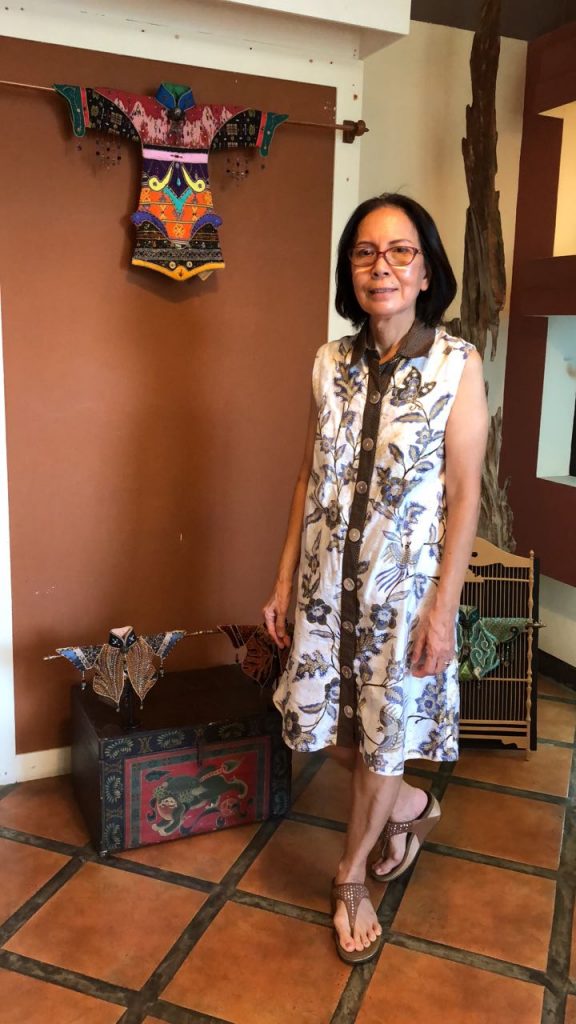 Our style consultant Aditi Srivastava had the opportunity to visit Batik Canting to see the beautiful creations, take photographs and talk to the founders.
Q: Please introduce yourself and tell us the brief history of your brand?
A: My name is Johannes Ongkosutjahjo, or you can call me Ongko.  We started in 1998 with the idea use antique batik fabric to create a dress reminiscent of ancient royal families of Java. As Batik has a deep philosophy in Javanese culture. This was in a way a change from using batik only for cushion cover, bed cover, and other similar stuff. We began this business with a very simple design.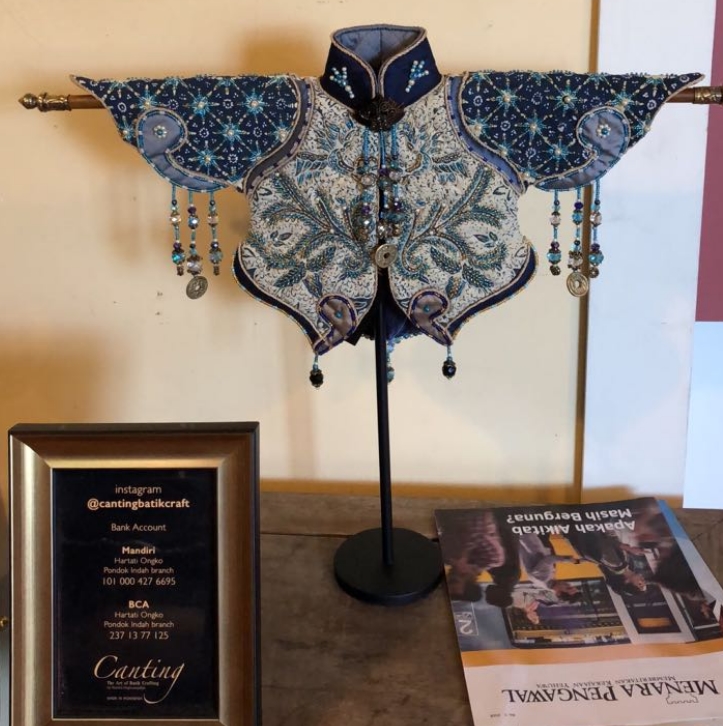 Q: Can you explain your training in Germany?
A:  I spent nine years in German, six years studying civil engineering and three years working. In 1997 I returned to work as a proper civil engineer. My family had a great interest in Batik and my wife's parents had a wonderful collection of old batik. We often went looking for old batik in Javenese villages to add to the collection. These were much appreciated by our expatriate customers.
We have different Batik designs. The traditional darker colors and centuries-old designs of the royal families of Solo and Yogyakarta, in southern Central Java. The traditional patterns and distinctive themes of northern coastal cities of Pekalongan and Cirebon are influenced by oriental designs, in brighter colors, intricate flowers and cloud design.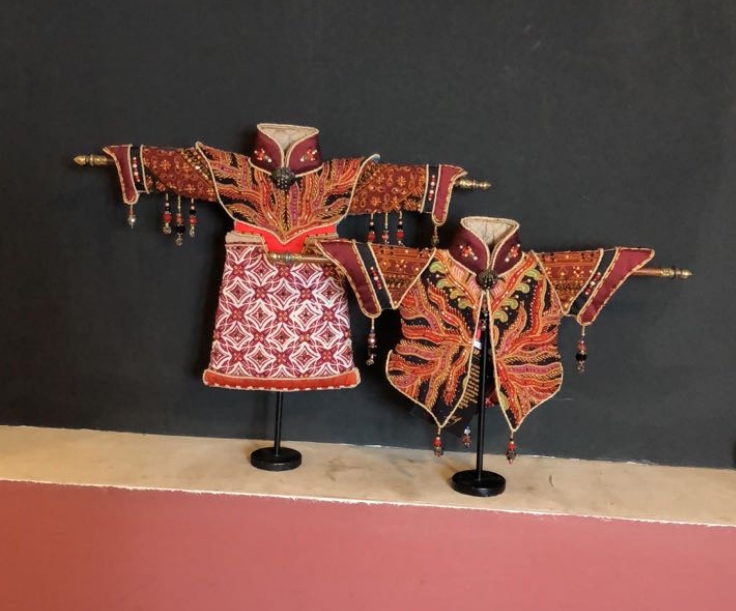 Q:  The brand is called Canting. Why?
A: Yes, it's called Canting Batik. Named after the wax drawing tool Canting, a small thin wall spouted copper container or a pen-kind applicator which is connected to a short bamboo handle to apply wax to cloth to create the intricate Batik design.
Q:  Tell us about your products?
A: Our products inspired by my own designs.  They are all painstakingly handmade and each one is unique. There are no two alike. About 7-8 years ago there were designers who copied our products but their business ceased to operate. We create our products with a passion for the timeless beauty of batik.
We  only have this outlet, so customers visit us. We are quite busy with amount of orders, and can barely keep pace within the demands. We do not take exclusive orders due to the difficulties in obtaining quality fabrics in sufficient quantity. Our main concern is to maintain quality and we only do 700 pieces per year.
One-of-a-kind wall hangings, mini jackets, tablecloths, runners, cushion covers, rugs, bed covers, place mats, framed designs, purses and curtains are available. The unusual products have patchwork and quilted design embellished with various accessories such as antique coins, semi-precious gemstones and hammered or molded brass ornaments in order to complete the artistic old batik-based creation.  Natural materials like shells, dried fruit, grasses, fibers, leaves, bone, coconut shell, wood and fish teeth creatively complement the wall hangings and mini-jackets.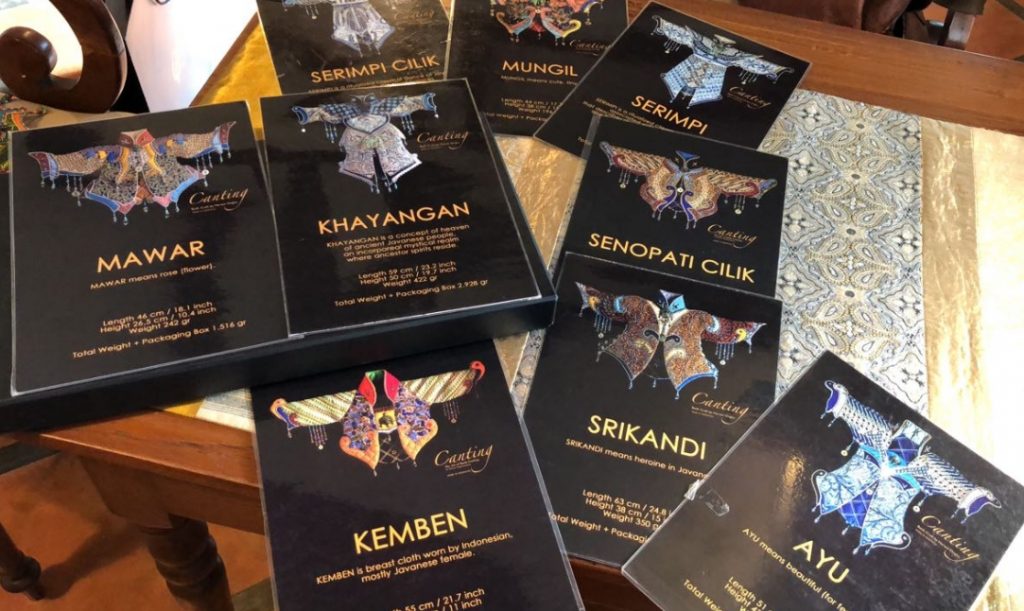 Choose best selling items like one-of-a-kind wall hangings and mini-jackets, hung by wooden rods through the armholes. Poles and wall fixtures are on sale to hang both mini jackets and other wall hangings. The prices of wall hangings depend on the value of batik, the size and intricacy of the piece and the accessories used.
Canting Batik products by Ibu. Hartati and Pak Ongko have gained appreciation in international exhibits (Berlin and Japan), in foreign embassies and handicraft shows. Their products have been distributed across the USA, Australia, Europe, Middle East, India, Japan, New Zealand and South America.
You too can visit their wonderful store at their home cum workshop at: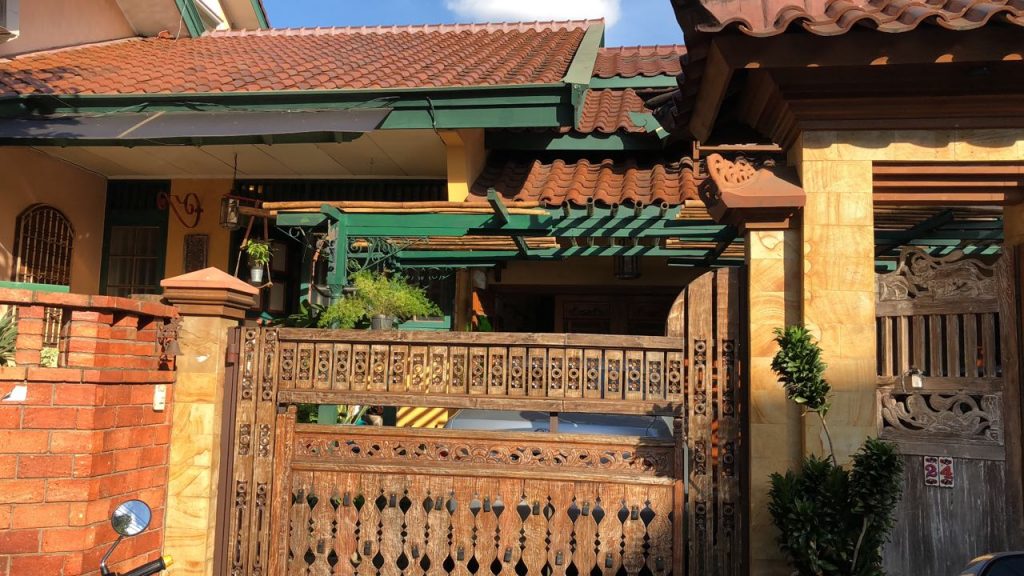 Batik Canting
Quilt and Patchwork
Jl. Niaga Hijau IX No. 24
Pondok Indah, Jakarta Selatan 12310
Telp: (+6221) 750-1783, 740-2651
Mobile: 0816-1829971
http://www.cantingbatikcraft.com