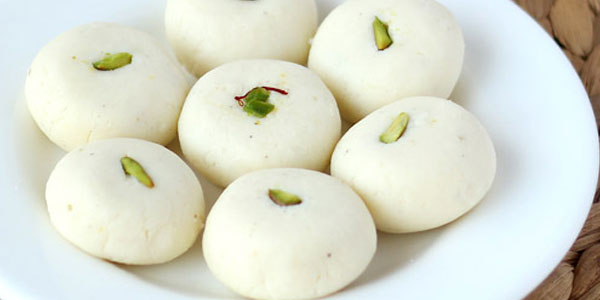 For Bengalis, any celebration is incomplete without the customary 'sandesh' to round it up with. So much so that people in Dhaka, Bangladesh, like to call the sweet 'pranhara' which is the Bengali of 'heart stealer'.
So whether your child has secured the highest marks in class, your daughter's wedding is on cards or you have received a promotion letter at work, you simply cannot break the news to your loved ones without being ready with that box of 'sandesh'!
Sandesh, has a clear meaning attached; it means 'news' in Hindi. Being an inherent part of Bengali culture and festivity, sandesh became a 'messenger' of auspicious news creating an atmosphere of mirth and jubilation in Bengali households.
Sandesh is a sweet prepared with freshly made chenna aka moist paneer, powdered sugar and cardamom. It is offered to Goddess Durga during navratri festival celebrations as well as other festive or special events. In fact, in most Bengali homes, no celebration is complete without sandesh. You can make a number of variations with the basic sandesh recipe by flavoring it with rose, strawberry, pineapple, saffron, cocoa powder (chocolate sandesh) and mango puree during the summer months. There are a variety of moulds with which one can shape the sandesh and decorate it with nuts like pistachios, almonds and cashew nuts.
Do you know the connection between Portuguese and Sandesh?
In mid-late 17th century, there was an influx of Portuguese traders into the 'City of Joy,' where they settled around the geographical region of Hoogly. With professional bakers and Portuguese confectioners making inroads, Bengal too geared up to skillful preparation of sweetmeats, cakes, breads and other delicacies.
The Portuguese cheese that was the staple ingredient in the making of the sweet soon became Bengali 'chenna', better known as cottage cheese extracted by curdling milk. It was not a blind emulation after all. The industry picked up and became a rage as variations in the sweet were introduced. From Kachagolla, rasogolla, cham-cham to rasmalai, 'sandesh' graduated to indigenous forms and ethnic tastes.
Ingredients :
100 gms Freshly made paneer/chenna
2 tbsp Milk
4 tsp Powered Sugar
Silver foil or fruit pieces (optional)
Pistachios
powdered cardamom
Directions :
In a large bowl, start mashing the paneer or chenna with your hands until smooth and a ball is formed.
The heat from your hand will help it in becoming soft and smooth, which is very important since we are not cooking anything.
Now add powdered sugar and cardamom powder. Mix well with hands.
Divide the prepared Chenna into 15-18 equal portions.
Roll one of them between the palms of your hands and flatten it.
Put one pistachio in the middle and roll into a ball.
Garnish each one with sliced pistachios.
Let them set for 3-4 hours in the fridge, before serving.
Serves : 4