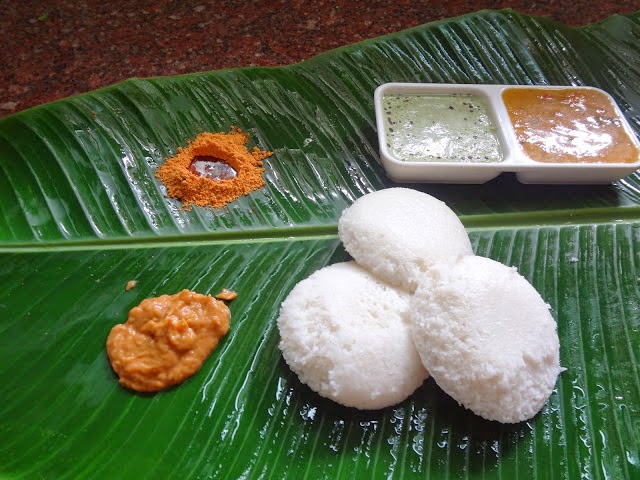 How to make Idli
Idli is vegetarian, vegan, gluten free and makes for one of the healthiest breakfast. This recipe is a very basic recipe which uses only four ingredients namely Urad dal, Idly rice, fenugreek seeds and Salt. Soft Idli batter using blender.
Ingredients for batter
1 1/4 Cups

 Urad Dal

4 Cups

Idly Rice (par boiled rice)
1 cup thick poha

1 tablespoon

Fenugreek seeds

2 tablespoon

 Salt
Instruction to make batter
Soak all the ingredients except salt in lots of water. Soak the ingredients separately.
Grind the soaked and drained fenugreek seeds along with the soaked poha. Add a cup of water and grind for 3 minutes until the seeds and poha are finely ground and have fluffed up. Remove the ground poha mixture and empty it into a big vessel.
Now, add the drained urad dal in the blender. Add in a cup of ice water. Grind for 3 minutes till the urad dal is perfectly smooth. Remove the ground urad dal mixture and add it to the vessel.
Now grind the drained rice in 3-4 batches. Add upto 1.5 cups of water while grinding. Remove the ground rice mixture and add it to the vessel.
Add in the salt and mix the batter well with hands. Let the batter sit in a warm place. Allow the batter to ferment for 8-10 hours. Once fermented, mix well and store it in the refrigerator.
Steaming the Idli
Put some water in an idly vessel and put it on medium flame.
Oil the idli plate and gently fill the rounds with the batter.
Put it inside the idly vessel and let it steam for 6-7 minutes.
Note: The key to good idlis – Do not allow it to over cook. It might become hard and dry. Just keep an eye and remove the idlis after 6-7 minutes. Do not remove the idlis immediately. It might stick. Leave it undisturbed for 4-5 minutes and then spoon it out.
Serve hot with your favorite chutney and sambar.
Note:
If the idlies did not rise or were flat, the reason is a watery or runny batter.  So use caution while grinding and do not add too much water while grinding. 
Wash the rice and daal well multiple times to get white idli