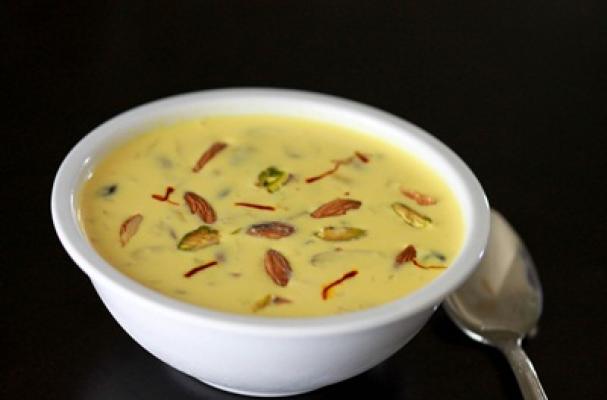 Rabri is thick, sweet milk flavored with essences. Hailed from North India, this dish is suitable eaten on its own or as a complimentary side with malpua, gulab jamun, jalebi or puri. Making it at home will take effort, but we promise you it will be worth it. Try it out!
Ingredients :
1 liter Whole milk
100 gms Sugar
1/4 cup sliced almonds
1/4 cup sliced pistachios
Directions :
Boil milk in a large pan.
Keep stirring the milk occasionally until reduced to half of its original quantity. Add the sugar.
Scrape the sides of the pan from time to time to get the malai into the milk. Cook until reduced to half of its quantity.
Remove from the heat and allow to cool. Add the almonds.
When cool, place in the refrigerator. Mix the milk if it feels to thick.
Garnish with pistachios.