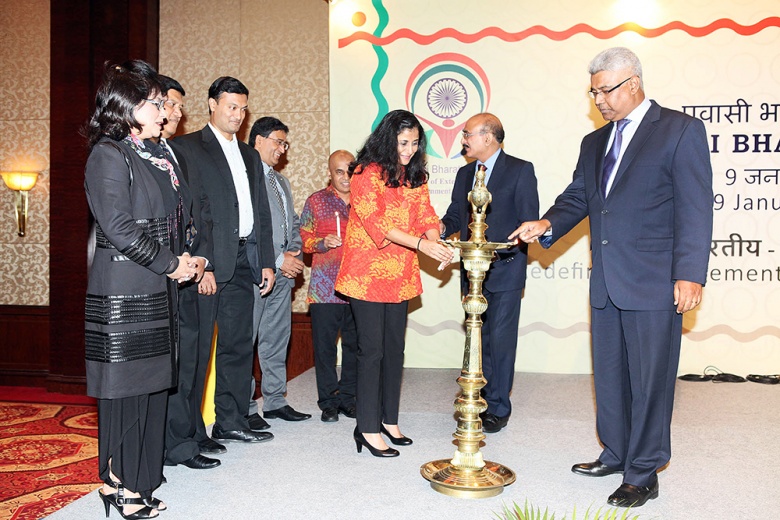 Overseas contribution: Indian Embassy's Charge d' Affaires Manish (right) and Poonam Sagar (center) from the India Club light a lamp during the opening ceremony of Pravasi Bharatiya Divas (Indian Diaspora Day) on Monday night at JW Marriott in Jakarta.
30 million Indians living abroad sent billions of dollars home in 2016.
Indonesia home to between 150,000 and 300,000 Indian citizens and persons of Indian origin
Thanks to the hard work of more than 30 million Indians living abroad, India became the world's single largest receipt nation of remittances by receiving an estimated US$65.5 billion in 2016.
"We have more than 30 million Indians living outside India. They remitted $69 billion in 2015 back to India," the Indian Embassy's charge d'affaires, Manish, said during the celebration of Pravasi Bharaitiya Divas in Jakarta on Monday night.
Pravasi Bharatiya Diwas (PBD), which is celebrated every Jan. 9, is a day dedicated to honor non-resident Indians and recognize their services to the country.
"The PBD was initiated by former Indian prime minister Atal Bihari Vajpayee in 2002. Jan. 9 was chosen to mark the return of India's greatest pravasi [non-resident Indian], Mahatma Gandhi, from South Africa to India in 1915," Manish said.
According to the latest report from the World Bank, Indians living in more than 200 countries, including Indonesia, remitted about $65.5 billion last year back to their country.
The 2016 figure was a 5 percent drop from $69 billion in 2015 caused by lower oil prices and a global economic slowdown. China became second with $65.2 billion in remittances received from its 50 million overseas Chinese.
This significant contribution from non-resident Indians (NRIs) has not gone unnoticed by Indian Prime Minister Narendra Modi."The Indian diaspora represents the best of Indian culture, ethos and values.
"They take our values and culture wherever they go," Modi said in Bangalore last week while addressing the 14th Pravasi Bharatiya Divas, an event that was attended by 8,000 NRIs from 30 countries.
In line with this year's PBD theme, "Redefining Engagement with Indian Diaspora", the Indian Embassy in Jakarta invited key leaders of the Indian community in Indonesia to a seminar to discuss how to redefine engagement with the local Indian diaspora and talk about startups and innovation and their social impact in India.
Although the number of Indians, both Indian citizens and persons of Indian origin, living in Indonesia may range between 150,000 and 300,000, according to the Indonesian Manpower Ministry's data, 5,100 Indian citizens have work permits to work in Indonesia
There are currently 74,000 expatriate workers in Indonesia. China is the biggest country as it supplied 21,300 Chinese workers to Indonesia, while Japan with 12,500 and South Korea with 8,400 are the second and third suppliers of the foreign work force. India came in fourth.
There are more than 250 Indian companies operating in Indonesia. Both India and Indonesia are old friend and strategic partners. Indonesia enjoys the highest trade surplus with India as the former exported $11.73 billion, mainly palm oil and coal, to India in 2015 and imported just $2.74 billion worth of goods.
The Indian government is determined to protect all of its citizens living abroad.
"The [Indian] government will take all the steps necessary for their protection and for their security," said Manish.
Among the key speakers at the seminar was Poonam Sagar, the cofounder of IndoIndians.com, a successful community information website for Indians in Indonesia.
There were also representatives of different Indian associations, such as Ramachandran Ramesh, who is the president of the Indonesia Tamil Sangam and Hari Krishnan, who is a key figure of Kerala Samajam Indonesia.
Together, the embassy and these leaders talked about how community organizations in India have helped unite Indians and promoted different facets of the country's culture.
source: The Jakarta Post