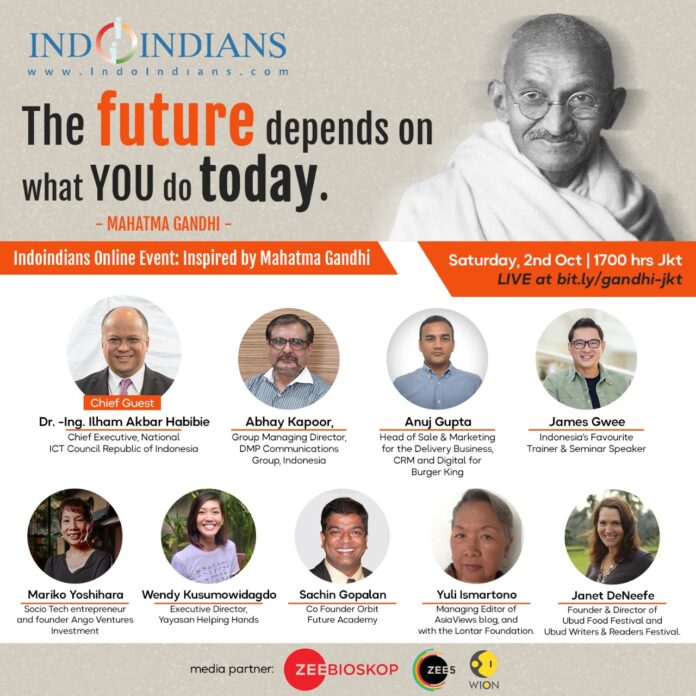 Indoindians Weekly Newsletter: Inspired by Gandhi in Indonesia
Namaste Friends,
Gandhi does not only belong to India, but to all nations and all human beings in the world. His teachings about non-violence, truth, peace, love, compassion, Satyagraha, harmony, tolerance unity in diversity have inspired many here in Indonesia.
Join Indoindians LIVE Stream on Gandhi Jayanti – Inspired by Gandhi
When: Sat, 2nd Oct from 1700hrs Jkt
Where: bit.ly/gandhi-jkt
Opening Remarks by Chief Guest: Dr. -Ing. Ilham Akbar Habibie , MBA, Chief Executive, National ICT Council, Republic of Indonesia.
On the Panel:
Abhay Kapoor, Group Managing Director, DMP Communications Group, Indonesia
Anuj Gupta, Head of Sale & Marketing for the Delivery Business, CRM and Digital for Burger King
James Gwee T.H.,MCS, Indonesia's Favourite Trainer & Seminar Speaker
Janet DeNeefe, Founder & Director of Ubud Food Festival and Ubud Writers & Readers Festival.
Mariko Asmara Yoshihara, Socio Tech entrepreneur and founder Ango Ventures Investment
Wendy Kusumowidagdo – Executive Director, Yayasan Helping Hands
Sachin Gopalan, Co Founder Orbit Future Academy
Yuli Ismartono, managing editor of AsiaViews blog, and with the The Lontar Foundation.
Poonam Sagar, Founder Indoindians.com
Our newsletter this week is about few products specially found in Indonesia:
– The Many Uses of Minyak Kayu Putih
– 8 Interesting Facts on Angklung
– Delicious, Healthy Artisan Sea Salt From Bali
– 6 Premium Chocolate Brands from Indonesia
– All About Coconut Sugar: What It Is and Health Benefits
We are starting a new Indoindians Telegram group for community communication and support. To join use this link >> https://bit.ly/t-indoindians
Warm regards,
Indoindians Team
Indoindians Weekly Newsletter: Inspired by Gandhi in Indonesia