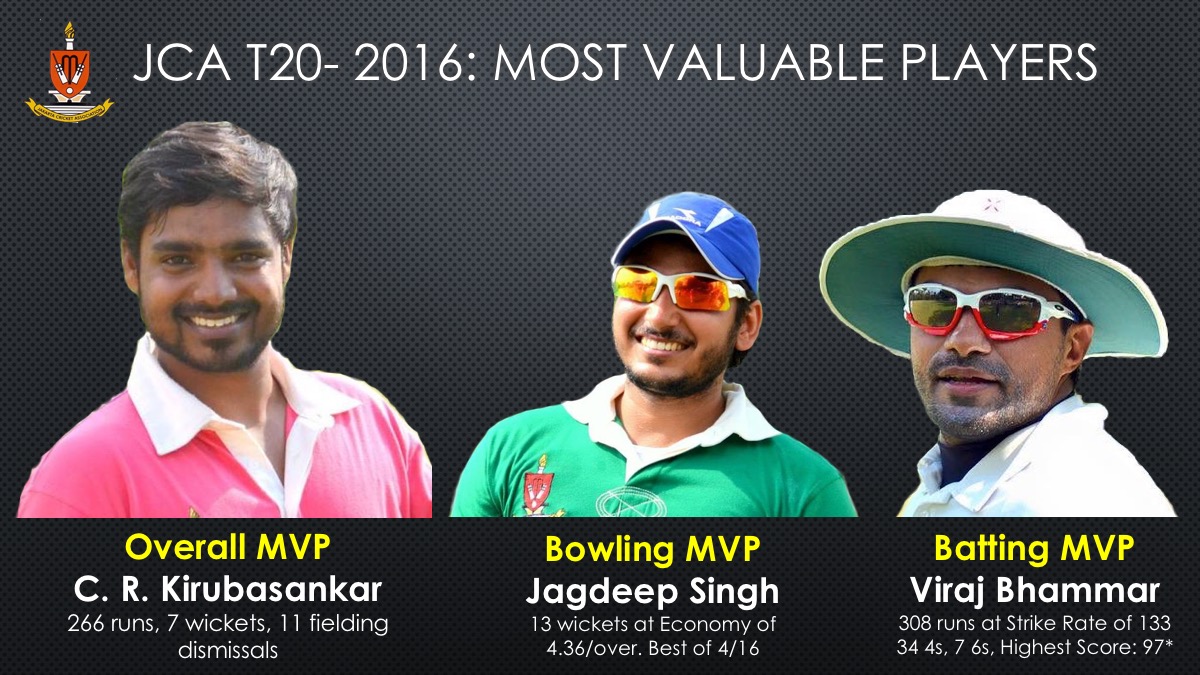 The top 2 teams of the tournament, Victorious Secret & Jaguar CC contributed the MVP winners of the season. Kirubasankar's (from Victorious Secret) all-round mettle helps him once again become the Overall MVP for JCA T20 2016 tournament. "Kiruba is a great guy to have in the team as he is always keen to be in the action and he is fantastic in whatever he does" said his captain, William Noronha. He scored 266 runs & took 7 wickets. But it was in the field where Kiruba really shone. His 8 catches, often tough ones, taken at crucial moments played a key role in his side winning the tournament.
Jagdeep Singh (or John as he is called) from Jaguar CC was quite clearly the best bowler of the tournament. Though he didn't get the highest number of wickets, his economy rate (4.36) and his great knack to get crucial wickets & shine when the chips were down, helped make his performances invaluable to his team. His 19th over where only 2 runs were scored & which helped take Jaguar CC to the finals was a great example of this. "I was very pleased with both my pace and the control I got in this tournament. Happy to have contributed to the team's successes" said Jagdeep about his performance.
Maneesh Tripathi (of TKCC Royals) was another star bowler in this tournament. He was the highest wicket-taker (17 wickets) of the tournament. Manicavasagan (of Senayan Lions) bowled the best spell, taking 6/18 including a 3-wicket, last over. Ceylon CC's Usman Afridi (3.00) & Satheesh Kumar (4.25) had the best economy rates in the tournament.
With 308 runs at a strike-rate of 133 and a top score of 97 not out (the highest score of the tournament), Viraj Bhammar (from Victorious Secret) dominated the batting honors & was deservingly, the best batsman of the tournament. "Happy with my consistency this tournament & good feeling to be on the winning side" said Viraj. Pallav Malhotra (from TKCC Royals) also was in great batting form, and with 23 sixes (the highest this tournament) & 287 runs overall, emerged as the 2nd best batsman. Harish Tiwari (192) had the highest strike rate.
Deepak Khullar from Menara Devils (11 dismissals including 3 stumpings) was the best wicket-keeper. Eki Antaria (from Chairos Tigers) & Lucky Angga Kusuma (from Senayan CC) were the best Indonesian players of the tournament. Eki, who has always been a very consistent performer, continued his good all-round form and his contributions helped the all-Indonesian team of Chairos Tigers perform well and cause quite a few upsets, this tournament. "Lucky, has matured into a very good, thinking spinner and he proved that with his very good bowling performance (coming in as the 3rd best bowler) in a T20 format" said, Ashit Mehta the captain of Senayan Lions.
by Suresh Subramanian for JCA