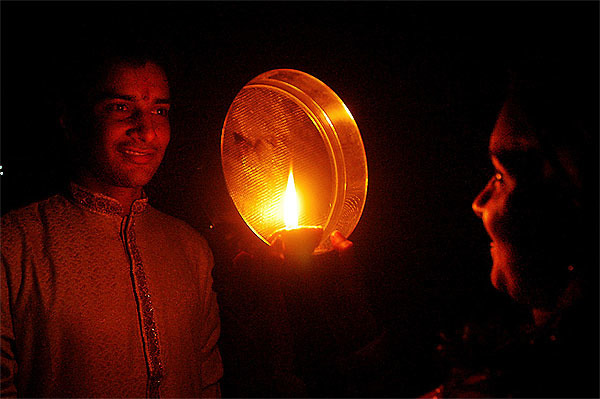 Indian women the world over have always prayed and fasted for their husbands. For longer lives. Safe and complete lives.
For most Indian women, even in this day and age, their lives revolve around making their husbands happy and taking care of them in every little way possible. The Hindu Karwa Chauth festival is the occasion where they fast for their husbands and pray for their longevity and well-being.
Usually the the married women get together and offer prayers for their husband's long life and complete traditional rituals together. The festival reflects their joy, and excitement. They display the traditional Hindu marital symbols of henna, jewelry, festive attire and sindoor.
Married women in metro cities may not have the indulgence of a holiday and a day of decorating their palms with mehendi, and getting dressed in full bridal attire, however, they do observe a fast at work.
Karwa Chauth is a celebration, and nothing makes women feel better than dressing well, especially while doing something special for their husbands. Be it clothes, jewellery or makeup, everything adds to the feel-good factor on this day.  While the fast takes care of the latter, the former is taken care of by the right outfit. So, it is important to decide your outfit with proper accessories too. The quintessential traditional saree make Karwa Chauth more special. Do try our sari draping tutorials to make this day really special.
If you want to really pamper yourself here are our recommendations for salons  and to do your nails in Jakarta.
Join our FB challenge to share your thoughts and your finery.