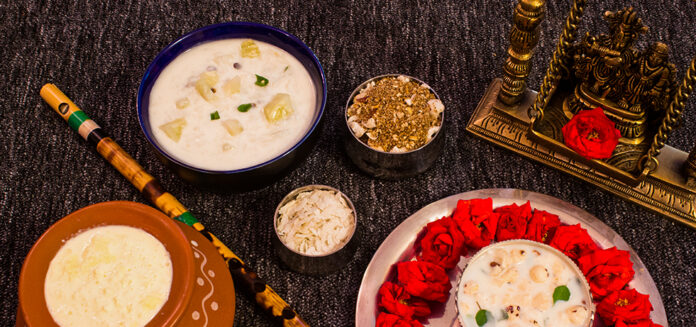 Krishna Janmasthami festival is also known as Gokulashtami, Krishna Jayanthi in different parts of India. The birthday of Lord Krishna is celebrated with devotion and enthusiasm all over India.
The actual celebration of Janmashtami takes place at midnight as Sri Krishna believed to be born. This day is celebrated with devotional songs (bhajans), pooja, arti, rocking the cradle of baby Shri Krishna. Also, on this day devotees observe fast, prepare bhog (prasad) to offer Shri Krishna and break their fast at midnight.
Prasad Recipes
Milk, Makhan (white butter) products are baby Shri Krishna's favorite food. So the sweets made from milk, yogurt are offered to him as a prasad and then distributed among the devotees.
Mishari Makhan: This one is his most favorite. Makhan (white butter) is made by whipping the malai (cream) till butter is separated. The buttermilk is drained. Mishri is mixed with makhan. Mishri (khadi sakar) is called rock candy in English.
Dhaniya Panjiri: Roast the ½ cup of fresh coarsely ground coriander powder in 1-2 tablespoons of ghee. Let it cool down, then mix in ¼ cup powdered sugar, chopped almonds, cashews, and raisins. Many likes to add desiccated coconut too.
Other than above prasad, fruits and few sweets like:
Peda
are also offered to him.