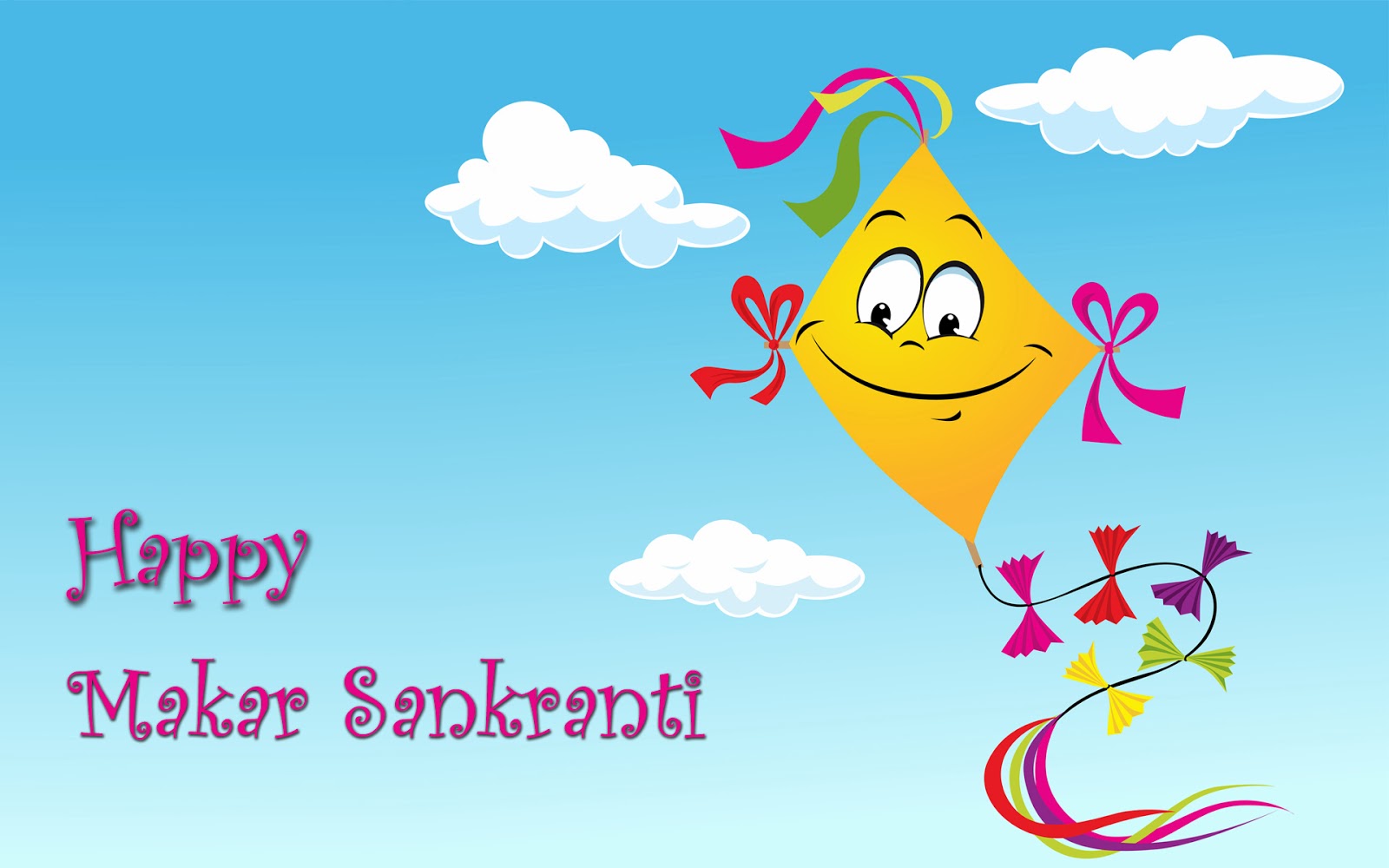 Makar Sankranti, Pongal, Bihu, Lohri there are so many different names this festival is known as, but celebrated on one special date January 14!
Marking the commencement of the Sun's journey to the northern hemisphere, with warmer, longer days and shorter nights, and the beginning of the harvest season, this day is celebrated amid lots of fanfare and enthusiastic kite flying!
Makar Sankranti is basically a celebration of a cosmic event and human life.
The famous Makar Sankranti festival is related to harvesting the food grains. Its called Lohri in Punjab, In south India it's known as Pongal. The National festival of India, in Karnataka it's called Sankranti and in Kerala it's called Makara Vilakku. In Bengal, Makar Sankranti is celebrated at the last day of the Bengali month of Poush. This festival goes on for ten days, feasting, boat races, songs and dance are the major parts of attraction of this important Indian festival. It is celebrated with the til (sesame seeds) ke laddoo, gajak, Rewri and sarson ka saag-makka ki roti.
In Gujarat, the sky is a riot of colours as people celebrated `Uttarayan` by flying kites with great gusto.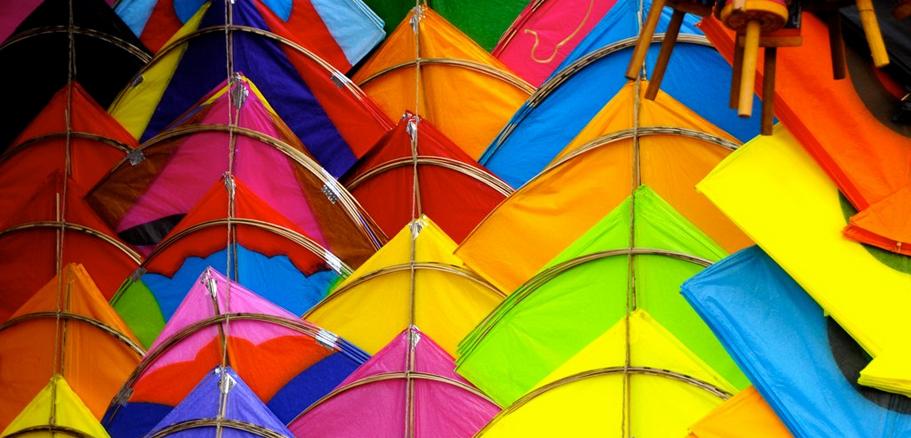 Jaipur Kite Festival: This day is also celebrated as the kite day in most parts of India. Kite festival of Jaipur is very popular among tourists. In Jaipur during the Kite festival the entire sky is filled with colorful kites. The three-day festival starts with an inauguration at the Polo Ground, which is the venue for kite flying and fighting for the three days of the festival. A kite flying competition is also held during this festival.
For the people residing in the Indo-Gangetic plain, the day begins with a dip in the Ganges and an offering of water to the sun, which is said to award punya. People pray for a good harvest and offer special puja. In Bihar and Uttar Pradesh, the two rice eating belts, people have special rice-centric meals. Til and rice form two important ingredients of this festival. In the river Hoogly, near Calcutta, people from all over India come for a ceremonial cleansing here. This ceremony of this day is called the Gangasoyar Mela.
In Odisha, over a lakh devotees from different parts of the country visit the Lord Jagannath Temple at Puri, and worship deities. Thousands of devotees also worship the Sun God at Konark with great fervour and enthusiasm. Kite flying competitions are organised in places like Cuttack and state capital Bhubaneswar.
In Assam, bonfires and community feasts are held across the state as it celebrated the harvest festival of Magh Bihu. Magh Bihu also known as Bhogali Bihu, is a two-day festival and dedicated to Lord Agni, the Hindu fire god.
Sankranti is celebrated with gaiety and traditional fervor across Andhra Pradesh with rangoli, kite-flying, decoration of bulls, cock fight, bull fighting and other rural sports. Towns and villages wore a festive atmosphere with colorful kites dotting the skies and people participating in various competitions organised to mark one of the major festivals of the Telugus.
People across Tamil Nadu gett up early, put on new clothes and go to temples on the harvest festival of Pongal thanking the rain, sun and farm animals. The four-day festival, which begins on Jan 14th continues till Jan 17th.  The traditional
pongal feast
– made of rice, dal and jaggery, topped with kishmish, cashew and ghee.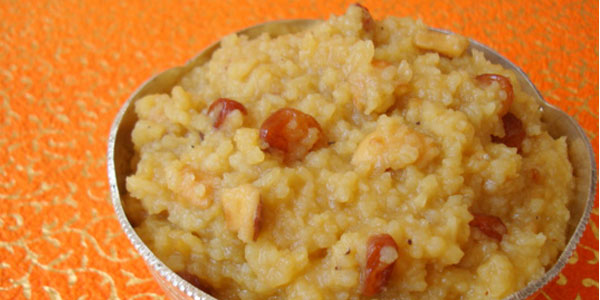 The four-day event is called 'pedda paadunya', which means big festival. The first day of the festival is called Bhogi, the second Sankranti, the third Kanuma and the fourth day Mukkanuma. Traditionally, this period is considered an auspicious time and it is believed that the veteran Bhishma of Mahabharata chose to die during this period. Bhishma fell to the arrows of Arjun. With his boon to choose the time of his death, he waited on a bed of arrows to depart from this world during this holy period. It is believed that those who die in this period are free from the cycle of rebirth.
The one month following it is considered to be very auspicious and is called 'Dhamnurtmasam'. People rise early in the morning, take baths and go on the streets to sing devotional songs. The girls, dressed in beautiful colorful customs, go in groups singing around. Houses and warehouses are cleaned and the front yards of the houses are adorned with rangolies or muggulu, which are beautiful floral design drawn on the floor with rice powder, a fine limestone powder, further decorated with marigold flowers placed on cowdung ball.
Karnataka also celebrates this festival in a unique style. Families visit friends and relatives dressed in colorful clothes. They exchange sugarcane pieces, a mixture of fried til, molasses, dry coconut pieces, peanuts and fried gram, which signifies that sweetness should prevail amongst them in whatever they do. On this day cows and bulls are washed and their horns are adorned with vivid colors and garlands and are made to jump over a bonfire lit at night.
In Maharashtra people visit their friends and relatives and exchange multi coloured sugar and a mixture of fried til and molasses. While exchanging the sweets they say, "til gul ghya, god god bola" which means that ˜let there be only friendship and good thoughts between us". New utensils are purchased and used for the first time in Hindu houses. Vividly colored kites dot the skies. In the Gujratis, pandits grant scholarships and certificates to students who have successfully completed their studies in philosophy on this auspicious day.
The whole country welcomes the onset of 'uttarayana punyakaram', with the celebration of Makar Sankranti, which marks the journey of the sun to the northern hemisphere (Makar Raasi). All across the country this festival is celebrated with much joy, though the style differs slightly from state to state. People begin this auspicious day with holy dips in water and by worshiping the sun