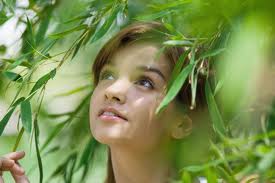 The Kitchen is an arsenal of youth, for every beauty problem, there's a solution right on your kitchen shelves.
Centuries before exotically packaged beauty products screaming out undying promises of the everlasting glow burgeoned off market shelves, beauties of yore depended heavily on the wealth that lies within the portals of the kitchen. As with everything else, there is significant move to return to nature, to seek solutions to contemporary predicaments. So is the case with enhancing one's beauty, where there is growing inclination to look into the kitchen's bounty, where relative freedom from side-effects of commercial beauty products laced with undesirable preservative chemicals is assured.
---
Premila Bhagat, a facial expert, believes in delving into the kitchen for her total beauty arsenal. No doubt, clients emerge emanating a strange potpourri of delicious odors, vocal about the tryst with honey, cucumber, orange juice, apricot and almonds, and glowing with the glory only nature can bestow.
"All fruits, vegetables and cereals can be used on skin as they contain vitamins A, B, C, E, and minerals required for the nourishment of the skin," she says. "The theory in herbology is, anything good to eat, is good to apply on skin for its betterment."
Premila has a special partiality for honey, and propagates generous use of this gooey goody. "Honey is the only known natural moisturizer and humectants for the skin," she continues. "I use it for all skin types, in all face masks as well as for massages. The use of honey on the face can help slow down the ageing process by at least five years. Honey should also be taken internally in tea and juices.
For dry skin, she recommends mashed apple, avocado and pears. For normal skin, banana, peach, carrot and orange should achieve the needful; oily skin responds well to tomato, lemons, apricot, banana and strawberry. Method of use; mash the fruit, mix with almond powder and honey, and apply the paste to the face and neck. Washing it off with cool water, and applying rose water thereafter offer the perfect finish.
"An attractive complexion is primarily a result of perfect nutrition, proper cleansing and exercise," Premila says. The return to nature (more specifically the home kitchen) for a natural, lasting glow, appears to offer the logical solution to our beauty needs.
Premila's mask secrets
Carrot and yoghurt mask
What it does: Revs up Vitamin A supply to the skin.
Method: lightly cook a tablespoon of carrots. Then mash with yoghurt and honey. Apply on the face in a rotating movement, and leave for 10 minutes. Rinse.
Almond milk mask
What it does: Softens and gently lightens skin. Good for acne scars and pigmentation problems.
Method: Mix together 10 freshly ground almonds, milk powder and honey, to create an almond and milk mash. Apply the paste to face and neck, and leave to dry. Then, scrub with fresh milk and wash off with cool water.
Cucumber wrinkle remover
What it does: takes care of those wretched wrinkles!
Method: Blend a quarter cup of chopped cucumber, one egg white and two teaspoons of apricot kernel oil. Apply morning and evening, removing the excess with tissues. For a hastening anti wrinkle operation, pierce a vitamin E capsule with a pin, and massage the contents into wrinkles before going to bed.
Acne away!
What it does: get rid of acne.
Method: Apply a mixture of the inner pulp of aloe vera and sandalwood paste. A mash of onions cooked in rose water and honey works as well. Either mixture should be applied evenly, then rinsed off thoroughly.
Carrot and yoghurt mask
Almond milk mask

Cucumber wrinkle remover

Acne away