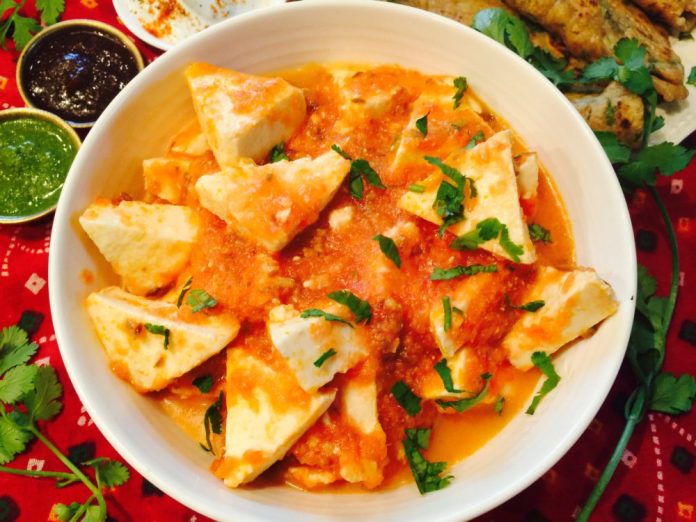 Made in a spoonful of ghee without any onion, garlic cream or nuts, this is a great recipe for vrat/fast. Its high protein, low fat, tasty and simple.
Ingredients
14 oz/400 gms Paneer cubed or cut into triangles(vegans use tofu)
2 large tomatoes
1 tsp ginger, minced
1 tsp green chilies, minced(optional)
1 tsp jeera/cumin seeds
1 tbsp ghee(oil for a vegan option)
salt as per taste
Method:
Wash tomatoes and puree them in a blender.
Heat pan and add ghee to it. Add Jeera/cumin and let it crackle.
Add ginger and green chilies and cook for few minutes.
Add pureed tomatoes and salt, stir for few minutes.
Add little water and cover and cook for 5-10 minutes on low.
Add Paneer pieces, give it a boil and its ready to be enjoyed.(vegans use tofu)
Notes
Don't cook the paneer too long, it will become hard. You can also blend a handful of soaked cashews for a creamier, richer taste.