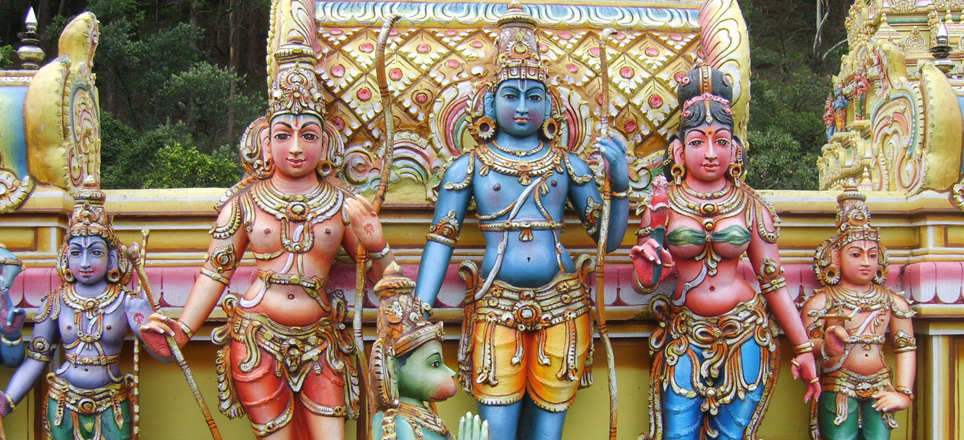 | What is Diwali | Origin | Celebrations | Legend | Menu |
The ancient story of how Diwali evolved into such a widely celebrated festival is different in various regions and states of India. In the north, particularly in Uttar Pradesh, Punjab, Haryana, Bihar and the surrounding areas, Diwali is the day when King Rama's coronation was celebrated in Ayodhya after his epic war with Ravana, the demon king of Lanka. By order of the royal families of Ayodhya and Mithila, the kingdom of which Sita was princess, the cities and far-flung boundaries of these kingdoms were lit up with rows of lamps, glittering on dark nights to welcome home the divine king Rama and his queen Sita after 14 years of exile, ending with an across-the-seas war in which the whole of the kingdom of Lanka was destroyed.
The well loved ancient yet ageless Ramayana. This epic captures the imagination and is also sets the gold standard for 'Maryada Pursottam' the ideal man.
The first super hero Lord Hanuman, who symbolically stands for pure devotion, complete surrender and absence of ego. According to Hindu mythology, Hanuman was endowed with miraculous powers and strength with the ability to expand or contract himself, ability to fly long distances and evoke terror in the hearts of demons.
He is also attributed to have impeccable manners and refined language which impressed Lord Rama. Hanuman's devotion to Lord Rama is the highest form of devotion and self-surrender.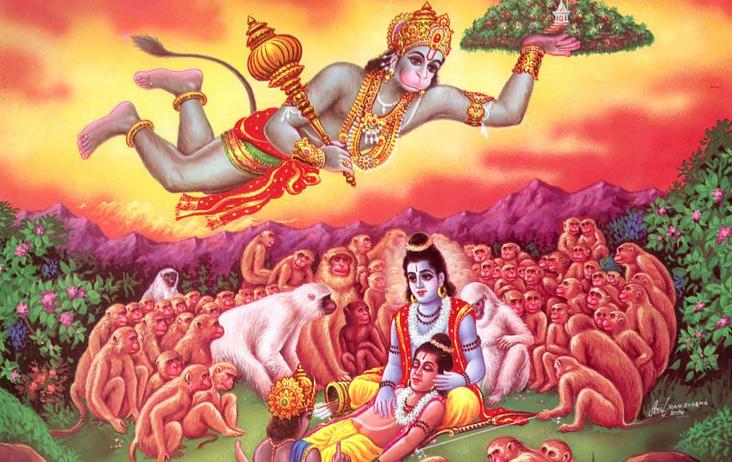 Rama Returns to Ayodhya
Rama, the ancient idol of the heroic ages, the embodiment of truth, of morality, the ideal son, the ideal husband, and above all, the ideal king. After ten days of fierce war with Ravana, the victorious Rama, Laxmana and Sita preapared to return to Ayodhya. There was joyous shouts of Victory to Rama, Veer Hanuman ki Jai – Victory to Hanuman. Gods from the Heaven poured flowers and garlands to celebrate and show their pleasure.
Celebration in Ayodhya
In Ayodhya, Bharata, Ram's beloved brother, eagerly waited for the arrival of Rama, Laxmana and Sita. He had counted every day of those fourteen years that Rama had to suffer in forest as a result of his mother's folly. He had ruled as the representative Rama, living like a monk –sanyasi. Rama's wooden shoes adorned the throne during his absence. Bharata encouraged people of Ayodhya to celebrate the return of Rama with pomp and show. The whole Ayodhya was eager to welcome her heroes and the whole city was decorated with flowers and garlands. Every house adored beautiful look of cleanliness and was lighted with candles and lamps. Perfumes and scent filled the air. Every street was cleaned and watered, and decorated with hand-painted colorful designs.
Brothers Meet
There was mad rush to see Rama first. Bharata and Rama hugged each other, tears flowing down their eyes. Rama inquired about the well being of Kaikeyi first, then about his mother Kaushalya and Sumitra. Soon, Rama was given his due honour as King of Ayodhya. Formal sacrificial ceremony was performed with gaiety and pomp and Rama ruled Ayodhya wisely.
The birth of Luv Kush and Sita's trial by fire are however, another story…