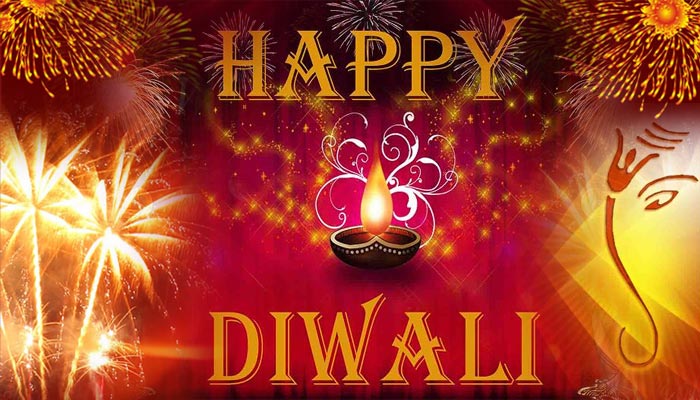 | What is Diwali | Origin | Celebrations | Legend | Menu |
Diwali is the festival celebrating Laxmi, the Goddess of prosperity and wealth. It is believed that Goddess Laxmi visits everyone during Diwali and brings peace and prosperity to all.  Lakshmi-Pujan is performed on  after sunset in all the homes on Diwali.
For Diwali puja preparation, see details here >>
Diwali Puja Vidhi
First clean the Puja room and then Bathe each Deities of Lakshmi & Ganesh first with water, then with panchamitra / or rose water, followed by water once more. Make a Panchamitra with 5 ingredients of milk, curd, ghee (clarified butter), sugar & Honey.
Five ghee diyas (lamps) are lit in front of the deities to drive away the shadows of evil spirits.
Make offerings of flowers, abir (red color), sindoor (vermillion), haldi (turmeric). and Light the Agarbatti (incense sticks) and lamps filled with Ghee.
Offer Lotus and other flowers to Goddess Lakshmi. A silver coin is placed in front of the Goddess during the puja. Now perform Arti with flowers in hand.
Now make offerings of fruit, sweet meat ( mithai), Salty snacks ( Mathis, Ghathia, Namakpare) and offer dakshina (token money), which could be given to the poor.
In the end offer paan (betel leaves), cloves. Now pray to the deities to seek their blessings.
After the Puja people light diyas (lamps) in their homes to usher in light, and clear the darkness from the world. Then they go out to enjoy fireworks.
Some Beliefs about Diwali:
Why do people clean and decorate their homes for Diwali? Diwali is considered to be the festival of the Goddess wealth and prosperity Laxmi, who Laxmi visits all homes to bless the people and so to welcome the goddess homes are cleaned & decorated.
Why do people Light up their homes with clay oil lamps? People light up their homes to welcome Goddess Laxmi. Clay lamps also indicates the victory of Light over Darkness, Good over Evil, as well as the victory of Truth over Falsehood and that man can succeed only through his virtues.
Why do people play cards on Diwali? It is believed that goddess Parvati played dice with her husband, Lord Shiv on this day and she decreed that whosoever gambled on Diwali night would prosper throughout the ensuring year.This tradition of playing cards- flash and rummy with stakes on this particular day continues even to this day.