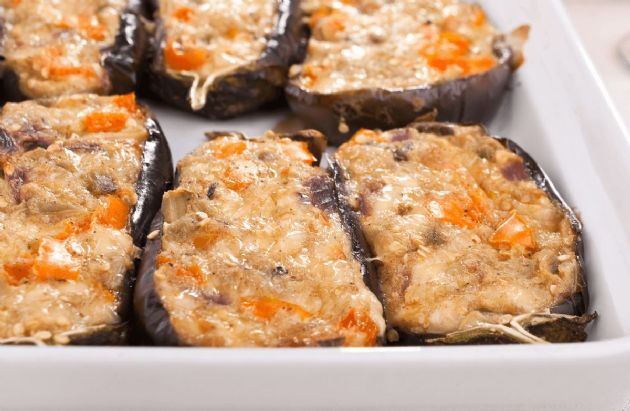 We bet that even meat lovers will love these easy peasy stuffed eggplants! The gooey cheese and soft filling are just perfect as a comfort meal you can have anytime you want.
Ingredients:
2 small eggplants
1 small zucchini, chopped
1 onion, finely chopped
1 garlic clove, peeled and minced
4 Roma tomatoes, peeled, deseeded and diced (or 1 cup diced canned tomatoes)
½ cup tomato sauce
½ teaspoon dried thyme
1 teaspoon dried basil
1 cup shredded Monterey Jack cheese
4 tablespoon grated Parmesan cheese
Instructions:
Preheat oven to 200 degree Celsius. Prepare a baking sheet with nonstick cooking spray.
Trim the stems from the eggplants, and cut them in half lengthwise. Scoop out the flesh from the center of each half, leaving about 2 cm shell of flesh. Dice the scooped out eggplant flesh into 0.5 cm cubes.
Place a sauté pan over a moderate heat and add the oil. Add the onion, garlic, zucchini, black pepper, and diced eggplant; stir well. Cook until very tender (about 5 minutes).
Add the tomato sauce, thyme, and basil, mix well until all are heated through.
Spray the eggplant shells with nonstick cooking spray, then spoon the filling into each sell. Top each shell with Monterrey Jack and Parmesan cheeses.
Place the stuffed eggplants in the baking sheet and bake until the eggplant and cheese is bubbly.
Other stuffed vegetable recipes here >>