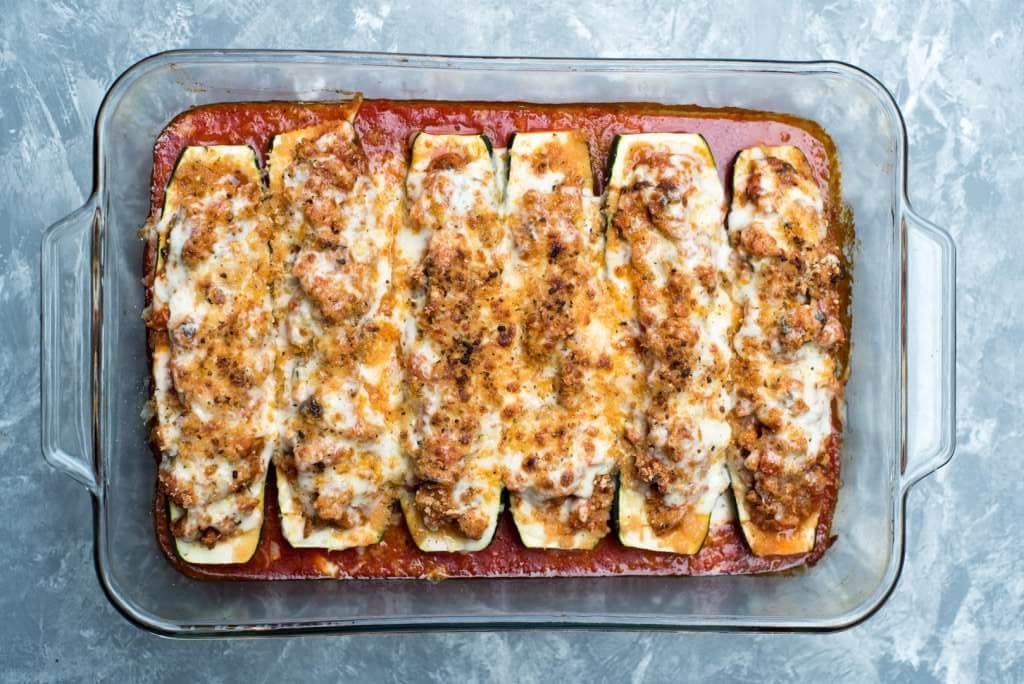 What can you think when you're craving for Italian dishes? If you think that pastas or pizzas are boring, try this guiltless stuffed vegetable recipe.
For 6 servings
Ingredients:
500 gram ground turkey or other meat of your liking
3 medium sized zucchini
500-600 gram tomato basil marinara sauce, divided
½ cup button mushrooms
1 teaspoon garlic
¼ cup Italian parsley
1/3 cup onion
1/3 cup red bell pepper, cut into small cubes
1 freshly ground black pepper
1 tsp Italian seasoning
¼ teaspoon red pepper
¼ tsp salt
2 tablespoon panko bread crumbs
1 ½ cups mozzarella cheese
¼ cup Parmesan
1 tablespoon olive oil
Directions:
Measure out 1 cup of the marinara sauce, set aside. Preheat oven to 190 degree Celsius.
Trim ends from zucchini and slice in half (lengthwise). Scrape out the zucchini flesh with a spoon, chop it until the zucchini resembles a boat and set aside.
Place the scooped out zucchini boats into a baking sheet and add about 2 cm of water. Cover with foil, and bake in the preheated oven for 20 minutes. Remove from the oven and set aside.
Add olive oil to a skillet over a medium heat. Add ground turkey, onion, bell pepper, and garlic, stir well. Heat until the ground meat is cooked and the veggies are softened. Drain off the grease and return the skillet to the heat.
Add the chopped zucchini flesh, mushroom, a part of marinara (save another 1 cup for later), Italian seasoning, salt, fresh ground black pepper, parsley, and crushed red pepper. Stir well and reduce heat to allow simmer on a low heat for about 12-15 minutes.
In a baking sheet, pour the 1 cup of marinara sauce and place the half-cooked zucchini boats on top of the sauce. Fill the zucchini boats with the filling, and if you have some filling left, spoon it into the sheet around the zucchini boats. Cover the baking sheet with foil, and bake for 20 minutes, or until zucchini is fork tender.
Remove dish from oven and set oven to Broil. Remove foil and sprinkle zucchini boats with mozzarella, Parmesan and panko bread crumbs.
Place baking sheet in the oven, and cook for just a couple of minutes until the cheese is melted and bread crumbs are golden brown. Remove from the oven and serve immediately.
Other stuffed vegetable recipes here >>