#TrendingNow: Dessert in a Box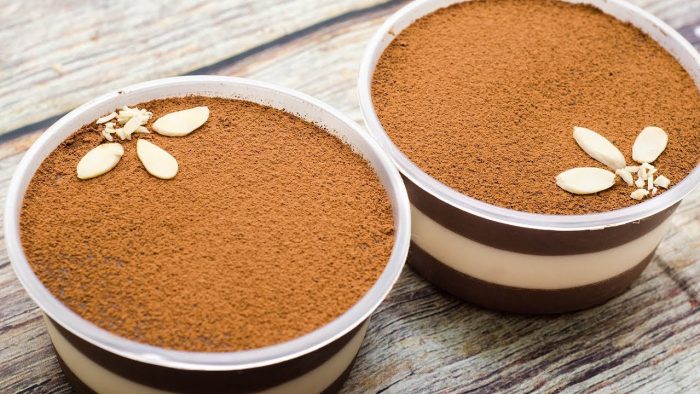 Dessert in a box is the current culinary trend in Jakarta. It consists of delicious brownies, mousse and a thick layer of gooey chocolate ganache on top. Many variations have cropped up from chocolate avocado, chocolate oreo and even the more peculiar 'duren' variety. This dessert is also very easy to make, which is why you can still have a taste of this trending dessert at the convenience of your own home.
What you need to make brownies:
2 eggs
50g wheat flour
50g granulated sugar
1 tbsp cocoa powder
60g margarine
40g milk chocolate
½ tsp emulsifier
What you need to make mousse layer:
200ml whipped cream
100ml milk
30g milk chocolate
1 tsp gelatin
What you need to make chocolate ganache:
250ml whipped cream
250g milk chocolate
50g margarine
Optional Toppings:
chocolate chips
marie regal cookies
chopped almonds
strawberries
sprinkles
First Layer:
Melt margarine and milk chocolate in a bowl over boiling hot water. When it already melts, take it out and set aside for later.
Mix eggs, sugar and emulsifier in a separate bowl. Use a mixer in high speed until it turns thick, white and solidifies. With a strainer, add cocoa powder and wheat flour into the bowl. Press the powder with a spoon to even out clumps.
Set the mixer to medium to combine all of the ingredients.
Next, pour in the melted chocolate and margarine that was set aside into the mixture. This time, use a spatula to mix the batter by continuously folding the mixture in the bowl. Make sure it is mixed evenly with no uneven clots.
Line the baking pans with parchment paper before pouring in the brownies batter. Preheat the steamer, then steam the cake for 20 minutes in low heat.
After it is done, cut the cakes depending on the sizes of the box.
Second Layer:
To make the mousse, you need to prepare the whipped cream. Get cold whipped cream and whip using a mixer until it is fluffy and stiff. Set aside for later.
Prepare a stove and add in milk, milk chocolate and gelatin. Cook in low heat until it boils and the chocolate melts.
Wait for the vapor to disappear before adding it into the bowl of whipped cream. Mix in until well blended.
When done, pour the mousse on top of the brownies. Use a spoon to smooth it and wait until it sets. In the meantime, prepare the chocolate ganache.
Third Layer:
To make ganache, melt the bowl of margarine and chocolate above boiling water. Set it aside for now.
Heat whipped cream only until it is warm. Pour in the chocolate and margarine mixture and stir well.
Finally, pour the ganache on top of the mousse that has slightly hardened.
For the finishing touch, add toppings according to preference.
Put inside the refrigerator for 2 hours and serve!
Easy, right? You can also use this recipe when you want to serve dessert for a birthday party or even for a private party at home. It is well liked by adults, children and can easily be customized according to how you like it. Try it out and watch as the whole family enjoys this simple but delicious dessert.
Have you tried it? What are other trending desserts you like to make? Tell us your answer in the comment section down below.