Vengna Na Ravaiya recipe by Firdos Dupattawala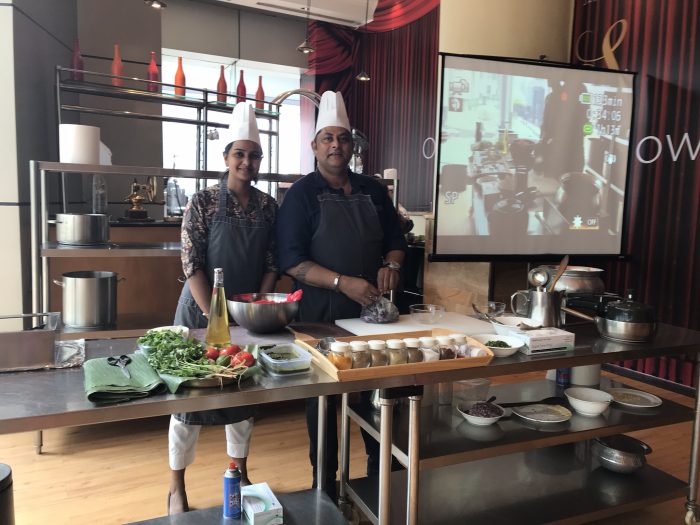 VENGNA NA RAVAIYA or Baghare Baigan is a vegetarian delicacy.
Small baby brinjals stuffed with spicy mixture shared by Firdos Dupattawala  at the 5th What's Up Chef cookery demo and tasting event: Men Special.
His other dish was a Parsi delicacy flavored fish covered with chutney and cooked in plantain leaves. Believed to be a healthier method of cooking fish, it is one of the most sought after dishes at Parsi weddings. Recipe is here >>
Ingredients:
½ kg small baby brinjals/eggplant
4-5 medium sized tomatoes
Fresh coriander for garnishing
Filling
1 tea spoon cumin powder
1 tea spoon coriander powder
1 tea spoon turmeric powder
4 tea spoons of red Kashmiri chili powder
2 teaspoons of aamchur powder
1 teaspoon of fennel powder
½ teaspoon of hing
4 tablespoons of cooking oil
1 teaspoon of ginger paste
1 ½ teaspoon of garlic paste
½ cup of water to blend it into a fine paste
3 teaspoons of salt (or to taste)
Method:
Wash the brinjals, cut into four lengthwise all the way up to the stalk, leaving the stalk intact. Secure this in a big bowl of water so that it doesn't turn black.
Slightly open the brinjals, add the filling masala into each brinjals carefully not to break open it completely, but to completely coat the inner sides of the slits with the masala.
Heat the oil, add the brinjals carefully and keep stirring on high flame till it starts to change its color, lower the flame and allow it to get tender.
Add tomato paste and stir it slowly, be careful not to break the brinjals, cook it till tomatoes gets cooked properly, the gravy should be fairly thick.
Sprinkle with freshly chopped coriander leaves, serve with tawa roti.