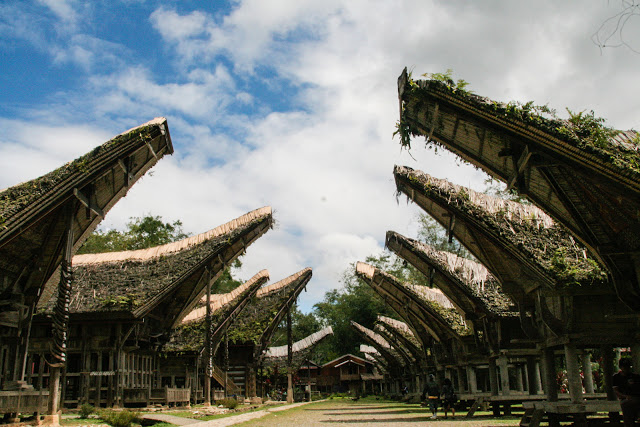 Bali may be the most favored tourist destination in Indonesia. However, you can discover more about Indonesia by visiting Bali's alternative, Tana Toraja. Because it's culturally-rich and relatively untouched, this destination became known as the 'second Bali'. The culture in Tana Toraja is also particularly different from other areas in Indonesia, giving visitors the glimpse of a unique culture.
TANA TORAJA
Tana Toraja, or 'land of the heavenly kings' is an area located on the South of Sulawesi. Despite the advance of technology and globalization, Tana toraja still stays true to its roots and remains unchanged. It may be partly because the people lived in the highlands of South Sulawesi are isolated and only met people who are in the same area.
TRANSPORTATION
Transportation to Tana Toraja can be quite difficult, since Toraja is an isolated area. Although there are many modes of transportation to Toraja, before of the schedules as lack of passengers can even make some cancel their travel.
By Air
Tana Toraja only has one operating airport, called the Pongtiku airport. Passengers fly once a week on Mondays from Hasanuddin airport using the Sabang Merauke air Charter (SMAC). visitors should watch out for the schedule, as it's possible that the flight could be cancelled due to aircraft maintenence or lack of passengers.
Bus
Bus is generally the more preferred vehicle to travel to Tana toraja. There are several companies that provide this service, whether visitors choose more comfortable, less comfortable, morning or overnight bus. Visitors can choose between the more comfortable Bintang Prima, Kharisma and Litha & co.
Taxi or chartered Vehicle
Other than planes and buses, taxi or chartered vehicles can also be a mode of transportation. The price for a chartered car usually costs from 850,000 to 1,200,000 Rupiahs starting from Makassar. A stay for a couple of days and a return with a car and driver costs around 550,000 Rupiahs per day.
It is recommended to stay away from night time self-driving as the roads can be a series of unlit, small, uphill roads with fogging and drizzle at night. There will also be big buses going downhill, while gas stations are few and far in between.
Motorcycles and Buses
We would recommend using public buses or rent a motorcycle to move around Tana Toraja. Tenting a motorcycle can cost Rp 80,000 per day. Bemo/mikrolet rides can cost from Rp 2, 000 for short distances to Rp 10, 000 for long distances. In order to find these transportations, visitors can go to the Bolu Bus Terminal and choose their most preferred mode of transportation.
PLACES TO VISIT
If you do decide to visit Tana Toraja, here are several iconic places that you can see and experience there:
Londa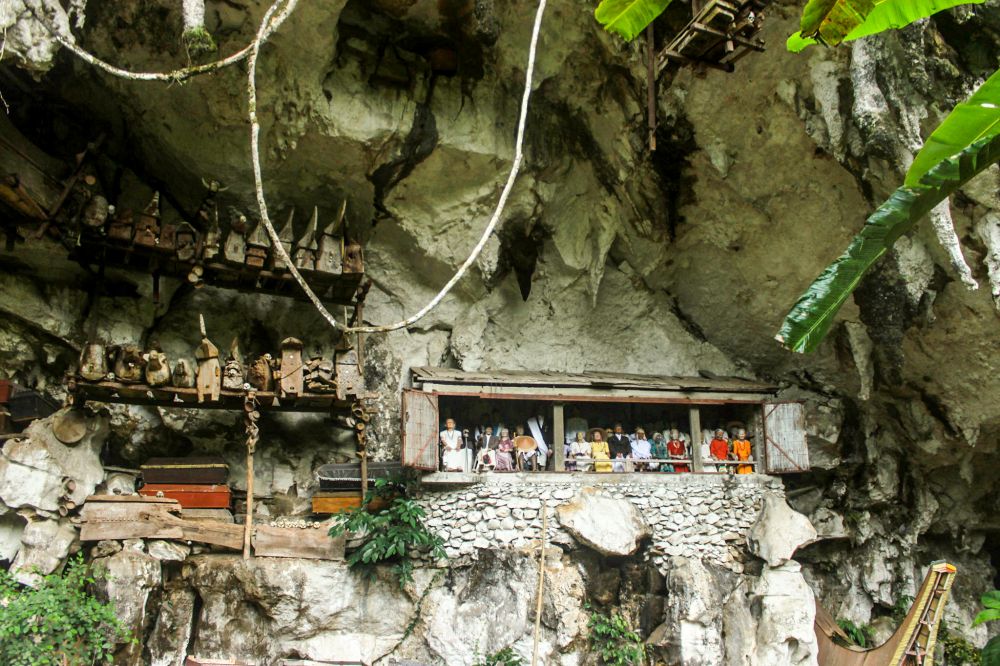 One of the reasons why 'Tana Toraja' became one of the most visited spots in Indonesia is because of the intensity of Londa, or its funeral ritual. Although majority of Torajans have converted to Christianity during the Dutch occupational period, but traditions still exist in the form of 'Aluk to dolo' (Torajan Hindu).
Other than the intensity of the week-long tomate (funeral ritual), it is also known for being expensive. If the family is unable to pay, the corpse will be kept in their house or in a tongkonan (traditional Toraja-style house). They will be covered by several layers of cloth and will be treated as if they were alive. Nothing will deviate from their daily routines, from food, coffee, cigarettes and even if their favorite shows are on television. This is done to avoid misfortune to the rest of the living family members.
Funeral rites are carried out to prepare the deceased family member on the journey to the heaven and to ensure that the deceased's souls will not be lost. But in order for that to happen, a minimum of 4 bulls sacrificed for the spirit to ride on them. The high price of these water bulls also meant that the number of buffaloes sacrificed signify the rank of the deceased while they were alive.
For instance, a royal member, a government official or a person with a high rank would usually sacrifice 24-100 bulls and sometimes the buffalo sacrificed were rarer and more expensive. During the sacrifice, numerous buffalos will be slayed with a single slash on the throat and left to die on the ground. These buffalos will be cut, cooked and served to the guests attending the funeral. Guests will most often speak joyfully of the reincarnation of the deceased during their funeral.
After sacrificing the buffalos, corpses will then be carried into a hole within a rock in the highest point of the mountains. According to local belief, putting the corpses higher meant that they will reach the heaven quicker. For those reasons, nobles are placed on the upper section while commoners are placed on the lower section. Dolls resembling the dead or Tau Tau will also be made so the spirits of the dead will have a place to reside.
In a few years, family members will continue to honor their ancestors. This is done by extracting corpses, cleaning them and wrapping them in a white cloth or new clothes.
Ke'te Ketsu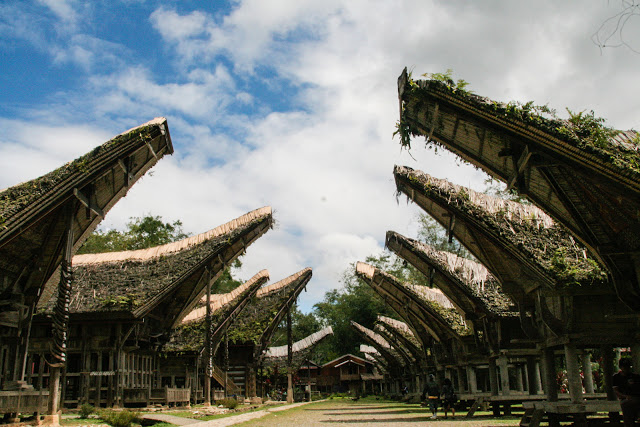 If you would like to see the authentic culture of Tana Toraja, Ke'te Ketsu is a must-visit. Located on the Sanggalangi district, this is also known to be the oldest village in all of Toraja.  There are eight tongkonan houses, all unchanged for the past 400 years.
Tongkonan houses are Torajan traditional houses in the shape of a buffalo's horns. Externally, houses will be decorated with water buffalo horns and teeth to signify the status of the family. Inside, the walls would be decorated with bamboo and stone carvings shaped geometrically and with abstract form. The houses are also facing north to signify where they came from. It was hoped that when a person dies, their soul will head north to rejoin their other ancestors.
Nobility were given the privilege of building tongkonan houses while commoners usually had smaller and less elaborate houses. Tongkonan houses were also built by the family members themselves who received help from no one.
Pasar Bolu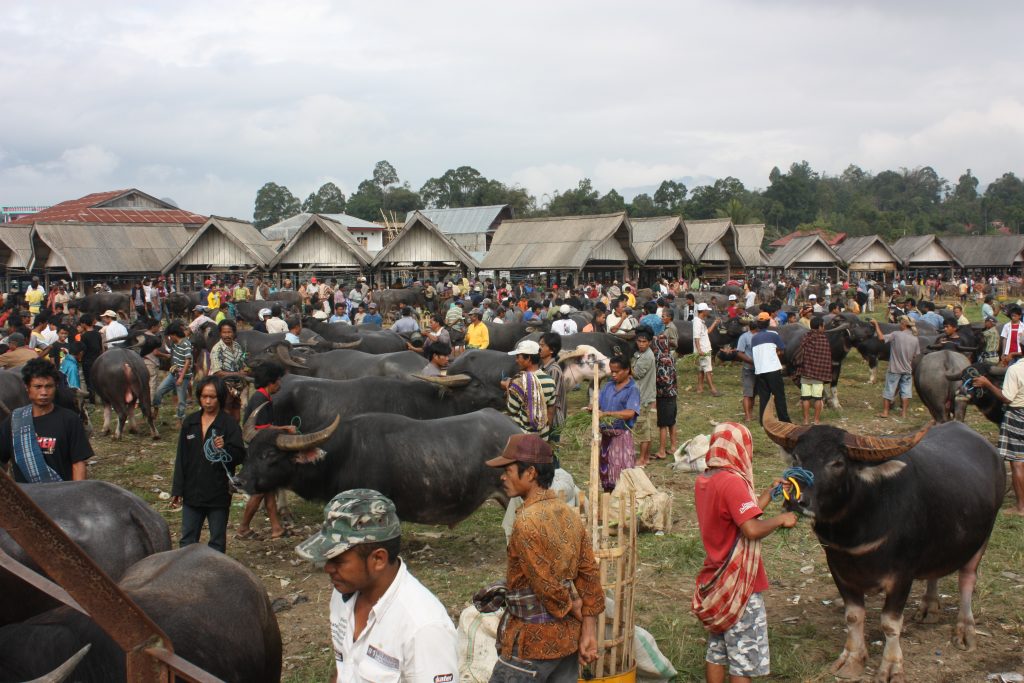 Because buffalos are an integral aspect for a Torajan, water buffalo market in Toraja is extremely large. Remarkably, the buffalo market in Tana toraja is the largest in the world, making about 500 transactions on a daily basis. Buffalos are traded for farmwork, renovating homes, and to bury the dead. Each type of bull is priced differently, ranging from tens of millions of Rupiahs to 1 billion Rupiah.
Kalimbuang Bori and Megalith Stones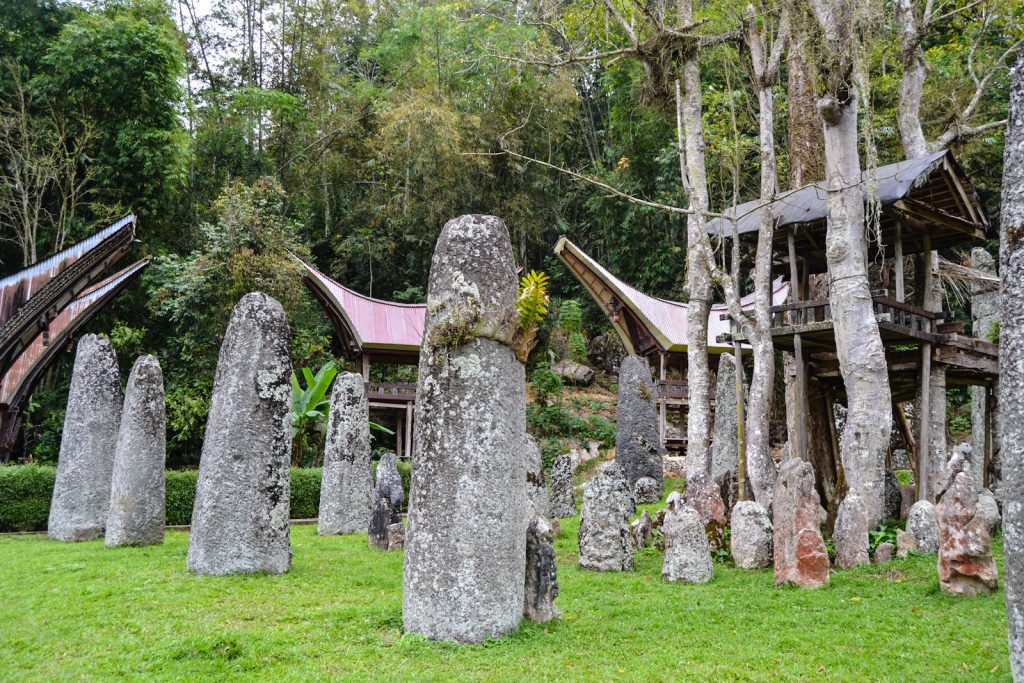 Aluk to dolo also gives headstones to the deceased, although it might look a little different.
Although the bodies are stored within stones in the mountains, headstones are still presented on a piece of land in Sesean village, Tana Toraja. The towering megalith stones represent how many buffalos that the deceased has sacrificed, and also signifies their status while they were alive. The higher the number, the higher the stones will be. Other than the stones, there will also be raised platforms in tongkonan styles all around the compound to display the corpses before they are buried.
Batumonga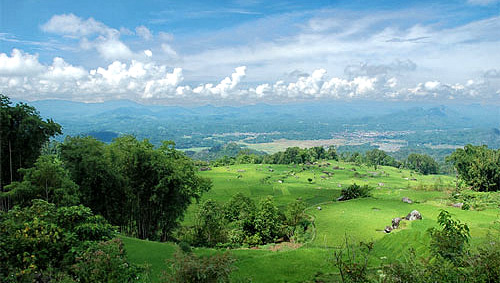 One of the most beautiful places that you can see in Tana Toraja would be the batutumonga in Rantepao. Batutumonga is also known as the 'land above the clouds', because of its location. Standing there, visitors will be able to see the cloud covering the neighboring hills and the cascading greenery. This place is the perfect place for those who want to watch the sunrise or sunset in Tana Toraja.
Sa'dam To'barana
Another cultural aspect still held strongly in Tana Toraja are the clothing materials. Modern, factory-made clothing may have been more used in the recent era, but the art of traditional linens and cloth are still used. Beautiful and handmade, the art of creating these traditional cloths are passed down from generations of villagers in Tana Toraja.
These linens are made from woven fabric that is dyed in plants. Each thread is woven and it takes about 2 weeks to make a piece of cloth. Visitors are even allowed to try weaving the materials to get a more integrated experience into Torajan culture.
Toraja Arabica Coffee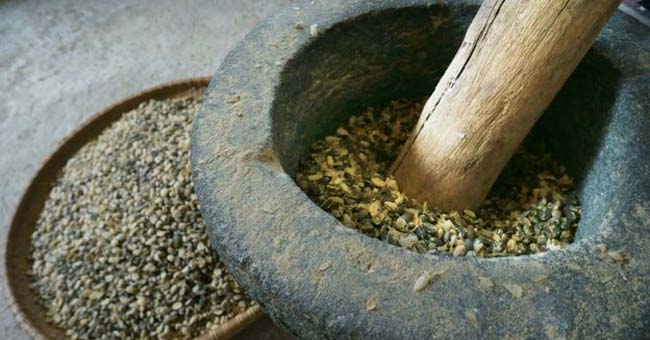 Toraja coffee is known to be one of the best in the world. There are many types of Toraja coffee, but the most well-known and expensive would be the Toraja Kopi Luwak. Each cup of coffee is priced Rp 169,000. In particular countries like Korea and Japan, these coffees are known to be extremely luxurious and expensive. For that reason, visiting the plantation will be a unique and valuable good experience.
ACCOMODATION
Increasing tourism to Tana Toraja has led to establishment of several star hotels. Visitors can visit these well-known hotels for a more comfortable stay during travels to Tana toraja:
Toraja Heritage Hotel
Jl. Kete Kesu, Rantepao, Kabupaten Toraja Utara
Phone : +62-423-21192
Toraja Misiliana Hotel
Jalan Pongtiku No. 27 Rantepao, Toraja Utara
Sulawesi Selatan, INDONESIA
Phone : +62-42321212/+62-42321575 Fax : +62-42321512
Toraja Prince Hotel
Paku Bala Salu, Rantepao, Kabupaten Toraja Utara
Toraja Sahid Hotel
Jl. Raya Getengan No. 01 Mengkendek, Tana Toraja
Phone : +62-42322400 Fax : +62-42322444
Tongkonan Layuk Lion
JL. Kadundun (Jl. poros Singki' – Alang-alang), Nonongan, Rantepao
Phone : +62-42325100 Fax:
Toraja may not be as popular as Bali, however its rich culture and unique specialties will be able to draw visitors in and give them experience that is not found anywhere.