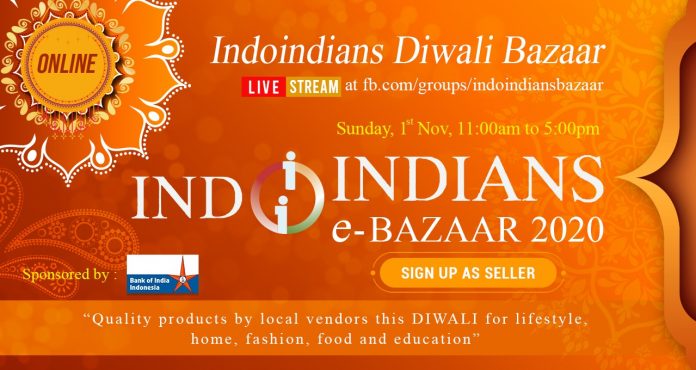 Indoindians Weekly Newsletter online here >>
Namaste friends,
Drumroll… Just 3 days to Indoindians Diwali eBazaar on Sunday, 1st Nov,
streaming LIVE at bit.ly/live-bazaar
at www.indoindianshop.com
Schedule as below:
12 noon eBazaar starts
12.15 pm PRAVIS
12.30 pm Dr. Rajesh Kalwani health tips
12.45 pm B'Jeweled Jewelry by Bindu Jagwani
1.00 pm Coconut Cupboard by Monica Mohindra
1.15 pm Madhubani Paintings by Pooja Bhatnagar
1.30 pm Le Reine Diwali Gifts by Poonam Adnani
1.45 pm Indoindians
2.00 pm Moksh Fashion & Home Accessories by Rashmi Gandhi
2.15 pm Wisma Cheshire handcrafted products
2.30 pm Organic Pure & Natural Manuka Honey by Kanchan Grover
2.45 pm Mystique Jewelry by Rekha Kalwani
3.00 pm Rhea Health Tone by Rajeev Jha
3.15 pm Health Coach Geeta Seth
3.30 pm Le Rosh Boutique by Roshny Mahbubani
3.45 pm Indoindians Artists Art Gallery by Jyoti Chawla
4.00 pm Closing by Indoindians Team
Shop at www.indoindianshop.com for:
– Diwali diyas and decor
– Diwali mithai
– Handicrafts
– 100% VCO products
– Christmas gifts
– Artworks & Original Paintings
– Fashion & Home accessories
– Flowers and gifts
– Jewelry
Also meet Dr Rajesh Kalwani and Geeta Seth for health and nutrition tips.
Come join this 100% safe ebazaar and shop from the comfort of your home.
Meet the vendors LIVE on spotlight where they will showcase their products.
Thanking our sponsor Bank of India Indonesia.
More questions? Contact cs@indoindianshop.com or WA +6282210008272
Warm regards,
Indoindians Team
Indoindians Weekly Newsletter online here >>