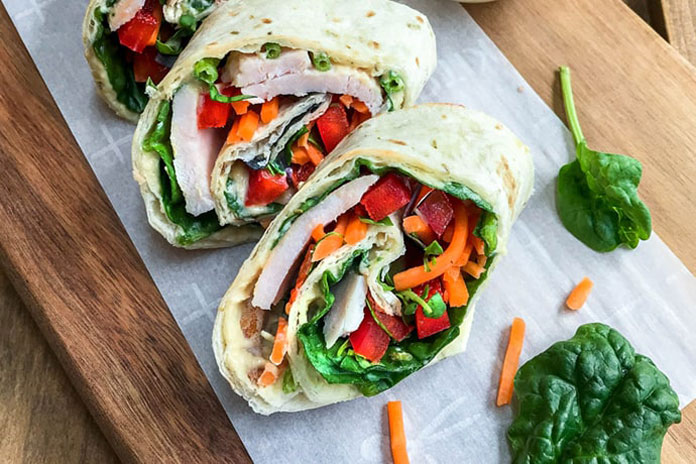 Talk to anyone with a busy schedule: snacks are a God-sent gift. Unfortunately, snacks can be downright unhealthy at times. Make easy, healthy homemade snacks that require no refrigeration as well. Go ahead, try it out!
Caramelized Spicy Pumpkin Seeds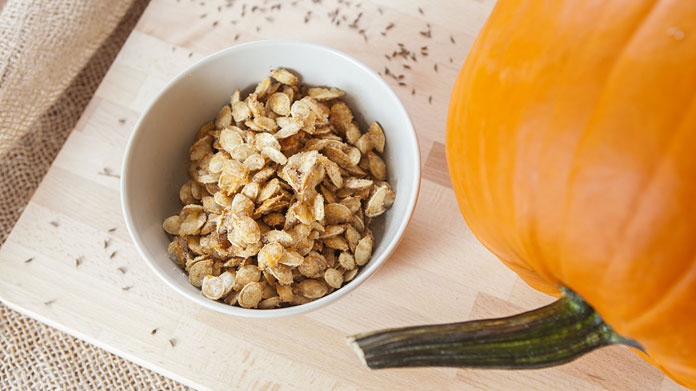 Ingredients:
3 tablespoons white sugar
¼ teaspoon cumin
¼ teaspoon ground cinnamon
¼ teaspoon ground ginger
1 pinch cayenne pepper
2 cups raw whole pumpkin seeds, washed and dried
cooking spray
2 teaspoons salt, or to taste
1 tablespoon olive oil
2 tablespoons white sugar
Method:
Preheat oven to 300 degrees F (150 degrees C). Line a baking sheet with parchment paper.
In a large bowl, stir together 3 tablespoons of sugar, the cumin, cinnamon, ginger, and cayenne pepper, and set aside.
Place the pumpkin seeds on the prepared baking sheet, spray them with cooking spray, and sprinkle with salt to taste. Bake the seeds in the preheated oven until lightly golden, 20 to 25 minutes.
Heat the oil in a large nonstick skillet over medium heat, and stir in the toasted pumpkin seeds along with 2 tablespoons of sugar. Cook and stir the seeds until the sugar forms a coating on the seeds, 2 to 3 minutes. Stir the caramelized seeds into the bowl of sugar-spice mixture, toss to coat, and let cool.
Spicy Roasted Chickpeas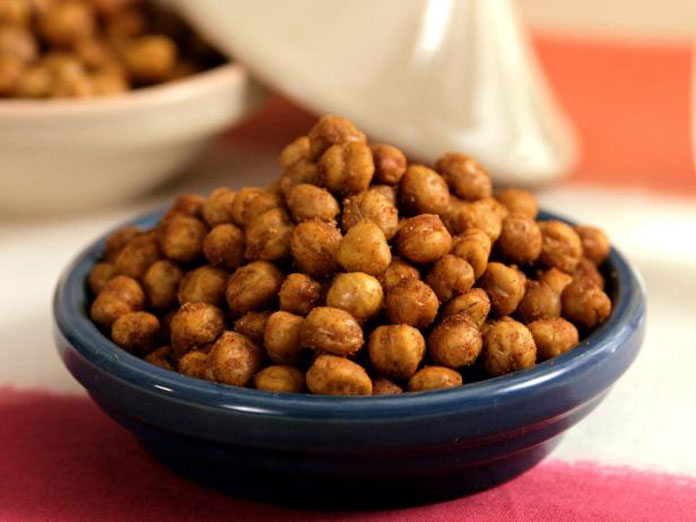 Ingredients:
1 can (15.5 ounces) chickpeas, rinsed and drained
1 tablespoon olive oil
1/2 teaspoon salt
1/2 teaspoon cayenne pepper
Method:
Heat oven to 450 degrees and line a rimmed baking sheet with aluminum foil.
Place chickpeas, oil, salt, and pepper in a bowl and mix well.
Spread on baking sheet in one layer. Place in the oven and bake for about 15 minutes.
Remove pan, shake around to ensure chickpeas brown evenly, and return to oven for another 15 minutes until brown and crunchy.
Serve warm or at room temperature.
Spring Rolls with Peanut Sauce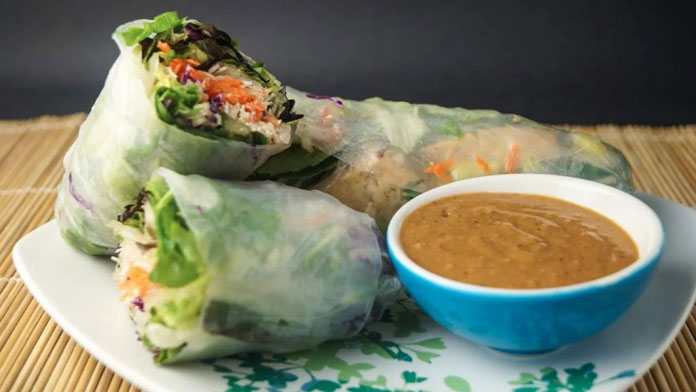 Ingredients:
Shredded carrots
Avocado
Sliced cucumber
Shredded cabbage
Bell peppers
Fresh cilantro or basil
Sliced mango (highly recommend when it's in season!)
Rice paper (use white or brown rice sheets)
Method:
Prepare the peanut sauce. This recipe moves quickly, so you want the peanut sauce ready to serve before you start making the spring rolls. Stir together 7 ingredients, and you're ready to go.
Slice the veggies. I like to use shredded carrots and cabbage, sliced cucumbers and red bell peppers, avocado, fresh cilantro, romaine leaves, and even sliced fresh mango when I have some on hand. (Highly recommend the mango addition when it's in season!)
Wet the paper. Start with white or brown rice spring roll paper. Work with one sheet at a time, getting it wet briefly, for about 10 to 20 seconds under running water. (Or, you can dip them in a bowl of water, if that's easier.) You don't have to wait for the paper to soften, it will soften significantly as you work!
Roll up the veggies. Place the wet rice paper on a cutting board or clean towel, then start adding the sliced veggie fillings to the center. Start with a small amount of everything, because if you add too much, the rice paper may break as you try to roll it up. I usually end up ripping the first one I make, so don't be discouraged if that happens to you, too. (They still taste good, regardless!)
Repeat. Once you've made your first spring roll, repeat the process, getting another sheet of rice paper wet, then filling it with veggies and rolling it up. You can make as many rolls as you like!
Dorito Popcorn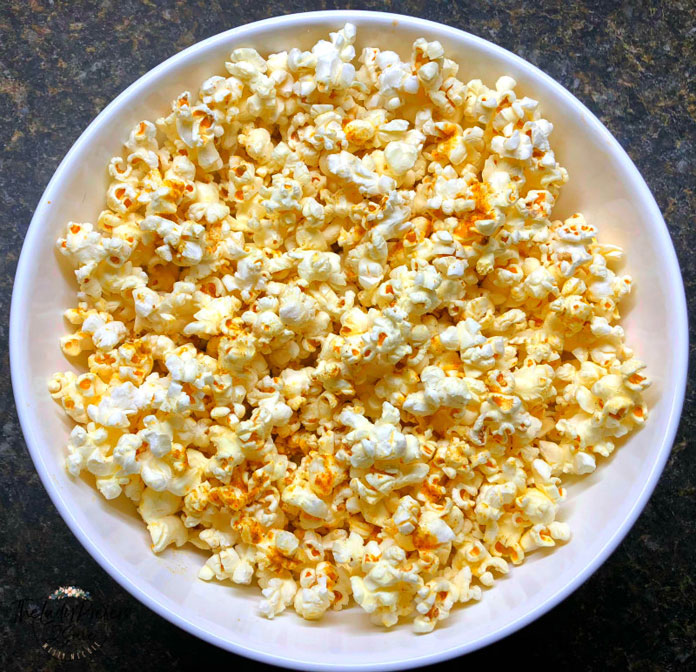 Ingredients:
1/2 cup unpopped popcorn kernels (organic preferred)
2 – 3 tablespoons coconut oil (for popping)
1/4 cup nutritional yeast
1 teaspoon garlic powder or granules (if you would like to make your own garlic granules,
see Easy Homemade Granulated Garlic)
1 teaspoon onion powder or granules
1 teaspoon cumin
1 teaspoon paprika
1 teaspoon chili powder (if you would prefer homemade chili powder, see The "Best" Basic
Chili Powder)
1/8 – 1/4 teaspoon cayenne pepper (optional)
2 teaspoons salt (or to taste)
Method:
Prepare popcorn using oil with preferred method. My Basic Popcorn post has more information about popping and about my favorite stovetop popcorn popper. Air popped popcorn won't work without additional oil since the seasoning needs moisture from the oil in order to adhere to the popcorn.
Combine all spices, and salt in a small bowl.
Blend seasonings in a spice or coffee grinder, or blend in blender to make a fine powder.
Sprinkle seasoning over popcorn and toss to coat.
No-Bake Zucchini Bread Granola Bites Recipe (Gluten-Free & Vegan)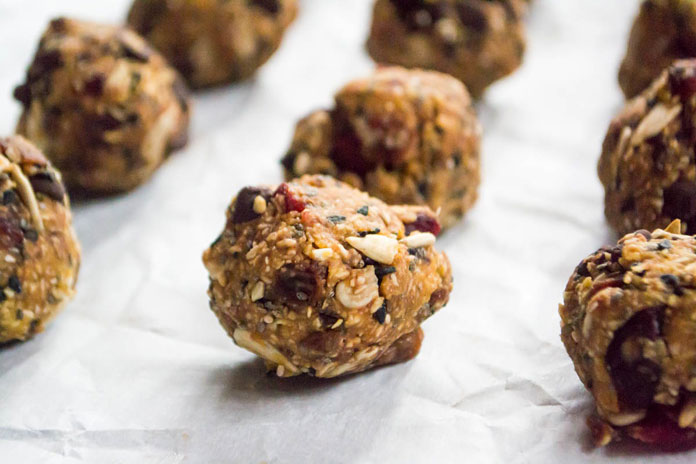 Ingredients:
1 1/2 cups old-fashioned oats
1/3 cups sliced almonds chopped
1 tablespoon chia seeds
3/4 cup almond butter
2 tablespoons plus 1 teaspoons agave nectar or honey
1/4 teaspoon ground cinnamon
3/4 cup packed grated zucchini
Method:
In a large bowl, mix together the oats, almonds and chia seeds.
Stir in the almond butter, agave nectar and cinnamon until well combined.
Place the grated zucchini on a sheet of paper towel and squeeze out the excess liquid. Add the zucchini to the oat mixture.
Using 1½ tablespoons (packed) of the mixture for each bite, roll the mixture into bite-sized balls. Using a medium-sized cookie scoop makes this process easier. Also, spray your hands with cooking spray to stop the mixture from sticking.
Place the granola bites on a baking sheet, cover and refrigerate for 1 hour. Serve.
Store the remaining granola bites in an airtight container in the refrigerator for up to 1 week.
Sugar Free Keto Low Carb Granola Bars Recipe
Ingredients:
1 Cup Raw almonds, Chopped (140g)
1 Cup Slivered almonds (85g)
1 Cup Unsweetened coconut flakes, tightly packed (65g)
1 Large egg
4 Tbsp Monkfruit
2 Tbsp Almond butter
1 Tbsp Coconut oil
3/4 tsp Sea salt
1/4 Cup Stevia sweetened chocolate chips (or dairy free)
Method:
Heat your oven to 375 degrees and line an 8×8 inch pan with parchment paper, leaving some hanging over the sides to use as a handle later on.
Place the chopped almonds, slivered almonds and coconut flakes on 3 separate small baking sheets. Bake until golden brown and toasted. The coconut will only take 2-4 minutes, the slivered almonds about 3-5 minutes and the chopped almonds about 7-12 minutes. Let cool completely. Additionally, reduce the oven temperature to 350.
In a large bowl, whisk together the egg and monkfruit.
In a separate small, microwave-safe bowl, melt the almond butter and coconut oil until smooth, about 30 seconds. Whisk into the egg mixture until well combined.
Add in all the nuts, coconut and salt and stir until well combined. Finally, stir in the chocolate chips.
Press VERY firmly into the prepared pan. I like to hold a little piece of parchment paper to make this easier. Put some muscle into it because you need to pack these in so they hold together.
Bake until the top just feels set, about 15 minutes at 350 degrees. Let cool COMPLETELY to room temperature in the pan.
Once cool, slice and DEVOUR!
Rainbow Protein Veggie Wraps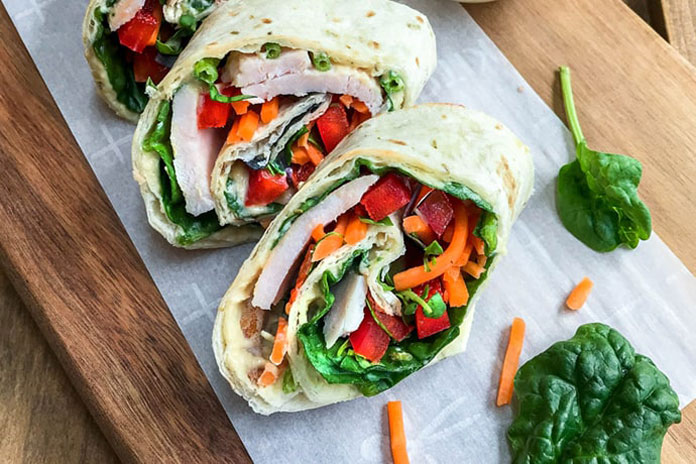 Ingredients:
8-inch multigrain wrap
1/4 cup hummus
1 oz sliced deli meat (turkey, ham, pastrami, etc.)
1/3 cup baby spinach
1/4 cup thinly sliced red pepper
1/4 cup shredded carrots
1/4 cup microgreens
Dressing for serving
Method:
Spread the wrap or tortilla with hummus. Top with spinach, deli meat, bell pepper, carrots, and microgreens. Roll up each wrap and slice into 1-inch rounds. Serve with dressing of choice if desired.
Carrot Cake Granola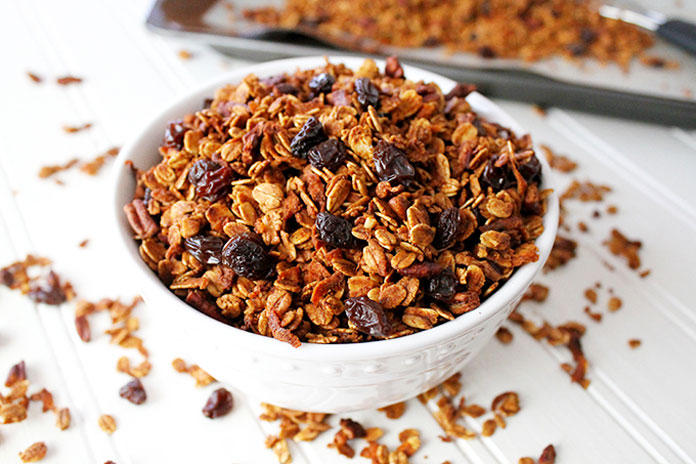 Ingredients:
2 1/2 cups large rolled oats (old fashioned whole oats)
2 cups grated carrot (about 2-3 medium sized carrots)
1/2 cup broken pecans, unsalted and raw
1/4 cup pumpkin seeds, unsalted and raw
5 Tbsp coconut oil, melted
1/2 cup maple syrup (the good stuff)
1 tsp ground cinnamon
1/2 tsp ground allspice
1/4 tsp ground cloves
Method:
Preheat oven to 350F
In a large bowl, mix together oats, grated carrot, pecans, pumpkin seeds, coconut oil, and maple syrup until everything is well coated in the oil and syrup. Sprinkle the ground cinnamon, allspice, and cloves on top and mix until everything is evenly coated.
Spread onto a large, baking sheet and bake for 20 minutes, give it a good turn and a stir to promote even crisping, then bake again for another 20 minutes.
Remove from oven and let cool on a wire rack (give it another stir for good measure). The mixture will seem kind of soft and not granola-y but it'll crisp up. Once cooled completely, remove from the pan and store in an airtight container.
Healthy Chocolate Chip Cookie Dough Protein Bars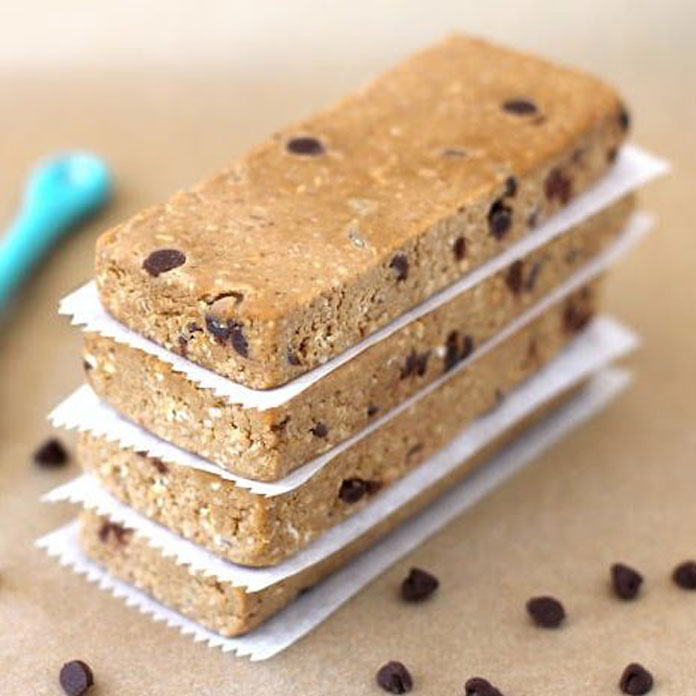 Ingredients:
128g (½ cup) Roasted Almond Butter
¾ cup + 3 tbs Unsweetened Vanilla Almond Milk
1¼ tsp Vanilla Crème-Flavored Stevia Extract
1 tsp Natural Butter Flavor
168g (1¼ cups, lightly packed) Vanilla Brown Rice Protein Powder
90g (¾ cup) Oat Flour
¼ tsp Salt
¼ cup No-Sugar-Added Dark Chocolate Chips or Mini Semi-Sweet Chocolate Chips
Method:
Line an 8×8" brownie pan with parchment paper. Set aside.
In an electric stand mixer bowl tted with a beater attachment, add all of the ingredients.
Mix on low speed until everything is fully incorporated.
Scrape down the sides of the bowl. Mix on medium speed for one last mix. Mixture should be thick and fudgy, like cookie dough.
Scoop the mixture into the brownie pan and atten it out. Tightly cover the pan with plastic wrap and refrigerate overnight.
Lift the mixture out of the pan. Slice into 10 bars. Individually wrap the protein bars in plastic sandwich baggies. Store in the refrigerator for up to 1 week or stash them in the freezer.
Curried Carrot Fries Recipe
Ingredients:
12 carrots, cut into fry-shaped strips
2 tablespoons extra virgin olive oil
1 tablespoon curry powder
1 1/2 teaspoons kosher salt
Method:
Preheat the oven to 400 degrees Fahrenheit.
Place the carrots, olive oil, curry powder, and salt in a large bowl; toss well to coat.
Divide the seasoned carrots between two parchment-lined rimmed baking sheets. Give the pan a good shake to ensure the carrots are in a single layer; bake for 25-30 minutes, checking once halfway through to rotate the pans.
Serve with Greek yogurt dusted with smoked paprika, if desired.