Holi is the festival of colors, joy, happiness and full of fun and laughter.
In Hinduism, Holi (also called Holaka or Phagwa), an annual festival celebrated on the day after the full moon in the Hindu month of Phalguna (early March). It celebrates spring, commemorates various events in Hindu mythology and is time of disregarding social norms and indulging in general merrymaking. In 2021, Holi will begin in the evening of Sunday March 28 and ends in the evening of Monday, March 29.
Holi celebrations start on the night before Holi with a bonfire where people gather, sing, dance and party. These bonfires not only purify the air of evil spirits, but mark the story of Holika and Prahalad.
The next morning is a free-for-all explosion of colours, where participants play, chase and colour each other with dry powder and coloured water, with some carrying water guns and coloured water-filled balloons for their water fight. Anyone and everyone is fair game, friend or stranger, rich or poor, man or woman, children and elders.
The frolic and fight with colours occurs in the open streets, open parks, outside temples and buildings. Groups carry drums and other musical instruments, go from place to place, sing and dance. People visit family, friends and foes to throw colour powders on each other, laugh and gossip, then share Holi delicacies, food and drinks.
Here are some typical Holi delicacies that you can try:
Do you have a special recipe for holi. Please do share in the comments below.
There has been a long tradition to have Bhang, an intoxicating ingredient made from cannabis leaves, mixed into drinks and sweets and consumed by many. In the evening, after sobering up, people dress up and visit friends and family.
In Bengal, Holi features the Dolayatra (Swing Festival), in which images of the gods are placed on specially decorated platforms and devotees take turns swinging them. In the meantime, women dance around and sing special songs as men spray colored water at them.
LET THIS HOLI BE A TIME WHEN WE CHANGE
NOT ONLY THE COLOR OF OUR FACES,
BUT THE COLOR OF OUR HEARTS.
LET US NOT ONLY "PLAY" HOLI,
BUT LET US BECOME HOLY.
One legend that is associated to Holi is a story of Prahlad and Hiranyakshyapu. Yet another legend is about Krishna and Radha. As a baby, Krishna developed his characteristic dark blue skin color because demon Putana poisoned him with her breast milk. In his youth, Krishna despaired whether Radha, who had fair skin and other girls would like him because of his skin color. His mother then asked him to approach Radha and color her face in any color he wanted. He did it and then Radha and Krishna became a couple. Ever since, the playful coloring of Radha's face has been commemorated as Holi.
A third story about the origin of Holi has to do with God of love Kamadeva and Lord Shiva. Finally, the other legend is about the monstrous ogress named Dundhi.
One must experience the festival in Mathura and Vrindavan and also pay a visit to the famous Banke-Bihari Temple. The crowd's enthusiasm for their beloved Lord Krishna needs to be seen to be believed. In Vrindavan, the festival is celebrated for a week.
There are lessons to be taken from all the legends associated to Holi. First, devotion to God always pays, as God will take his true devotee in his arms. Second, love can bridge the distance between two different people. From these two things, we can conclude that good deeds (devotion to God and love) will always win.
The colorful, joyous Holi festival symbolizes togetherness, joy, harmony, and hope amongst people across all sections of the society. On this day people forget their grudges, past mistakes, forgive people, and erase all impurities in their hearts. This is a festival where we can see how the diverse colors of human can blend into a beautiful and joyous event.
There's also a divine message amid the joyous, playful and intensely colorful Hindu spring festival of Holi – It reminds of the divine and eternal love of Krishna and Radha. It also reminds one of Narashima, Prahlada and Hiranyakashyapa and thus the fact that 'Truth and Humanity are invincible forces in the Universe'.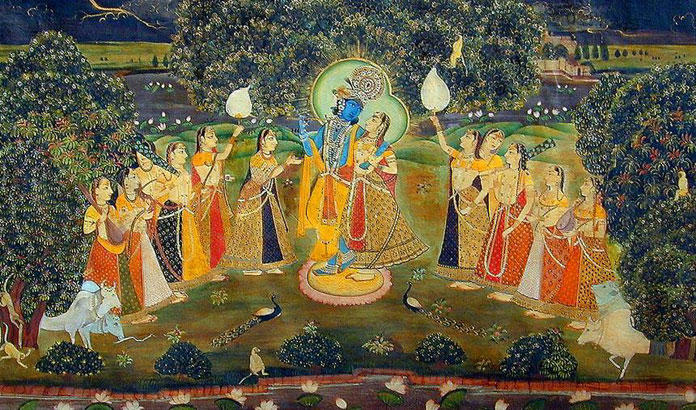 Sri Sri Ravishankar's Holi message here>>