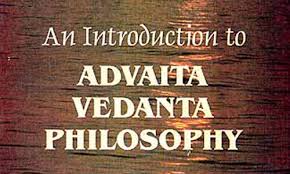 Before you start, please take a look at the transliteration key. Do not be put off by capital letters in the middle of words. They are there for a reason.
---
This site is an attempt at providing an easy and structured online introduction to the philosophy of advaita vedAnta, as taught by SankarAcArya and his followers. It is not meant for religious propaganda. This website represents a serious attempt at exploring philosophical issues in advaita vedAnta, as handled by the leading philosophers themselves, and in the context of their times. At the end, I think it should be obvious that the core of the teaching has a timeless quality to it, making it relevant to all humankind even today.
SankarAcArya is the most important teacher of the advaita school of vedAnta, and his commentaries to the upanishads, the bhagavad-gItA and the brahmasUtras define the parameters of advaita thought. However, it must be remembered that all vedAnta philosophy really goes back to the upanishads, and SankarAcArya is regarded as a pre-eminent teacher who continued the upanishadic tradition. The name SankarAcArya has become a title for the heads of the numerous advaita institutions in India today, because of the great respect and fame associated with it.