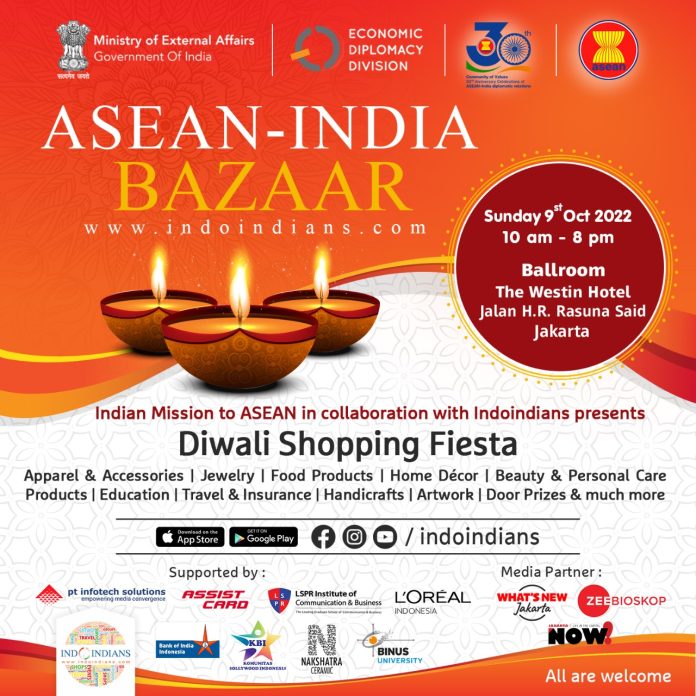 The ASEAN-India Diwali Bazaar intends to showcase the culture and traditions of both ASEAN and India through handicrafts, costumes, food, music, dance etc.
This event is supported by Indian Mission to ASEAN, Jakarta, to celebrate the ASEAN-India Friendship Year-2022 commemorating 30 years of establishment of relations between ASEAN and India.
Letter issued by Indian Mission to ASEAN, Jakarta
With 120+ vendors, this is a Diwali shopping fiesta with quality products by local and international vendors for lifestyle, home, fashion, food and education.
Featuring Participating vendors here >>
Deepavali specific products
Food products
Fashion & jewelry
Household products
Handicrafts
Education & Toys
Insurance & Banking Services
Painting Exhibition Participating artists here >>
Door Prizes Galore:
Loreal Beauty hampers
Bottles of Wine by Society wines
Beauty Hamper
Hotel Meridien Vouchers
JW Marriott Hotel Vouchers
Ritz Carlton Hotel Vouchers
Batik hampers
Luxon Bakery Hampers
Westin Spa Vouchers
About Indoindians
To connect, support and engage the Indian Diaspora in Indonesia as well as people of Indonesia with an interest in India – the Indoindians community.
It provides a versatile, interactive medium for marketing and advertising your products and at the same time making your services available to our target audience. This is a community initiative by PT Infotech Solutions based in Jakarta.
At a Glance:
100,000 unique visitors/month
20,000 newsletter subscribers
20,000 followers on Social Media
300 city network for gift delivery network across India & Indonesia
22 years online