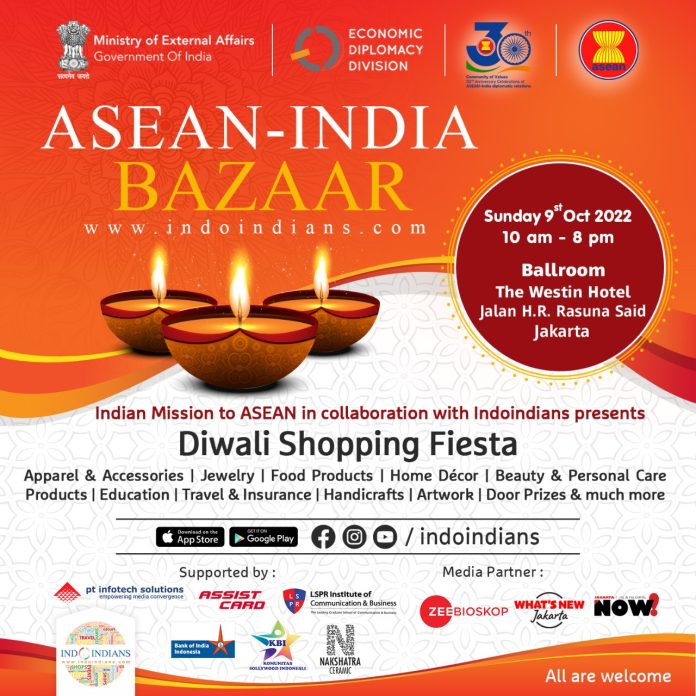 ASEAN – India Diwali Bazaar & Painting Exhibition on Sunday, 9th Oct 2022 at The Westin Hotel from 10:00am to 8:00pm, Jakarta, presented by Indoindians  
An opportunity to bring under one roof, ASEAN buyers and sellers for a day of shopping, friendship and fun while connecting with the expat and local communities in Jakarta.
This event is supported by Indian Mission to ASEAN, Jakarta, to celebrate the ASEAN-India Friendship Year-2022 commemorating 30 years of establishment of relations between ASEAN and India.
Letter issued by Indian Mission to ASEAN, Jakarta
The ASEAN-India Diwali Bazaar intends to showcase the culture and traditions of both ASEAN and India through handicrafts, costumes, food, music, dance etc.
With 120+ vendors, this is a Diwali shopping fiesta with quality products by local and international vendors for lifestyle, home, fashion, food and education.
Featuring
Deepavali specific products
Food products
Fashion & jewelry
Household products
Handicrafts
Education & Toys
Insurance & Banking Services
Painting Exhibition 
It is expected that over 1000 people will visit the event from the ASEAN and Indoindians communities and local Indonesians.
Sign up as a artist for Painting Exhibition here >>
Sign up to be a sponsor here >>
About Indoindians
To connect, support and engage the Indian Diaspora in Indonesia as well as people of Indonesia with an interest in India – the Indoindians community.
It provides a versatile, interactive medium for marketing and advertising your products and at the same time making your services available to our target audience. This is a community initiative by PT Infotech Solutions based in Jakarta.
At a Glance:
100,000 unique visitors/month
20,000 newsletter subscribers
20,000 followers on Social Media
300 city network for gift delivery network across India & Indonesia
22 years online