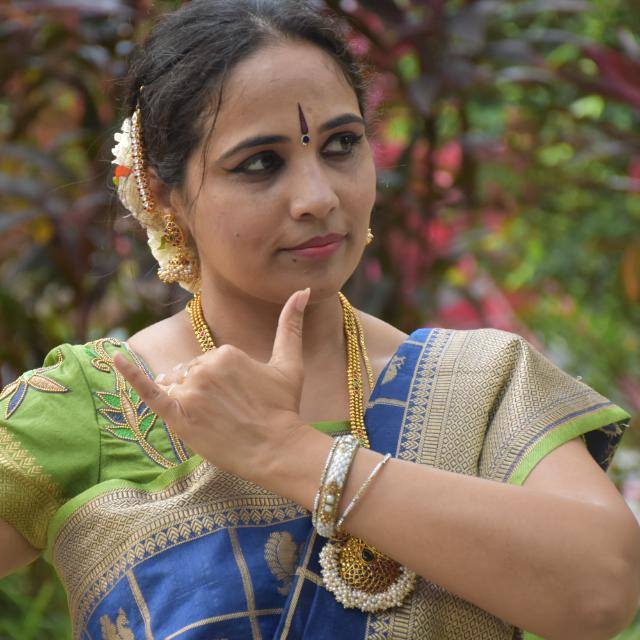 Although Mrs. Bharghavi Anand has a Degree in Engineering , her early childhood passion in the arts took her to complete a Masters in classical dancing at a fine arts school in Karnataka, India. 
Trained in Bharatanatyam formally under Guru Ravindra Sharma, Guru Dr, Tulasi Ramachandra and Guru Roopashree Madhusudan, she has completed 'vidwat'(masters) in the Karnataka State Secondary Board Dance Exams.
Bhargavi has not only performed at various dance events, but has also choreographed & directed traditional folk dances, Semi-classical and Bharatanatyam group performances at Mumbai, Mysore, Bangalore and Singapore.
With around 10 years of training more than 70 students, she has been able to build a creatively stimulating environment to cultivate and learn about the rich Indian culture.
Bhargavi's proficiency level training and qualifications in 3 forms of ART viz. dance, drama and music enable her to create, compose and execute various innovative cultural events.
Bhargavi brings wide experience and innovation to her teaching style owing to her multiple talents: as a trained carnatic classical singer, a B grade drama artist and a Radio Jockey in AIR(Bangalore), Television artist, and a volunteer for Chinmaya Mission Balvihar classes.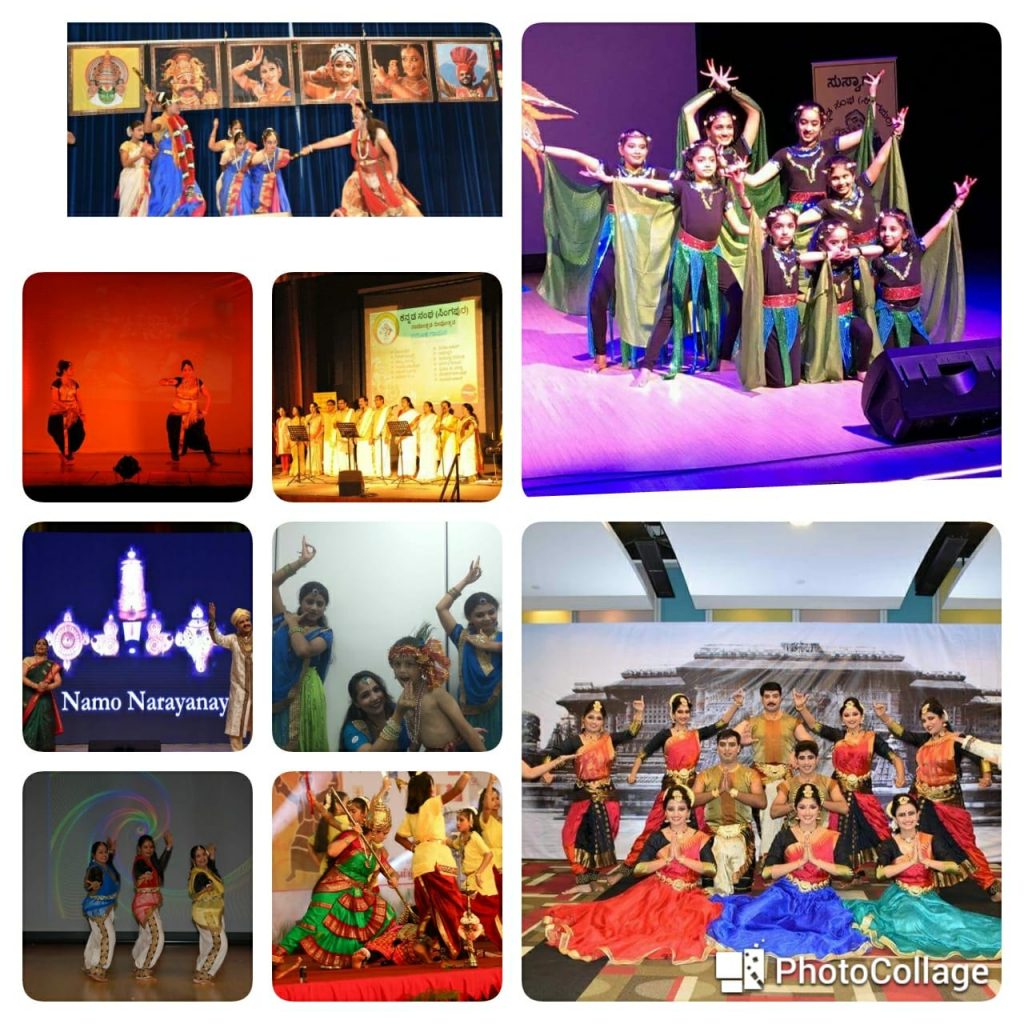 She has always been on the move, from South India, to West India, to Singapore and is currently residing in Indonesia. She continues to dance and occasionally performs with her husband and her two sons.
What is your inspiration?
It started from my environment, I think. Wherever you will be, your environment inspires you. My father is a theatre artist and my mother is a classical singer. My parents are amateur artists, you see, but they do it for the passion-and that's how I got started in classical dance.
What are you most excited for in Indonesia?
I am excited to stay here, because I saw so much cultural activity and so much passion for it. Indonesia in particular, has a very strong cultural connection to dance especially Balinese dance. As a dancer, that is especially interesting to me.
Why do you think it's interesting?
I saw there are a lot of similarities between Balinese and Bharatanatyam dances. Both of these dances have moments that are quite similar and have dance dramas like Ramayana and Mahabharata epics, although they are presented differently.
This is like a dream to me and I thought, 'this was what I should do when I arrive in Jakarta'. A combination of Balinese traditional dancing with Ramayana and Mahabharata dancing is going to be great. We can combine them and show different combinations of each dance; like how Bharatnatyam looks in Balinese or vice versa.
I would like to teach Bharatanatyam in Jakarta and learn Balinese dance from them, so we can mutually share our art forms. In fact when I go back to India, I will be able to present it and say 'I have learned Balinese dance form and I can perform it'.
I've been to Bali several times and saw several Balinese dances and performances. I was able to see what were the stories that they presented and how they were able to present it. Watching the performances was very valuable, as I was able to get the experience and therefore be able to emulate the theatre presentations.
What are the challenges of teaching Bharatanatyam dance? 
Whatever I learned 20 years back, teaching it in exactly the same way is not going to work now. It is a difficult art form, which takes hard work and practice. Meanwhile, they also don't have that much time to dedicated for the dance, so in the end they leave in between.
How do you overcome the challenges?
I wanted to make it more interesting. So then I thought, "why don't I just teach semi-classical?". It was during that time that I started Yoga for Dance.
Bharatanatyam also consist of yoga poses, which makes it ideal of yoga exercise. If you are thorough with the movements, then you will be able to hold on the pose for a long time. In this class, I will teach you some light yoga poses, I will put on some music and you can enjoy the music. Many ladies used to like going to the classes back in Singapore.
Usually, I put on some catchy, semi-classical music and combined some yoga poses with that. It looks like a dance but the person is doing Yoga. Even the audience will enjoy the music while participants feel like they are performing. At the same time, it's a very good workout for them. Afterwards, I started my contemporary semi-classical classes.
Even if you are not able to learn full Bharatanatyam, you will still be able to experience the 'flavor' of the dance through some of the poses.
How do you hope to teach the younger generation?
I want to create performances as well as teach in here. From what I noticed in Singapore, kids who are in International schools usually learn Bharatanatyam only for some time. That was because I taught Bharatanatyam in its purest form.
They asked me previously, can we make this art form in a contemporary version? So that's how I started the Yoga for dance. The songs are the catchy music that they love while the dance moves are Bharatnatyam. So it's the perfect combination.
Nowadays, Indian classical dance forms are more popular ever since several dancers added Indian classical beats to a number of popular songs. One examples is the song 'Shape of you' by Ed Sheeran. There has been many more compositions that came out since then. By combining both of these art forms, we are able to bridge the younger generation with Bharatanatyam.
Any words to Bharatnatyam dance enthusiasts in Indonesia?
I can teach semi-classical and contemporary semi-classical dances, but I will never deviate from Bharatanatyam. Even then, most of my students are already very proud because they have learned Bharatnatyam.
That is what I am looking forward to. For anyone who is interested in this dance form, I can teach many forms-whether you want to learn purest form or you just want to learn a few basic steps.
For more information, you can send us an email at webmaster@indoindians.com