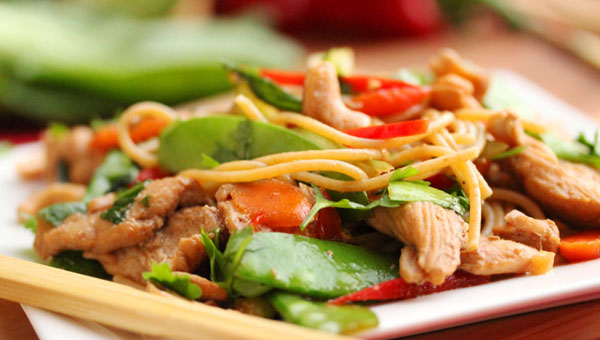 For a healthy and delicious dinner meal, you can try out our recipe of crunchy chicken stir-fry with whole wheat. This means that you can eat this delicious meal with the whole family
Ingredients :
1 cup uncooked spelt/whole wheat, soaked overnight
1 1/2 tbsp any vegetable oil (peanut/mustard)
1/4 cup minced fresh onion
2 garlic cloves, minced
1/2 cup thinly sliced carrot
1/2 cup red bell pepper, sliced 1/2-inch strips
450 gm skinless, boneless chicken breasts, cut into pieces
2 tsp sesame oil
1/2 tsp freshly ground black pepper
3 tbsp soy sauce
1/2 cup sliced green onions
Directions :
Place whole wheat in a medium saucepan; cover with water to 2 inches above grain.
Bring to a boil, reduce heat, and cook, uncovered, 1 hour or until tender. Drain and set aside. Alternatively pressure cook till done.
Heat oil in a large saute pan over medium-high heat.
Add onion and garlic cook 30 seconds. Add carrot, red pepper, and chicken cook 5 minutes. Stir in whole wheat, sesame oil, and pepper; cook 2 minutes, stirring constantly.