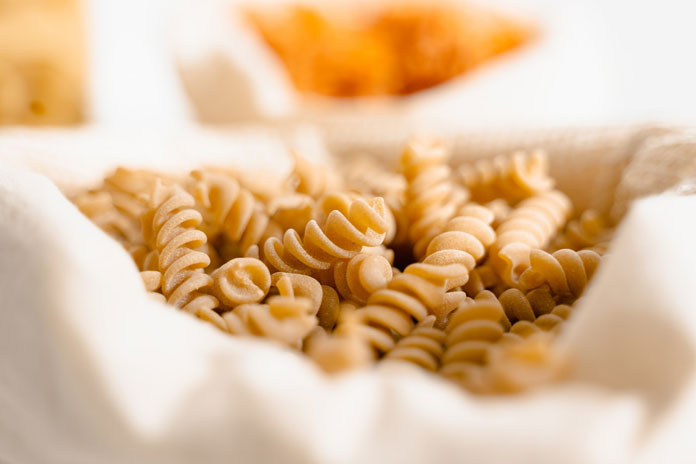 Pasta, originally from Italy, is loved all around the world. Made into various shapes then boiled or baked, it is a necessary component for many famous dishes around the world like spaghetti bolognaise, lasagne, fettucine alfredo and more!
Did you know that you can make your pasta gluten-free? It is healthier for many people and suitable for those allergic to gluten.
Ingredients:
2 1/3 c. gluten-free flour, such as Cup4Cup
2 tsp. xanthan gum
1 tsp. kosher salt
5 large eggs
Method:
In a large bowl, whisk together gluten-free flour, xanthan gum, and salt.
Make a large well in the center of your flour mixture and add eggs. Using a fork, beat eggs until mixed, then slowly integrate flour into eggs until no dry flour is left and a ball of dough has formed. (You may have to switch from a fork to your hands near the end of the mixing process.)
Turn dough out onto a lightly floured surface and knead until smooth, 2 to 3 minutes.
Cut dough into quarters and wrap all but one in plastic wrap. On a lightly floured surface, roll uncovered dough into a long rectangle about 1/4" thick. Set pasta maker to widest setting and pass the rolled out dough through 2 times. Fold the short ends of the dough to meet in the center of the rectangle, then fold in half so that the dough is in quarters. Roll out again to the dough is 1/4" thick, then pass through pasta maker 2 more times.
Adjust pasta maker to be 1 degree more narrow and repeat process. Continue rolling, folding, and adjusting until desired thickness is reached. Dough should be slightly translucent.
Place rolled out dough onto a lightly floured surface and dust with more flour. Repeat process with remaining dough quarters.
Adjust pasta maker to desired width of noodles and feed dough through machine. Divide noodles into equally sized portions and curl into nests. Place on a parchment lined baking sheet and cover with a clean kitchen towel until ready to cook.
To cook: bring a large pot of salted water to a boil and add pasta. Boil, stirring gently with a wooden spoon, until tender, 2 to 3 minutes.
Drain and serve with your favorite pasta sauce.