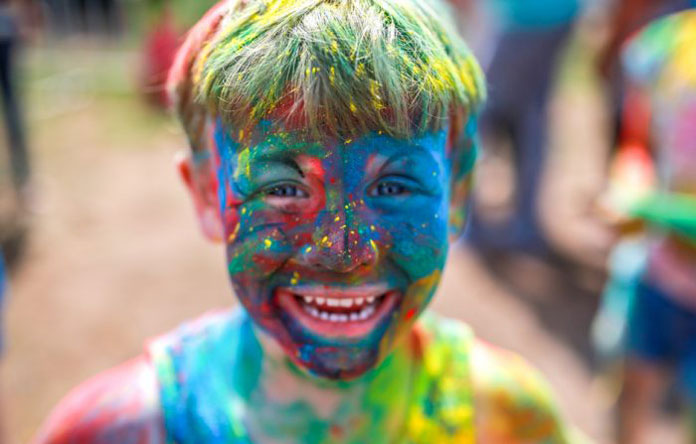 Holi without gulaal is incomplete!
Gulaal that is regularly found and sold on the streets is considered harmful considering the amount of dangerous chemicals it possesses. There has been many cases where the skin would stain for days, allergic reactions cropping up and even skin that has worsened due to the heavy chemicals in the gulaal. For that reason, we would recommend making your own organic gulaal.
How to make natural coloring:
RED: Use red roses or red hibiscus that is dried and powdered.
GREEN: You can either take cilantro, spinach or mint leaves to make natural green coloring. Grind the leaves with water to prepare the coloring. Cilantro and spinach is supposed to be mixed with henna powder for stronger color.
BLUE: Find some Jacaranda flowers (neeli gulmohar) and put it in the shade to be dried out. When the petals are already dried, grind them to powder formation and blend with water.
PURPLE: Take some beetroot, grate it, dry it in the sun and grind to a powdery consistency.  Otherwise, grate and soak beetroot to get wet purple water.
ORANGE: Pluck saffron petals from the flower, dry the petals and grind to powder. For wet orange color solution, you can boil or soak it overnight then mix it with henna powder.
BROWN: Use 1: 4 ratio of henna & amla powder mixture. Using sandalwood powder will also get you the same effect.
YELLOW: You will either need turmeric powder to obtain yellow gulaal color, or process chrysanthemums & marigolds. The first step is to dry the flower petals and grind to powder. The second step is to soak it. Another step is boiling overnight. Finally, add in henna should be added to either of the solutions.
Ingredients:
200 mg Powder (Arrowroot flour, Rice flour or Corn flour)
Natural Coloring
Fragrance (Rose water or any essential oils)
Instructions:
Prepare the needed amount of powder on separate bowls.
Mix in natural coloring on each bowl.
Add few drops of fragrance to each color.
Evenly grind the mixtures.
If the color is too light, add more color.
Let it dry for 24 hours.
The gulaal is done!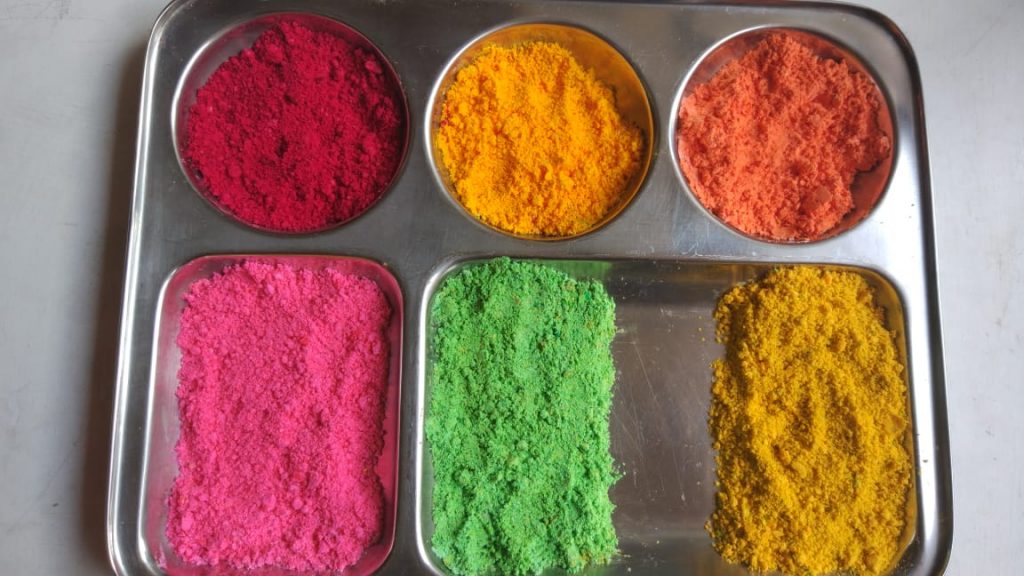 Not only is factory made gulaal harmful to the skin, but it is also more difficult to remove and stains longer. Organic gulaal, on the other hand is known to be harmless to the skin and is easier to remove. You will most likely not experience staining on the body, on your furniture and experience no allergic reactions.
Have you tried making these organic gulaal? Share your experience with us in the comments section below!
Recipe & Images courtesy of Roshni Subudhi