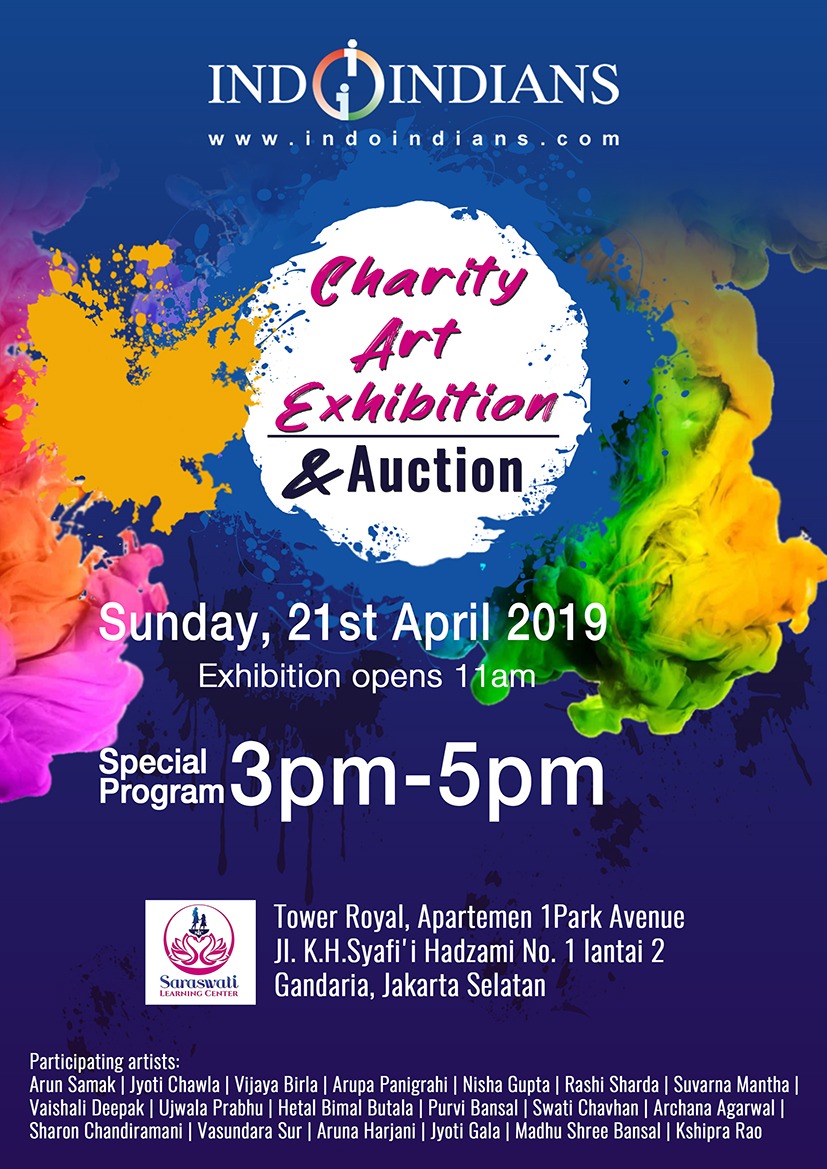 Dear All,
we cordially invite you to visit and participate in the Indoindians & SLC collaborative Charity Art Event – Art of Giving, to raise funds for the less privileged special needs students to attend the Saraswati Learning Center. May this theme of 'giving' for the art auction inspire us as 'the more we give, the more we receive!'
On this day groups of children from SLC will perform on the stage. The visitors can also interact with the vocational students to make bracelets, paint rocks with them.
20 Indian artists will be showcasing their artworks and will individually contribute an artwork for auction. These artworks have been created as buddy projects between the artists and the special needs children at SLC. Really special pieces of art with a story behind each one of them.
An onsite painting children;s competition will on the theme 'Kindness' will provide a platform for children between 6yrs – 16 yrs to demonstrate their creativity and skill.
Our main program is from 3pm onwards with Chief Guests and VIPs to inaugurate the event. Our auctioneer is well know art curator and advisor Deborah Iskander.
The auction bids will be in months of sponsorship for students at SLC with starting bid of 6 months.
The proceeds of the suction will be accounted and audited by Siddharth Taparia, who is a chartered accountant.
Date: Sunday, 21st April, 2019
Venue: Tower Royal, Apartemen 1Park Avenue, Jalan K.H.Syafi'i Hadzami no. 1, lantai 2, Gandaria, Jakarta 12240  Google maps here >>
AGENDA
11 am Art Exhibition Opens
12 noon Lunch is served
1pm – 3pm Children's Painting Competition & Parents view exhibition, visit SLC stalls
Main Program 3pm – 5pm
3.15pm Introduction & Inauguration by VIP, speech for 5 mins & hand out hampers to participating artists
3.30 pm Vote of thanks by Reshma Bhojwani, founder SLC
3.35pm SLC performance
4 pm Auction
6pm close
For any queries or further details please contact Dias at 0822 1000 8272 (WA) or email at poonam@indoindians.com
We look forward to meeting you on Sunday, 21st which is also Easter and Kartini Day.
Regards,
Poonam Sagar, Indoindians Team & SLC Team