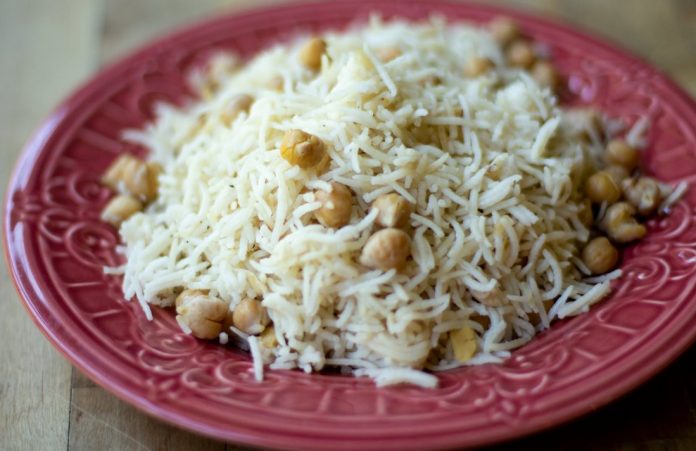 The pilaf is a predominant rice dish that involves cooking in stock or broth, added with spices and other ingredients such as vegetables or meat. In this recipe, we combined pilaf with lotus stem and garbanzo beans to make a vegetable-based meal. The spices incorporated into this dish, combined with the lotus stem makes a delicious yet nutritious meal for anyone to enjoy.
Ingredients:
2 cups basmati rice
1 can (250 grams) garbanzo beans drained
2 stalks fresh lotus stem peeled and slice into rounds OR 1 can (250 grams) lotus stem
6 Tbsp vegetable oil
2 red onions sliced fine
1 Tbsp fresh ginger ground
1 Tbsp garlic ground
1 tsp black cumin seeds
6 pods green cardamom split open
4 cloves
2 inch stick cinnamon
¾ cup yoghurt
4 Tbsp ghee (clarified butter) or unsalted butter
1 tsp salt or to taste
1 tsp cayenne pepper
For the raita:
1 cup yogurt
1 dark green cucumber
½ tsp salt
1 green chili (optional)
20 mint leaves chopped fine
Method:
Wash basmati rice in several changes of water so as not to break the long grains. Now soak rice in clear water and set aside for ½ hour and then drain using a colander.
Heat vegetable oil in a wide heavy bottom pan, add sliced lotus stem and shallow fry till slightly golden brown. Remove with a slotted spoon and keep aside.
Add sliced onion to the same pan and sauté till golden. Do not over brown.
Add cumin, cardamom, cloves, cinnamon, ground ginger and garlic.
Sauté for 1 minute, add salt, cayenne and yogurt. Now add sliced shallow fried lotus and drained garbanzo beans and cook till semi dry.
Heat ghee in a separate pan, add drained basmati rice and sauté for 3-5 minutes. Now transfer the lotus garbanzo mix to the rice. Stir gently and remove from heat.
Now transfer rice mix to an electric rice cooker. Add 3 ½ cups of hot water and cook till done.
Serve hot with yogurt raita.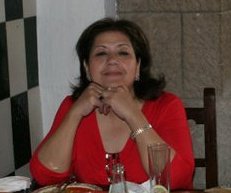 Generously shared by Nina Taneja