Jakarta will soon have integrated, fast, and affordable public transportation modes called MRT and LRT. Many countries around the world have already had the two public transportation systems, which are preferred by those who want to avoid traffic jams as MRT and LRT are more efficient.
Both the MRT (Mass Rapid Transit) and LRT (Light Rail Transit) are currently under progress, and many areas will be directly served by the new train stations. The projects are expected to be complete and tested on August 2018, by the time the 2018 Asian Games is held.
About Jakarta MRT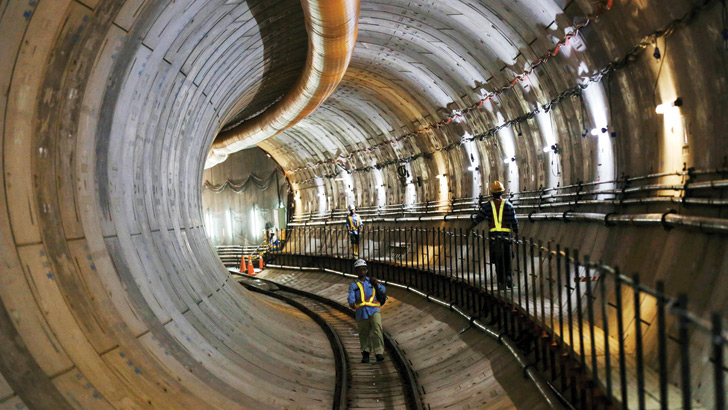 The constructions of Jakarta MRT are divided to elevated stations from Lebak Bulus to Sisingamangaraja which have been finished halfway, underground stations from transition in Senayan to underground line until Bundaran HI which have been finished 85% (as of June 2017).
The rail-based Jakarta MRT is expected to stretch across over 108 kilometers, including 21.7 km for the North-South Line (from Lebak Bulus to Kampung Bandan) and 87 km for East-West Line (from Balaraja to Cikarang).
The M1 North-South line will be built in two phases: Phase I and Phase II. After completion of MRT Phase I and II, MRT together with TransJakarta are predicted to serve 60 percent total trips made by Jakartans.
The second line, M2 East-West line, is planned to run east-west, connect Cikarang (in Bekasi) to Balaraja (in Tangerang). Covering a distance of 87 km, this line will cross Ujung Menteng and Rawa Bebek areas on the border between Bekasi and East Jakarta. The line is targeted to operate in 2025.
Jakarta LRT
The construction of the Jakarta LRT is meant to ease the congestion of Jakarta's traffic. The current plan for Jakarta's LRT system is a substitute for the now cancelled Jakarta Monorail project. As of May 2017, the progress of the construction is 15%.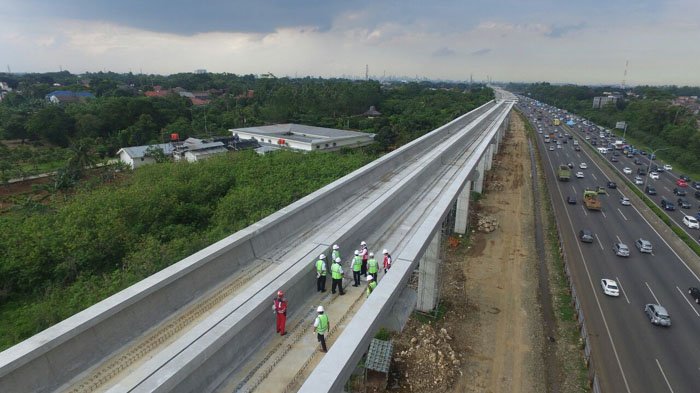 DKI Jakarta Provincial Government plans 7 routes for LRT within the city as follows:
Kebayoran Lama – Kelapa Gading (21.6 km)
Tanah Abang – Pulo Mas (17.6 km)
Joglo – Tanah Abang (11 km)
Puri Kembangan – Tanah Abang (9.3 km)
Pesing – Kelapa Gading (20.7 km)
Pesing – Soekarno-Hatta Airport (18.5 km)
Cempaka Putih – Ancol (10 km)
The first six kilometers of the route connecting Kelapa Gading Depot, Kelapa Gading Mall Station, Boulevard Station, Pulomas Station, Equestrian Station, and Velodrome Station is expected to be opened to the public before 2018 Asian Games. On June 2017 the constructions have finished 30% and all the constructions are predicted will be finished at the end of 2017.
In 2015, it was announced that the Indonesian Cabinet Secretary has endorsed to build the three light rail transit lines of the system. This phase will be a total of 42.1 kilometers long, which include 18 stations, and expected to be opened to the public by the first half of 2018, prior to 2018 Asian Games.
After the construction projects of both MRT and LRT are completed, passengers can choose to commute with rapid transportation with faster time to reach their destination. With faster traveling time, the mobility of Jakartans will also increase, thus allowing faster economic growth in the city.
The constructions of both MRT and LRT undeniably affect the traffic in Jakarta's major roads. The traffic jam, especially during rush hours, couldn't get any worse. So, Jakartans, please bear the pain for a little while until the project is completed, as better public transportation options are coming soon to accommodate your mobility.