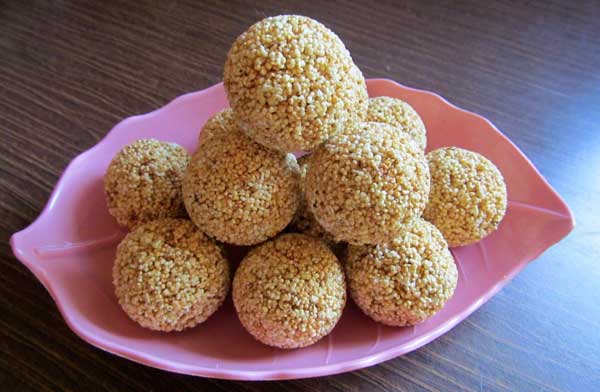 Rajgira (or Ramdana) also known as Amaranth Seeds is a popular food choice for Hindus during days of Navratri fasting. Since they are not allowed to eat wheat and grains, rajgira becomes the ideal alternative. Another reason why Rajgiras becomes popular is because it is high in nutrition- rich in calcium, protein and amino acids. It's a rich source of Iron, magnesium and Vitamin A, B and C. Due to that, it is even hailed as the most nutritious grain in the world.
Ingredients:
Rajgira/Amaranth Seeds/Ramdana popped – 1.5 cups
Jaggery – 1/2 cup
Water – 1/8 cup
Whole Cardamom – 1 or Cardamom powder – 1/8 tsp
Ghee – 1 tbsp
Method:
Measure and take popped amaranth/rajgira in a bowl.  Keep all the other ingredients ready. Take another bowl with water and keep it ready
Heat jaggery in a pan with water till it immersing level. Switch off the flame once the jaggery melts completely.
Strain the jaggery water using a strainer to remove impurities. Then start heating the strained jaggery water in low flame.
When the jaggery water becomes little thick, take little bit of syrup in a spoon and add it to the bowl of water. Gather the syrup to make a firm ball with your fingers. If you are able to form a nice ball, that is the correct stage. Switch off the flame and remove the jaggery syrup from heat.  Immediately add the popped rajgira to the hot jaggery syrup. Add powdered cardamom at this stage. Mix everything together with a spoon.
Now apply some ghee in your palm and Start making ladoos by taking a small portion with a spoon. Make ladoos with the remaining mix and store the rajgira ladoos in an airtight container.Word of caution here, Jaggery syrup will be hot it may burn the skin if touched directly. You should be really quick in shaping ladoos. If the mixture is cooled down completely shaping the ladoos are difficult.