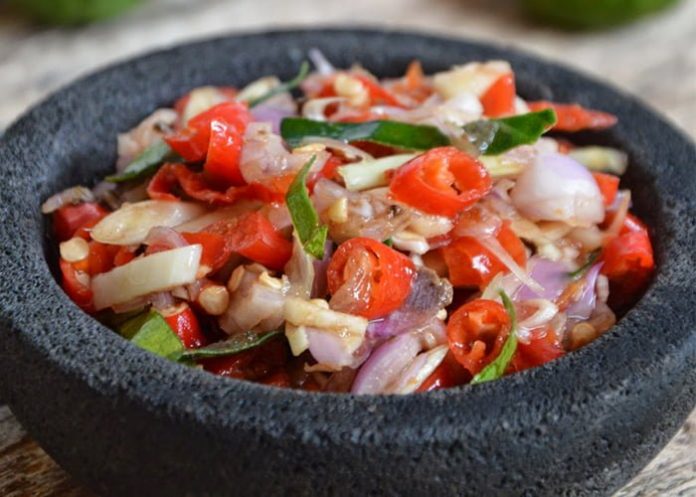 Sambal is a favorite condiment in Indonesia. Typically made with chilies, tomatoes, onion and garlic or sambal terasi. There are many variations from location to location and various degrees of heat. Sambal Matah Bali as the name suggests originates from Bali, the trademark of this sambal is the aroma of finely sliced chilies and shallots.
Matah also means 'raw' as the ingredients to this sambal are not ground or cooked, rather the finely chopped ingredients get a final dousing of hot oil. Luckily, making sambal matah is easy but the results are spectacular.
Some of our friends, you know who, like to eat sambal matah with just plain white boiled rice.
Ingredients:
7 red birds eye chilies, chopped finely
9 red shallots, chopped finely
3 garlic cloves, chopped finely
2 stalks of lemongrass (use only the white parts), chopped finely
3 fresh kaffir lime leaves, chopped finely
4 tsp juice of lime
1 tsp sugar
OPTIONAL – 1/2 tsp roasted shrimp paste (terasi)
4 tsp hot coconut oil
Method:
Chop all ingredients finely. Remove the midrib of the kaffir lime leaves, then slice all leaves into thin slices.
Put all of the sliced ingredients into a bowl.
Add juice of lime, salt and sugar to taste.
Now heat the oil and pour over the ingredients in the bowl.
Mix everything while pressing once in a while to combine.
Serve as a condiment to Balinese dishes.