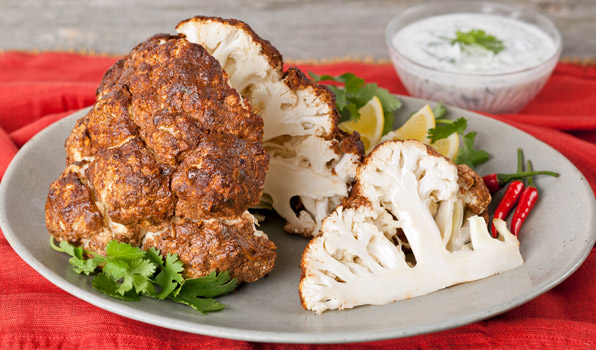 Serves: 4
Time required : 15 minutes
Ingredients :
1 head of cauliflower
2 Cup curds, drained for 40 minutes
3/4 tsp Ginger & garlic paste
1 tbsp Tandoori masala
1/2 tsp Crushed chili
1/2 tsp Chopped mint
1 tsp Sugar
Salt to taste
1 tbsp Ghee
1 Spring onion, chopped
2 tsp Ghee
Chaat masala
Chaat
Directions :
Preheat oven to 350. Separate cauliflower into florets and cook in for 5 minutes in salted boiling water. Drain and run under cold water.
Mix curds, paste, masala, chili, mint, sugar, salt, and ghee (1Tbsp) well.
Coat cauliflower really well with marinade and put in a greased cassarole. Bake until cauliflower is tender.
Saute spring onion in ghee. Pour over cauliflower, toss with some chaat masala and serve.