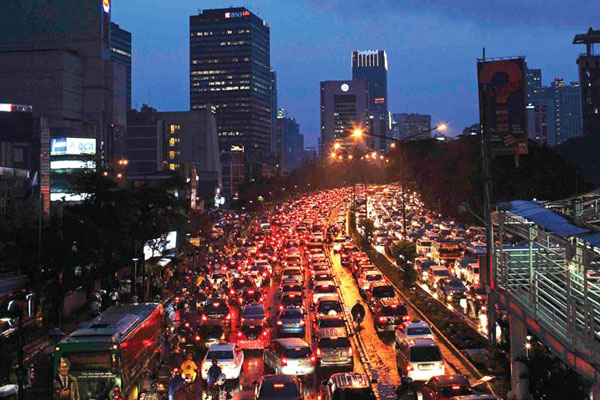 One of the greatest problems that Jakarta residents have to face is dealing with the traffic as we go about our daily activities. Here are a few hints to help you get the best out of a bad situation.
Choose the best time to go out if possible.
Schedule your appointments to avoid peak hours, and for office workers an early start will help you beat the worst of the traffic.
You can always eat breakfast at the office or work out in a nearby gym.
If you are going to an unfamiliar destination check the google maps and tell your driver the address in advance so that he can plan the route in order to avoid congested areas and hopefully the worst traffic jams.
If traffic looks unusually heavy ask your driver to tune the local radio to keep abreast of the latest traffic situation, as people call in to this station to inform about traffic jams, traffic accidents, etc.
If you have young children and you are not accompanying them when your driver is taking them to or from school, do have a maid or another staff member accompany the children in the car. The person accompanying will be able to address a younger child's needs in case the driver has to change a tire or deal with some other traffic or unforeseen emergency situation. They may also act as a chaperone for a teenage girl so she is not alone in the car with a male driver.
Plan to enjoy the time that you spend on the road by keeping some of your favorite music in the car. There are also books and study programs such as Indonesian language lessons as well as children's stories available. You could even be able to watch a DVD in your car.
Telephone/ipod/gadget chargers and car cigarette lighter adapters will come in handy.
If you like to read in the car keep a variety of magazines or books in the seat pocket to fill in your time.
Make your car as comfortable as you can with extra cushions, a light rug or a small reading light at the back.
Always keep a supply of water or other drinks in the car. It's a good idea to have an insulated cooler bag to keep drinks cool and to bring along some snacks or fruit.
If you have a baby keep a supply of bottled baby food, some diapers and wet tissues in the car and for older children some books, story discs or toys. For children it is even a good idea to keep a portable potty in the car.
Consider the time that you spend caught in traffic as an opportunity to make some phone calls or even do some work on your laptop.
You can even consider the time that you spend in a traffic jam as an opportunity to relax, meditate or even to take a nap, especially in the evening after a long day's work.
If all else fails and the traffic is still not moving, rather than sitting in the car fuming over the lost time, why not pull in to the nearest beauty salon and have a relaxing massage, cream bath or manicure for a couple of hours, before facing up to the traffic again. With a bit of luck it may even be moving at a faster pace by the time you're done!