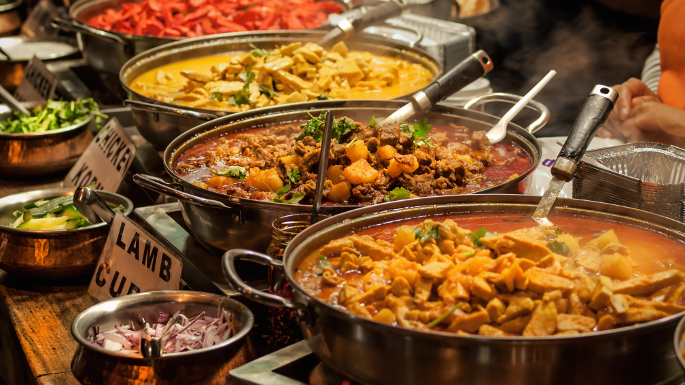 Do you crave for Indian food in Bali? Whether you are a tourist or a resident, you will be surprised to learn that there are over 40 Indian restaurants in Bali. These can be found across Bali in Ubud,  Kuta, Canggu, Seminyak and Denpasar. Another unique feature is that most Indian restaurants in Bali serve menus in divided option: Vegetarian and Non Vegetarian.
Indian restaurants are mushrooming across Indonesia, particularly in Jakarta and Bali. This could also be directly contributed to growing number of Indian tourists to this wonderful country. Bali is very popular as a destination wedding location and also for honeymoon couples.
As almost 40% of Indians are vegetarian, they look for vegetarian options on their travels. The Indian restaurants provide a familiar menu where they can be assured of their dietary requirements.  Nevertheless, the Indian vegetarians have range of choices in their culinary menu. From potatoes, paratha (flatbread), kulfi or Indian ice cream, Mattar paneer, processed green vegetables, beans, spinach dishes, etc. There is much similarity with Balinese food as both of them use plenty of spices.
You can also find authentic Indian food in Bali, from humble Warungs with Indian chefs and owners that serve home-style cooking, to more upmarket, stylish, and contemporary restaurants and even fine dining establishments. There are also a few decent chains with multiple outlets covering the most popular areas of the island, meaning that you shouldn't be too far away from decent Indian food.
Some of the restaurant brands in Bali are already renowned such as Ganesha Ek Sanskriti, Little India, Queen's Tandoor, The Golden Saffron, and The Royal Kitchen which have grown from Jakarta to Bali.
Other newcomers are moving into niche localities or with niche menus. Here is a listing for you:
Restaurants
Address
Phone Number
Anam Vegan Restaurant – Beingsattvaa Retreat Villa
Beingsattvaa Retreat Villa, Jl. Raya Kendran, Ubud, Bali
+62 361 8493701
Atithi
Jl. Melasti Lebak Bena No. 6X, Legian, Bali
+62 361 759839
Banana Leaf
Penestanan Kaja | Penestanan Kaja, Ubud 80571
+62 361 979419
Bangle
Kawasan Pariwisata Nusa Dua BTDC Lot. 6, Nusa Dua, Bali
+62 361 773567
Buddhas Restaurants
8 Monkey Forest Street, Ubud
+62 821 44656518
Bumbu Delhi Indian Restaurant
Jalan Pratama 74, Tanjung Benoa | Grand Mirage Resort, Tanjungbenoa 80363
+62 361 771888
Café Chapati
Jl. Kunti I No.6C | No 6 C, Seminyak 80361
+62 878 65905313
Curry in Bali
Jl. Bypass Ngurah Rai No. 95, Denpasar, Bali 80288
+62 361 9381253
+62 812 37892006
Dapur Malabar – Masakan India
Jl. Arjuna, No.5, Monkey Forest Street, Ubud 80571
+62 821 44436241
Darma's Kitchen
Jl. Pantai Pererenan No. 14, Badung 80351
+62 857 96263623
Delhi Six by Sari Agung
Jl. Pratama No. 49X, Nusa Dua, Bali
+62 361 772275
Ganesha Ek Sanskriti
Jl. Monkey Forest, Ubud, Bali
+62 361 4792545
+62 361 4792544
Ganesha Ek Sanskriti – Kuta
Jl. Kartika Plaza | Lippo Mall Kuta Ground Floor #01-02, Kuta 80361
+62 361 8978056
Gateway of India
Jl. Pantai Kuta No. 11B, Kuta, Bali
+62 361 754463
Gateway of India – Sanur
Sanur | Jalan Danau Tamblingan 103, Sanur, Denpasar 80223
+62 361 281579
Gateway of India – Seminyak
Jl. Abimanyu No. 10, Seminyak
+62 361 732940
Gopal's Café
Jl. Danau Tamblingan No. 105 | Maha Laksmi Boutique Hotel, Sanur, Denpasar 80288
+62 361 285043
Indian Delites
Jalan Campuhan Sangingan, Ubud 80571
+62 851 00444222
Indian Dhaba
Jl. ByPass Ngurah Rai No. 123, Nusa Dua, Bali
+62 851 00109000
Indian Tandoor
Kupu Kupu Jimbaran, Jl. Raya Uluwatu, Banjar Pesalakan | Jimbaran Corner, Jimbaran 80361
+62 361 704584
+62 361 703342
Indian Tandoor – Seminyak
Jl. Kayu Aya No. 86 | Seminyak suite and Shiseido Spa, Seminyak 80361
+62 361 3701089
Little India
Jl. Cemara No. 4, Sanur, Bali
+62 361 288395
Malaika Secret Moksha
Jl. Danau Poso No. 68, Sanur, Denpasar 80224
+62 812 38341000
Mr. Prata
Jl. Legian No. 350, Legian, Bali
+62 817 4745473
+62 361 7964656
Mr. Prata – Ubud
Jln. Raya Bunutan No. 5, Ubud 80571
+62 361 8493513
Mumbai Station Pure Vegetarian Indian Café
Jl. Raya Sanggingan No. 90, Penestanan Kaja | Opposite Indus Restaurant, next door to Indomaret, Ubud
+62 812 36325617
NU Delhi
Jl. Pratama No. 79 | Core Hotel, Tanjung Benoa 80361
+62 812 83708120
Piring Daun
Jl. Pantai Berawa | Canggu, Kuta
+62 361 4741254
Queens of India
Jl. Pratama No. 65B, Tanjung Benoa, Bali
+62 361 771344
+62 361 774648
Queens of India – Kuta
Jl. Kartika Plaza | Bali Dynasty Resort, Tuban, Kuta 80361
+62 361 765988
Queens of India – Ubud
Jl. Suweta, Opposite Puri Saren, Ubud
+62 361 977399
Queen's Tandoor
Jl. Raya Seminyak No. 1/73A, Seminyak, Bali 80361
+62 361 732770
Raja's Restaurant
Jl. Raya Candidasa, Candidasa, Karangasem
+62 363 42034
+62 363 4381047
Roti Daal Canggu
Jl. Pantai Berawa, Canggu, Bali
+62 878 54900052
Royal India
Jl. Kartika Plaza, Tuban, Bali
+62 361 766629
Ruchira Indian Cuisine
Jl. Bakung Sari No. 11, Kuta, Bali 80361
+62 361 4726698
Sitara
Jl. Teuku Umar No. 137B (in front of POP Haris Hotel), Denpasar, Bali
+62 361 8422652
+62 361 8422653
Sitara Indian Restaurant – Ubud
Jl. Hanoman No. 99X Padang Tegal (Near Bebek Bengil Ubud), Ubud 80571
+62 361 977195
Siti's Warung Little India
Jl. Sukma No. 36, Ubud, Bali
+62 819 99624555
Spice Mantraa
Jl. Kartika No. 2, Kuta, Bali
+62 361 750175
+62 361 750158
Taman Curry
Jl. Raya Ubud, Ubud, Bali
+62 361 975633
+62 852 37057247
The Golden Saffron
Jl. Raya Kuta No. 22, Kuta, Bali
+62 361 4753412
The Golden Saffron – Euphoria Hotel
Patih Jelantik Street 11/12 | Inside Euphoria Hotel, Kuta 80361
+62 361 4753412
The Golden Saffron – Tuban
Jl. Raya Kuta No. 40, Tuban, Bali
+62 361 4753412
The Royal Kitchen
Bali Collection, Blok A6 No. 3B- 4B, Jl. Kw. Nusa Dua Resort, Kawasan Pariwisata ITDC, Nusa Dua, Bali
+62 813 17699950
+62 811 9915526
+62 36 1772628
Vedic Kitchen
Jl. Dukuh Indah No. 606, Kerobokan, Bali
+62 857 80673584
Warung Curry
Jl. Batu Bolong No. 8, Canggu, Bali
+62 812 36304704
Warung Namaste
Jl. Popies 1, Kuta, Bali
Number is not available
Warung Tulsi
Jl. Nyuh Bojog, Nyuh Kuning, Ubud
+62 813 39444993
Yans Indian Restaurant
Jl. Kartika Plaza, Kuta, Kabupaten Badung, Bali 80361
+62 361 766223