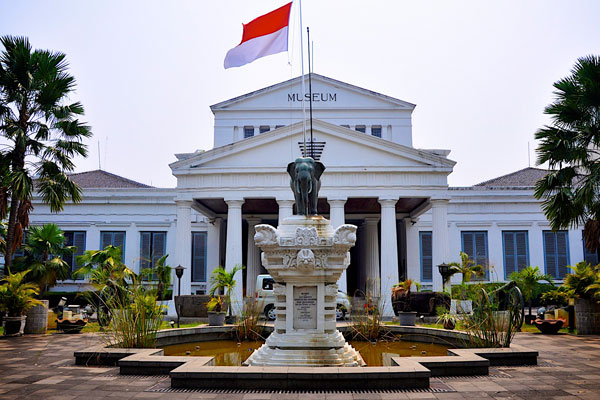 For history buffs Jakarta offers a number of interesting museums that can give an insight into the past of this city as well as of the Indonesian archipelago. Several of the museums that specialize in particular topics can provide enjoyable family outings.
When visiting museums in Jakarta, however, you should not expect to find the same standards as in well developed countries. In general Indonesian museums do not display items in a very imaginative and attractive way and have few explanatory notices to assist visitors to gain an understanding of the artifacts they are seeing. If there are any explanations in English, the standard of translation is often so poor as to make the reader amused or bewildered. In spite of this, many of the museums are still worth visiting due to the priceless relics and fascinating items on display.
For this reason it is highly recommended to visit the museums with a guide or someone who can give you a full explanation. Volunteers from the Indonesian Heritage Society provide free guided tours of Jakarta's foremost museum the Museum Nasional or National Museum. The tours are conducted in several languages with tours in English being given at 10.30 a.m. on Tuesdays and Thursdays as well as every second Sunday and the last Saturday of the month. Regular tours are also given in French, German, Japanese and Korean and may also be given on request in several other languages. Additional days and times or individual tours can be arranged for groups including embassies, companies and schools.
The Indonesian Heritage Society is a multinational volunteer organization dedicated to the study and appreciation of Indonesian culture, art, history and nature. In addition to providing tours of the National Museum the Heritage Society's members are active in a wide variety of behind-the-scenes work at the museum such as assisting with the cataloguing of collections, translating records and providing language instruction to staff. The Indonesian Heritage Society organizes a series of evening lectures twice a year as well as study groups and explorer groups. Members are able to access the extensive collection of books in the IHS Library. The Indonesian Heritage Society has also published an authoritative guide to Jakarta's historical sites and museums, The Jakarta Explorer, which is an excellent reference book for learning more about the city and its museums. Further information on the Indonesian Heritage Society is available on the website www.heritagejkt.org.
In 2008 the Indonesian Heritage Society published a 100-page guide to the city's 57 state-sponsored museums called Museum Encounters: Jakarta. The book provides brief overviews of the collections of each museum and interesting tidbits about some of the buildings that house those collections, presented according to the city's geography. It is intended to be a handy reference and its size enables it to be easily carried in your purse or pocket.
The National Museum houses a large collection of Indonesian antiquities with more than 100,000 items, including prehistoric artifacts, ethnographic objects, stone sculptures, bronzes, ceramics, textiles and a collection of historical maps, etc. There are also two treasure rooms where a stunning collection of gold objects and delicate metalwork is displayed. The museum building is often referred to as Gedung Gajah (Elephant Building) because of the bronze statue of an elephant in front of the entrance. An extension to the original building was built several years ago.
Hours:
8:00-16:00 Tue – Fri
8:00-17:00 Sat & Sun
Jl. Medan Merdeka Barat No. 12
Central Jakarta
Phone: 386 8172
Website: www.museumnasional.or.id
There are three museums situated close to each other at Taman Fatahillah square in the old part of the city. The Museum Sejarah Jakarta or Jakarta History Museum is located on the south side of the square in the Stadhuis, or City Hall, of old Batavia, which is one of the finest remaining buildings from the Dutch colonial era. The upper floor of the building displays many fine examples of colonial furniture while the ground floor depicts the historical development of Jakarta from prehistoric relics, through the colonial era, to items from the recent past.
Hours: 9:00-15:00 Tue – Sun
Jl. Taman Fatahillah No. 1
Kota, West Jakarta
Phone: 692 9101, 690 1483
Email: [email protected]
On the east side of Taman Fatahillah square is the Balai Seni Rupa dan Keramik (Fine Arts and Ceramics Museum) where a permanent exhibition of Indonesian paintings, sculptures and ceramics is housed in a Greek classical style building which formerly served as the Council of Justice in Dutch colonial times.
Balai Seni Rupa dan Keramik (Fine Arts and Ceramics Museum)
Hours:
9:00-14:30 Tue – Fri
9:00-12:30 Sat & Sun
Jl. Pos Kota No. 2
Kota, West Jakarta
Phone: 690 7062, 692 6090
A museum dedicated to puppetry, the Museum Wayang, is located on the west side of the square. Wayang or puppetry is one of Indonesia's best known cultural traditions. Hand carved leather and wooden puppets and paraphernalia from across the archipelago have been brought together in an extensive collection. Wayang performances are held on the second and third Sundays of the month at 10.00 a.m. at the museum.
Hours: 9:00-15:00 Tuesday – Sunday
Jl. Pintu Besar Utara No. 27
Kota, West Jakarta
Phone: 692 9560
Not far to the north of Taman Fatahillah square is Sunda Kelapa harbor where you can see the traditional inter-island sailing ships called phinisi, and Pasar Ikan or the Fish Market where not only fish is sold, but also all manner of fascinating items, including seashells, curios and nautical equipment. Along side the market is the Museum Bahari or Maritime Museum which occupies former 17th century warehouses originally built to store spices and other trade items.
The restored buildings now house a collection of original and scale model boats, navigational charts and nautical equipment, seashells, historical photographs and paintings, and other maritime memorabilia. Nearby stands the Lookout Tower, Menara Syahbandar, a three-storey lookout tower that provides an excellent view of what remains of old Batavia, and is the only remaining part of the old city wall built by Dutch traders centuries ago.
Museum Bahari (Maritime Museum)
Hours: 9:00 -15:00 Tue – Sun
Jl. Pasar Ikan No. 1
Sunda Kelapa, North Jakarta
Phone: 669 3406
Website: www.museumbahari.org
The Textile Museum, Museum Tekstil, in West Jakarta was built in the 19th century as the home of a Frenchman and now houses a large collection of textiles and garments demonstrating the highly varied techniques employed by traditional craftswomen throughout the Indonesian archipelago. Indonesia's hand made textiles are among the most sophisticated in the world.
Hours: 9:00 -15:00 Tue – Sun
Jl. K.S. Tubun Raya No. 2 – 4
Petamburan, West Jakarta
Phone: 560 6613
Website: www.museumtekstil.com
Not far from the Textile Museum is the Park of Memorial Stones or Taman Prasasti. This 1.2 hectare park contains an interesting collection of tombstones and memorials dating back to the year 1690, many of which were transferred to this site from churches and churchyards that have since been demolished as well as from private properties. Some of the stones commemorate well known figures such as Olivia Raffles, wife of Sir Thomas Stamford Raffles, who died in Batavia in 1814 at the age of 43. Within Taman Prasasti is a small museum on the topic of traditional methods of burial.
Museum Taman Prasasti (Memorial Stones Park Museum)
Hours: 9:00 – 15:00 Tue – Sun
Jl. Tanah Abang 1
Tanah Abang, West Jakarta
Phone: 385 4060
In the complex of buildings of the Forestry Department there is a small museum called Museum Manggala Wanabakti or the National Museum of Forestry. It contains educational exhibits on the history of forestry, as well as varieties of forests and their usefulness to mankind and importance to the world's environment.
Museum Manggala Wanabakti (National Museum of Forestry)
Hours: 8:30-16:00 Mon- Fri
Jl. Jend. Gatot Subroto
Senayan, South Jakarta
Phone: 570 3246
Another small museum is the Museum Gedung Joang 45 or 1945 Fight for Freedom Museum. This building, originally a luxurious hotel built in about 1820, was the site of historic events during the struggle for Indonesia's independence that was eventually won on 17th August 1945. Photographs and memorabilia of national heroes and the independence struggle are displayed here.
Museum Gedung Joang 45 (1945 Fight for Freedom Museum)
Hours: 9:00-15:00 Mon – Fri
(Closed 12:00-13:00 on Fri)
Jl. Menteng Raya 31
Cikini, Central Jakarta
The development of the Indonesian armed forces is displayed in Museum Satria Mandala or the Armed Forces Museum. The museum occupies a large mansion where Ratna Sari Dewi Soekarno, one of the wives of Indonesia's first president, lived in the 1960s. Exhibits include weaponry, uniforms, and dioramas illustrating important events in the history of the armed forces. Equipment displayed in the grounds includes aircraft, tanks, missiles and cannons.
Museum Satria Mandala (Armed Forces Museum)
Hours: 9:00-14:30 Tue -Sun
Jl. Jend. Gatot Subroto No. 14
South Jakarta
Phone: 522 7946
You will also find seventeen museums located on the premises of Taman Mini Indonesia Indah. These museums specialize in a wide range of themes and include the following: Army Museum, Asmat Museum, Electricity & New Energy Museum, Fauna Museum, Heritage Museum, Information Museum, Insect Museum, Oil & Gas Museum, Science & Technology Center, Sports Museum, Stamp Museum, Telecommunications Museum and Transport Museum. The main museum in the park is the Museum Indonesia (Indonesia Museum) which displays over 3,000 ethnographic artifacts and items from all of the regions of the country in a three-storey Balinese style building. There are displays of costumes, musical instruments, traditional household utensils and tools, model houses, textiles, jewelry, handicrafts, weapons and coins.
Museum Indonesia (Indonesia Museum)
Hours: 9:00-15:30 Tue – Sun
Jl. Pintu I Taman Mini Indonesia Indah
Phone: 840 9213, 840 9246
Museum Purna Bhakti Pertiwi, which can be roughly translated as Service to the Motherland Museum, is a tumpeng (rice cone) shaped building full of symbolism that houses a collection of over 10,000 items most of which are treasures and memorabilia accumulated by the Soeharto family as well as gifts from many nations to the former president.
Museum Purna Bhakti Pertiwi (Service to the Motherland Museum)
Hours: 9:00-16:00 Tuesday-Sunday
Jl. Taman Mini I
Phone: 840 1687
Taman Mini Indonesia Indah (TMII)
(The Indonesia in Miniature Park)
Hours: 8:00-16:00 Tue – Sun
Jl. Raya Pondok Gede
East Jakarta
Phone: 840 9270 (information)
A small but fascinating privately owned museum is the Museum Layang Layang Indonesia, or the Kite Museum of Indonesia. Kite flying is a very popular pastime in Indonesia and a wide variety of traditional and modern kites from Indonesia and other countries is displayed at the museum. Activities held at the museum include workshops in kite making and training for flying controllable kites, while the museum also acts as an information center for domestic and international kite events and other related activities. The primary objective of the museum is to preserve kite flying as a part of Indonesia's cultural heritage.
Museum Layang Layang Indonesia (Kite Museum of Indonesia)
Hours: 10:00-17:00 every day except
Jl. Haji Kamang 38
Pondok Labu, South Jakarta
Phone: 7590 4863, 765 8075
Website: www.museum-layang.com
Provided by: Colliers International