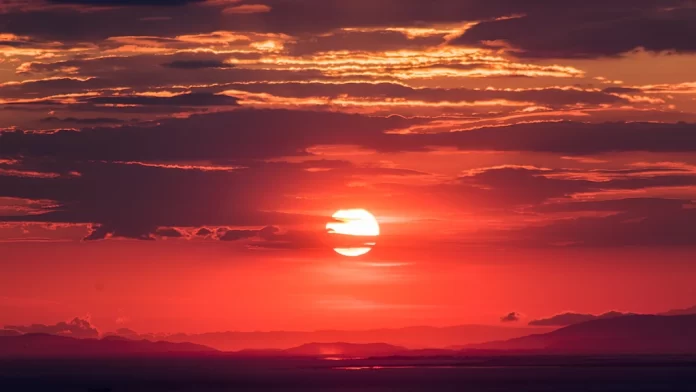 Watching the sunset is one of the favorite activities to calm the heart and mind. If the skyscrapers in the capital are the place to see the beauty of the city lights, then the beach and plateau are the best locations to enjoy the sunset.
These 5 spots in Gunungkidul, Yogyakarta, must be added to your wishlist to see the sunset:
1. Bukit Paralayang Watugupit Yogyakarta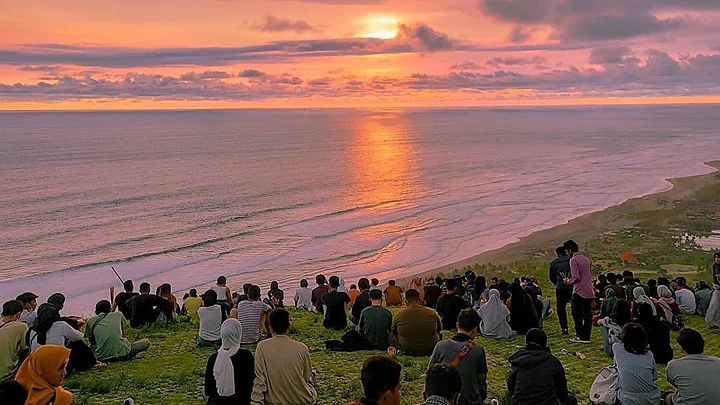 It is called Paragliding Hill because this hill is used as a runway for the extreme sport of paragliding. The hill itself is at an altitude of 900 meters above sea level. In addition, Watugupit Paragliding Hill is famous for its stunning sunset panorama. Visitors can also see Parangtritis Beach and the Indian Ocean from a height.
Visitors must pass through the Parangtritis entrance to get to this hill along Jalan Panggang. Once you find the T-junction, turn right up the hill. When entering the Paragliding Hill area, visitors will be charged another ticket.
If you are a lover of extreme sports, try paragliding from this hill. All equipment is available under the guidance of experienced instructors with whom you can also do a tandem paragliding session. There is also a dining area decorated with beautiful lights. On the hill, there are also hotels and inns at affordable prices.
Location: Area Hutan, Giricahyo, Purwosari, Gunung Kidul, Yogyakarta
Operating hours: Everyday, 9 AM – 7 PM
Paragliding price: IDR 350,000 – 400,000
2. Pantai Kesirat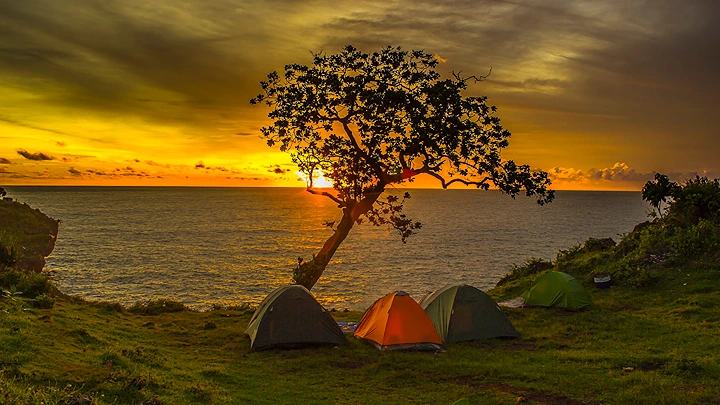 Kesirat Beach is also known as Tanjung Kesirat Tourism. This is not a sandy as the waters of Kesirat Beach are surrounded by cliffs as high as 40 meters, which can be used to enjoy the sunset. The icon of this beach is a sturdy tree which often becomes the backdrop for tourists' photos. Tourists can also see Gunung Kidul from this beach. Other activities at the Kesirat Beach tourist location are camping, rock fishing, and watching the sunset. Visitors can fish from the top of the cliff with a height of 15-30 meters.
Kesirat Beach is at south coast which has quite large waves. The journey from the city of Yogyakarta to Kesirat Beach takes about 2 hours accessed by a paved road. Continue the journey until you find PUSLATPUR (Combat Training Center) belonging to the TNI AD (Indonesian Army), take the direction of Saptosari from the fork in the road until you arrive at Girikarto. Keep going until you find the Kesirat Beach parking location.
A unique feature of this beach is the community organized ngalap berkah ritual, or commonly called "brubuh" to preserve the surrounding environment by not cutting down trees carelessly.
Location: Desa Girikarto, Kecamatan Panggang, Kabupaten Gunung Kidul, Daerah Istimewa Yogyakarta.
Operating hours: 24 hours a day
3. Pantai Wediombo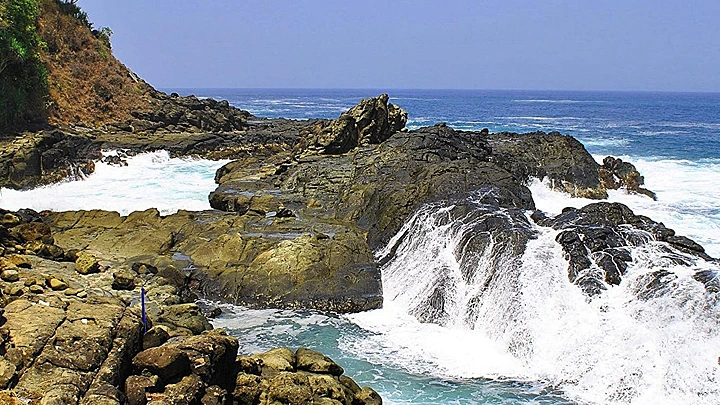 The name Wediombo comes from the Javanese language, namely wedi (sand) and ombo (broad). In other words, Wediombo Beach is a sandy area with a wide beach. The distance from Yogyakarta to Wediombo Beach by land is 70 km with a travel time of about two hours. After arriving at the parking lot, visitors still have to take the stairs for 15-20 minutes.
This beach is thought to be a former volcanic crater in the past that sank below sea level. This place is also a conservation area for marine biodiversity such as ornamental fish, barong shrimp, sea cucumbers, shellfish, sea urchins and seaweed. There is also a place for turtles to lay their eggs.
This beach is perfect for surfing because the waves are high and stable. Visitors who want to surf at this beach can rent surfing equipment around Wediombo, for around IDR 100,000. Snorkeling is also a popular activity on this beach. For those who want to just enjoy the beautiful panorama on the beach, they can set up a tent for camping there. Wediombo Beach is also famous as a fishing spot. Anglers must comply with applicable regulations and not damage natural resources such as coral reefs.
Location: Desa Jepitu, Kecamatan Girisubo, Kabupaten Gunung Kidul, Daerah Istimewa Yogyakarta.
Operating hours: 24 hours a day
4. Pantai Jungwok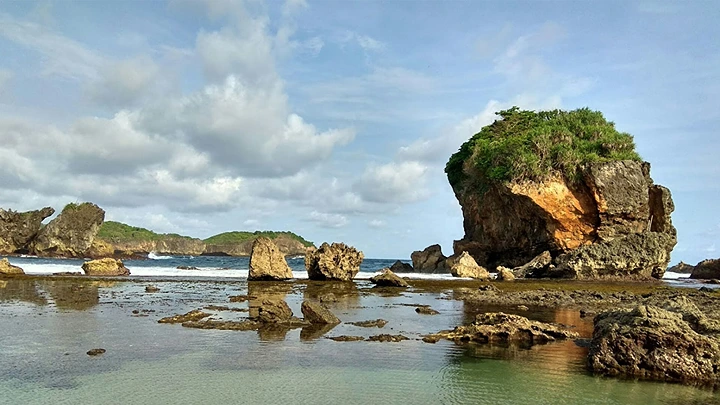 The name resembles a Korean name, but the origin of this beach name has nothing to do with Korea. The name Jungwok comes from the words jung (ship) and Javanese krowok (hole). This hole was caused by the eruption of Mount Manjung which occurred hundreds of millions of years ago.
Jungwok Beach's coastline curves like a crescent moon. In the middle of the beach there is a large rock called Watu Topi which looks like the boulder similar to Tanah Lot. Watu Topi is an icon of Jungwok Beach and is always a favorite background for visitors to take pictures. Visitors can also enjoy the exotic scenery of this beach by camping on a stretch of sand that leads directly to the sea, or on a hill with a view of Jungwok Beach from a height. Around Jungwok Beach, there are many tent rental places.
The next attraction of Jungwok Beach is that you can climb and do simple trekking to the top of the hill. On this beach, there are food stalls, park benches, and gazebos to watch the sunset. The route to Jungwok Beach is in the same direction as Wediombo Beach. To go to Jungwok Beach, follow the one-way street to Wediombo Beach until you arrive at Balong Village, then head left to Jepitu Village.
Location: Desa Jepitu, Kecamatan Girisubo, Kabupaten Gunung Kidul, Daerah Istimewa Yogyakarta. (The location is close to Wediombo Beach.)
Operating hours: 24 hours a day
5. Pantai Pok Tunggal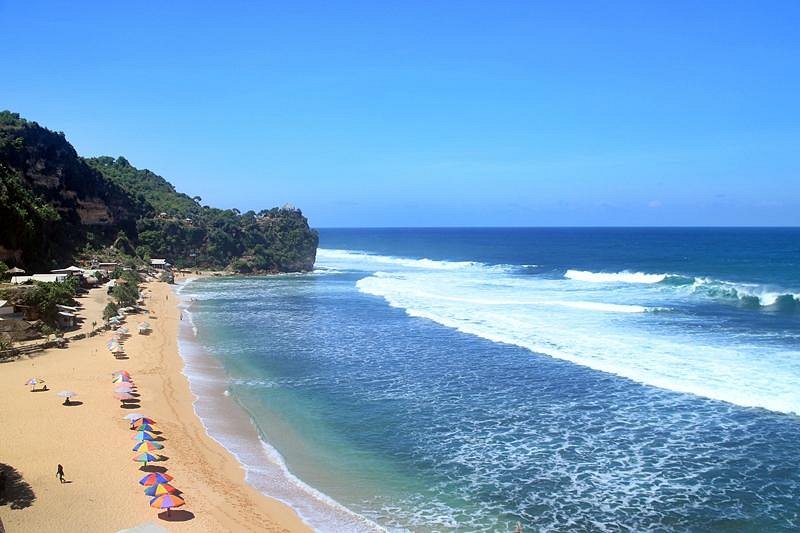 Pok Tunggal Beach is located between Indrayanti Beach and Siung Beach. A Duras tree that grows shady on the beach has become the icon of this beach. This tree, which is said to be difficult to grow, is highly guarded by local residents. Therefore, there is a prohibition on climbing trees.
The real charm of Pok Tunggal is the roughly 50-meter-high row of cliffs. These cliffs have shady green trees. Under the cliff there is a cave formed by eroding ocean waves. Visitors can also see a herd of wild monkeys jumping around from behind the cliff. The monkeys are tame, so visitors need not worry. What makes Pok Tunggal Beach unique from other beaches in Yogyakarta is a freshwater river. This freshwater river is a source of drinking water for local residents as well as the main cause of the fame of Pok Tunggal Beach.
Tourists can also camp on the beach while enjoying the sunset. Visitors can rent a tent from the locals. Other activities that tourists usually do here are swimming on the beach, snorkeling, rock climbing, and taking pictures. The distance to Pok Tunggal Beach from the city of Yogyakarta is 80 km with a travel time of about 2 hours by motorbike or car.
Location: Desa Tepus, Jalan Pok Tunggal, Tepus, Gunung Kidul, Yogyakarta 55881.
Operating hours: 24 hours a day
Which location to see the sunset above makes you most curious? Do you have any recommendations for other tourist attractions to see the sunset? Share your recommendation in the comments section below.