The pandemic has forced us to reorganize priorities and think more carefully about our lives, our habits and our mortality. Taking care of our health becomes an even stronger priority for all of us. It is therefore known that to have a strong immune system, eating right is the way to go. Drinking fruit and vegetable juices is an easy way to pack on the vitamins. Even better, these juice joints deliver straight to your home so you won't have to go outside during this pandemic.
Here are the list of juice places that can deliver to your place:
Re.juve 
Because of its quality and taste, Re.juve is now available in more than 40 stores in Jakarta, Tangerang, Bogor, Bekasi, Surabaya, Bali, and Bandung. Re.juve produces cold pressed juice every day with very strict hygiene standards certified by Hazard Analysis and Critical Control Points (HACCP) which is the first integrated facility in Indonesia and the Association of Southeast Asian Nations (ASEAN).
This cold-pressed juice brand created a cleanse juice program called 3R, namely Re.Cleanse, Re.Glow, and Re.Juvenate. Each program has its own purpose such as Re.Cleanse to clean toxins in the body, Re.Glow to bring out innerbeauty and skin beauty, and Re.Juvenate to make the body fit and energetic.
The Re.Clense package is priced at IDR 1,100,000 for 21 bottles for 7 days; Re.Glow for IDR 2,000,000 for 42 bottles for 14 days; and Re.Juvenate for IDR 2,050,000 for 42 bottles for 21 days. This price does not include shipping costs. On average, each bottle costs Rp. 50.000 – 85.000.
Main Office: PT. Sewu Segar Primatama, Sequis Center Kav 71 Jl. Jend. Sudirman Kby. Daerah Khusus Ibukota Jakarta 12190

Other locations: Gandaria City, Kota Kasablanka, Pacific Place, Blok M Plaza, etc.
Phone: +62 (021) 2522877/+62 817 735883
Website: https://www.rejuve.co.id/
Instagram: https://www.instagram.com/rejuveid/?hl=en 
Email : feedback@rejuve.co.id
Vitamin Monster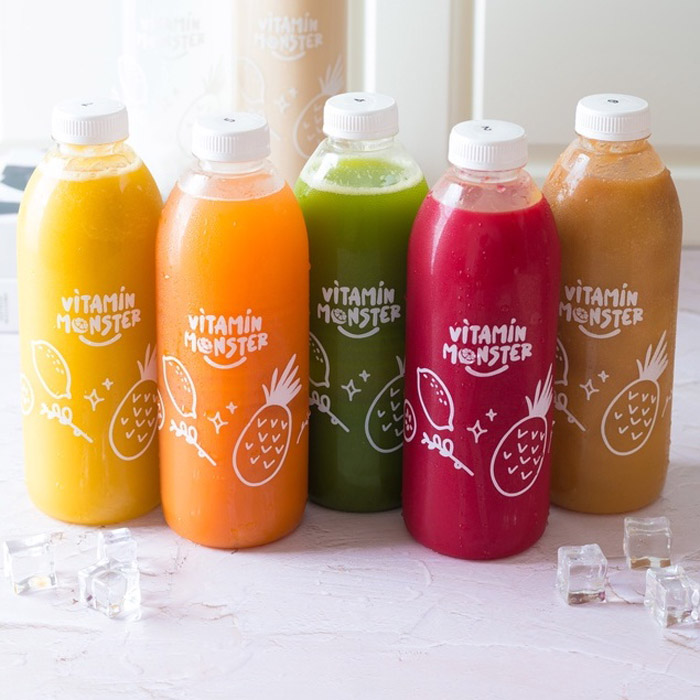 This Coldpressed Vitamin Monster doesn't use water or sugar. Instead, fruit juice serves as natural sweetener, so it's full of vitamins and nutrients while tasting delicious. Depending on your body condition, you can purchase various juices. You can either purchase juices for detoxing or even just for refreshments. To make your intake of routine health consumption more convenient, Vitamin Monster has detox packages that, of course, comes with its delivery service. 
Several choices include 3 days detox and 5 days intensive detox packages, they also have detox packages for breastfeeding mothers, so for those who are still breastfeeding but want to detox, you can really do that. For a detox program, you can also try a detox package with Vitamin Monster. In one detox package, you will get 8 bottles of Vitamin Monster delivered every morning. It contains 2 bottles of infused water and 6 bottles of 100% cold-pressed fruit and vegetable juices.
Phone: +628170432199
Instagram: https://www.instagram.com/vitaminmonster/?hl=en 
Bomo Juice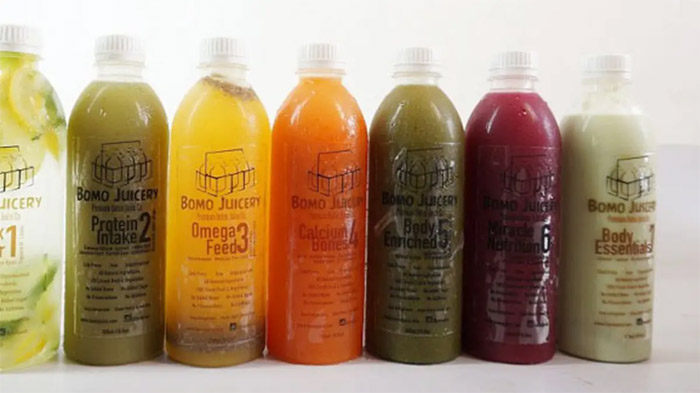 Alternatively, you can also purchase Bomo Juice. This juice joint specializes in providing detox juices and cold-pressed juices. In 1 day, buyers need to drink 7 bottles of 500 ml juice. Each bottle is formulated with different ingredients for different benefits. Protein Power juice, for example, is made with kale, romaine lettuce, celery, Japanese cucumber, apple, and Korean pear. While the Calcium Essential juice consists of almonds, cashew, cacao, dates from the US, and mountain rock salt.
There are 4 package options, namely Reboot Detox, Reset Detox, Mini Detox, and Basic Detox. Buyers can choose packages for 1, 3, or 5 days. The Reset Detox package, for example, is priced at IDR 575,000 for 1 day; IDR 1,675,000 for 3 days; and IDR 2,795,000 for 5 days.
Whatsapp: 081380991758
Line: bomojuice
Instagram: https//www.instagram.com/bomojuice/?hl=en 
Fresh and Press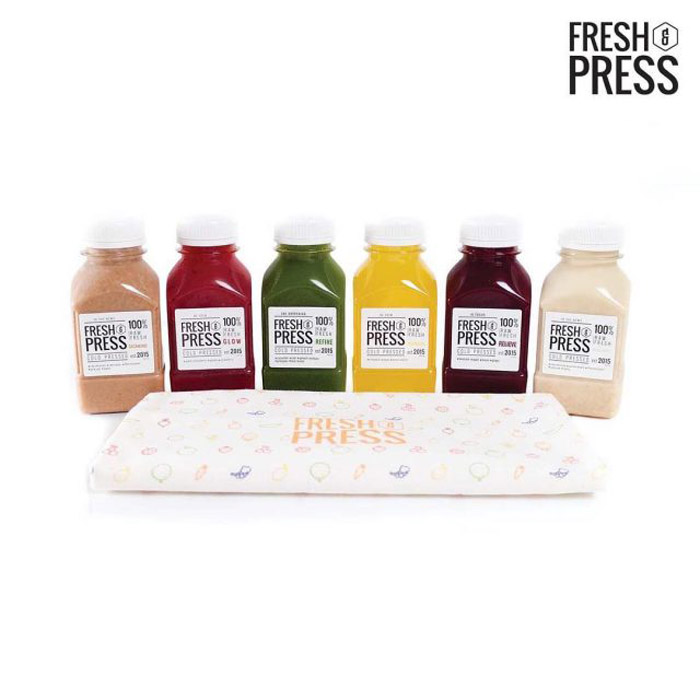 Fresh and Press guarantees that all of their production ingredients are quality and fresh because they work directly with local farmers and reliable suppliers. Each bottle contains real ingredients without preservatives and is packed with live enzymes and phytonutrients, natural compounds produced by plants and good for health. 
Some juices you can choose from include Boost, Balance, Refine, Elevate, Relieve, Remedy, Heal, Neutralise, Hydrate, Glow, Purify, Revive, Almond, Black lemonade. For each bottle, the price is about Rp. 32.000 – 60.000.
Main Address: Jalan Pluit Karang Timur Blok A5 Selatan No. 2B, Jakarta Utara 14450, Indonesia
Phone: 081 163 67337
Whatsapp: 081 163 67337
Medan: Jalan Kolonel Sugiono No. 11A, Medan, Sumatera Utara 20151, Indonesia
Phone: 081 165 67337
Whatsapp: 081 165 67337
Website: https://freshandpress.com/ 
Instagram: https://www.instagram.com/freshnpress/ 
Have you tried any of these juices? Tell us what you think in the comment section below!