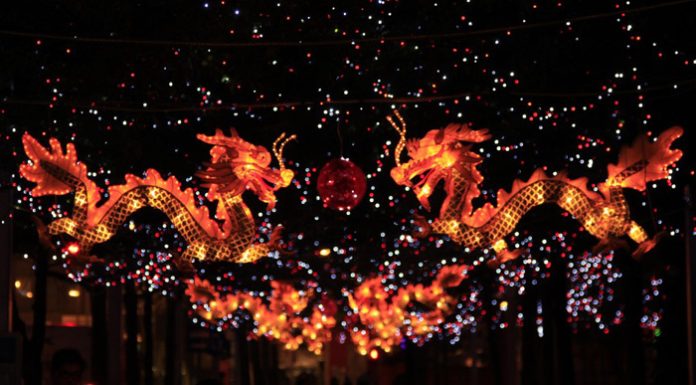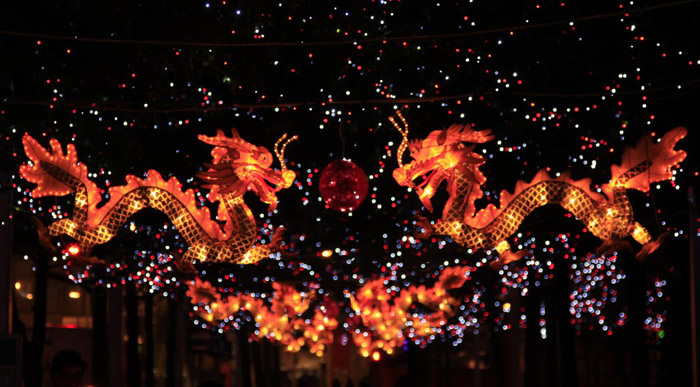 Are you curious to know how Lunar New Year is celebrated across Indonesia? Chinese-Indonesian citizens constitute 3% of the total population and yet preserve and celebrate this tradition in a large country with diverse ethnicity and languages.
Similar to Eid Mubarak, the homecoming tradition is nurtured with Chinese-Indonesians returning to their hometown to gather with families and relatives. During celebration, they decorate lanterns, perform prayers and do pilgrimage to ancestral tombs, serving mooncakes, and ang pao to younger family members.
Chinatowns, Shopping centers, hotels, and tourist destinations are all set up in reds and traditional performance Barongsai dances, to showcase Lunar New Year. Vibrant harmony mingles with the richness of local Indonesian traditions.
Here are 6 Lunar New Year Festivals across Indonesia
Cap Gomeh Street Festival, Bogor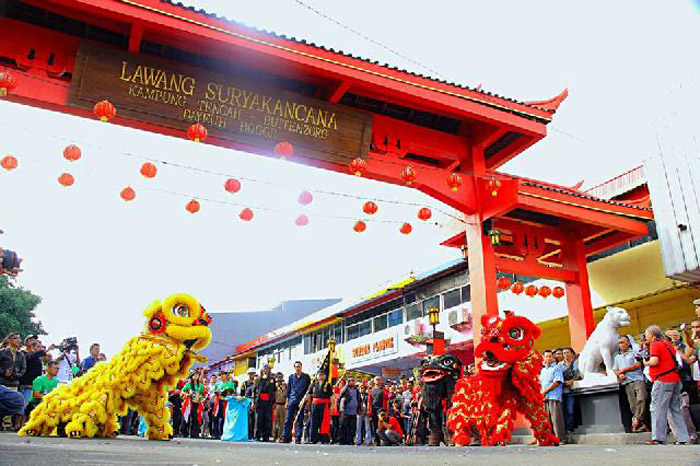 Visiting Bogor is really special during Lunar New Year celebrations. The largest folk festival, Cap Gomeh Street Festival, ongoing for 100 years takes place around Surya Kencana Street and Siliwangi area. Be entertained by the ten thousand performers in assorted cultural performances and local art attractions such as Sisingaan, Gambar Kromong, Tanjidor, and lots more!
This festival has grown into a significant symbol of Bogor's pluralistic society as it belongs not only to the Chinese-Indonesian in Bogor but also for Bogor community. Attend the red and white flag carnival, stretcher procession of Eyang Raden Suryakencana, God Tek Tjeng Sin, Goddess Kuan Yin, and God Kwan Kong, bodyguards' procession of Kie Lin, also Barongsai dance.
Chinese Cultural Week at Ketandan Chinatown of Malioboro, Yogyakarta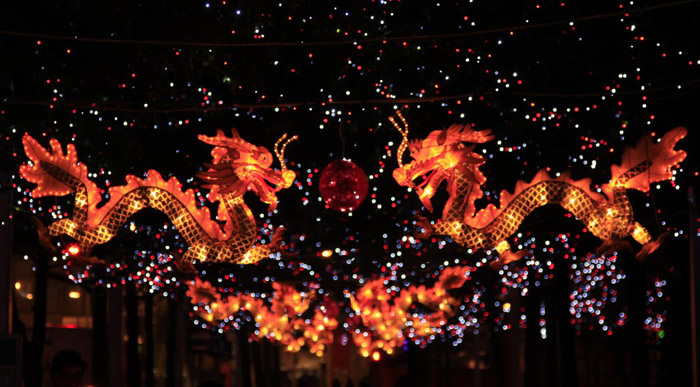 Yogyakarta is indeed an exceptional destination. A Chinese Cultural Week is held at the 200-year-old Chinatown of Ketandan, Malioboro for Lunar Year. Enjoy their typical Cap Go Meh and exclusive souvenirs at the festival.
Look up the Jogja Dragon Festival for dozens of stunning Barongsai parade and dance along the Malioboro street, where Cultural Carnival is also organized.
Lunar New Year Cultural Gathering, Lombok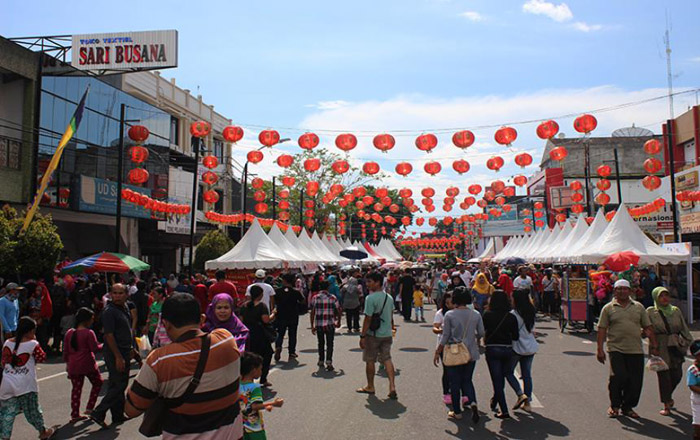 Since 2016, the Chinese-Indonesian community centered in Cakaranegara, Mataram arrange a festival  Lunar New Year Cultural Gathering, where you will be treated with 5000 Chinese basket cakes and 1000 portions of Cap Go Meh rice cake.
Enjoy art performances from China, as well as enchanting regional dance and magic performance from Sumbawa, Sasak, and Bali. All this in the famed natural beauty that Lombok provides.
Cap Go Meh Festival, Singkawang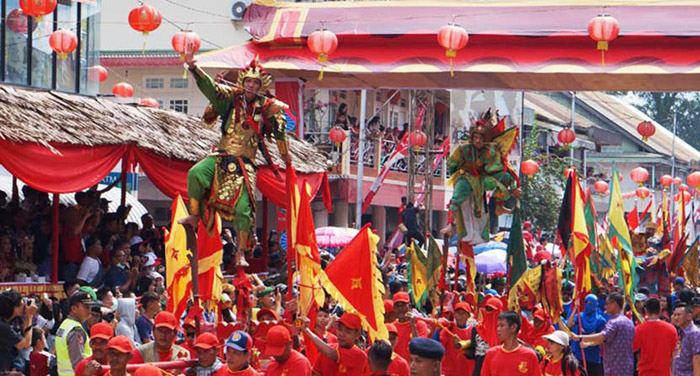 Singkawang is a small city in the Province of West Kalimantan but renowned for their Cap Go Meh Festival, the biggest among cities in Southeast Asia. Tens of thousands of visitors join this festival scheduled for 15 days after Lunar New Year. The Parade of Tatung, is a much awaited agenda in festival to behold.
Tatung (person experiencing to be possessed by god's spirit or ancestors') is believed to ward off evil spirits from entire city. The Tatung appears in clothes smeared with blood and face pierced by sharp objects. You can also see ethnic Dayak groups participate as Tatung for an incredible experience.
Semawis Lunar Traditional Market Festival, Semarang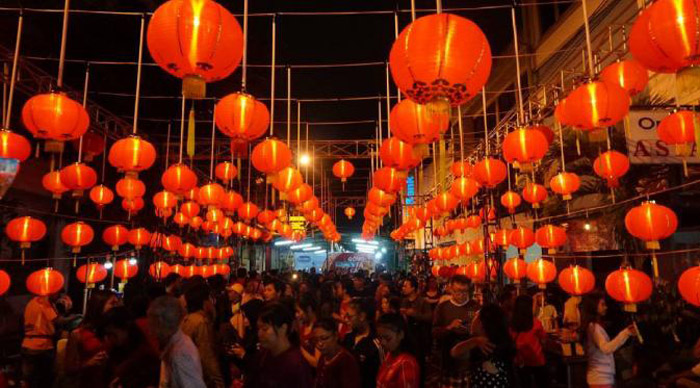 Weekends are perfect to visit Semarang. At night, explore the lively Semawis Traditional Market Festival, adorned by lanterns and red Lunar New Year decorations. A stage featuring Wayang Potehi, Gambang Semarang, jipin, twa kok djwee, Barongsai, Toyo game, wushu and typical art of local Chinatown pagoda is specifically built within the market.
Semawis Traditional Market Festival allows you to taste Chinese and Indonesian cuisine from porridges, Nasi Goreng Babat, Babat Gongso, shaved ice drink, Gudeg Rice, Pindang Rice, beef/pork satay etc. Shop for jewelry and jade from China. Lunar New Year Celebrations this year coincides with the commemoration of 600 years Admiral Cheng Ho arrival in Java.
Grebeg Sudiro Festival, Solo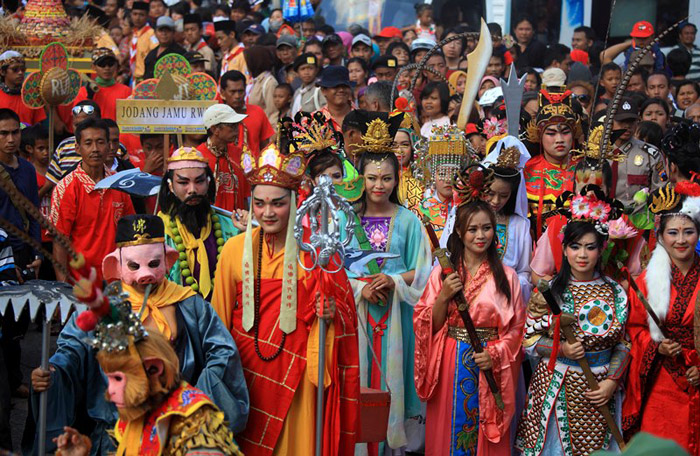 Grebeg is a specific Javanese tradition to embrace certain important days in Javanese society. Grebeg Sudiro itself takes place in Sudiroprajan Village where Chinese and Javanese have lived in harmony for centuries, centered in Gede Market, Solo.
Get involved in exciting Chinese basket cakes fight, thrown from Gede Market along with thousand local people! Festival of Grebeg Sudiro is regularly scheduled every 7 days before Lunar New Year and the finale is an exuberant firework festival.