"The Sari, it is said, was born on the loom of a fanciful weaver. He dreamt of a woman, the shimmer of her tears, the drape of her tumbling hair, and the colors of her many moods and the softness of her touch. All these he wove together. He couldn't stop. He wove for many yards. And when he was done, the story goes; he sat back and smiled and smiled and smiled."
One of the earliest depictions of a Sari-like drape covering the entire body dates back to 100 B.C. A North-Indian Terracotta depicts a woman wearing a Sari wound tightly around her entire body in the trouser style.
This elaborate body-hugging style represented in the terracotta may have evolved among India's temple dancers in ancient times to allow their limbs freedom of movement while at the same time maintaining their standards of modesty.
The biography of the garment could fill volumes. Its history dates back to the Bronze Age Indus Valley civilization, it is mentioned in ancient Hindu texts like the Mahabharata. There are countless variations on how to wear it – hitched up between the legs like trousers, wrapped around you like a dress, or twisted and tied like a sarong – and each region in India proudly boasts its own specialty weave. What makes the sari especially unique is that throughout history its structure has remained essentially the same – a five, six or even nine yard-long piece of woven fabric.
Here are some of the best known sari from the various parts of India know for their distinctive beauty and style.
Kanjeevaram Lets begin with the most famous bridal sari of South India. Kanjeevaram basically comes from a place called Kanchipuram in Tamil Nadu. The surrounding area is rich with ancient weaving tradition – most famous is the richly brocaded Kanchi silk sari. Wide borders of colored threads or zari with striped 'pallus' woven in a simple tribal style are hallmarks of this style. Fashion demands have varied the style palette of the region and the Kanchipuram weavers are now producing modern as well as ancient designs and sometimes an interesting mix of the two.
Kanchi silk is generally handspun, giving the cloth a slightly variegated sheen, but much less textured. The gauge varies a bit, but the classic Kanchi silk is a heavier gauge and fabled to last a lifetime.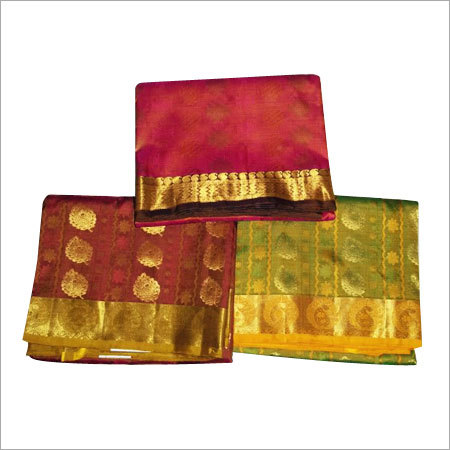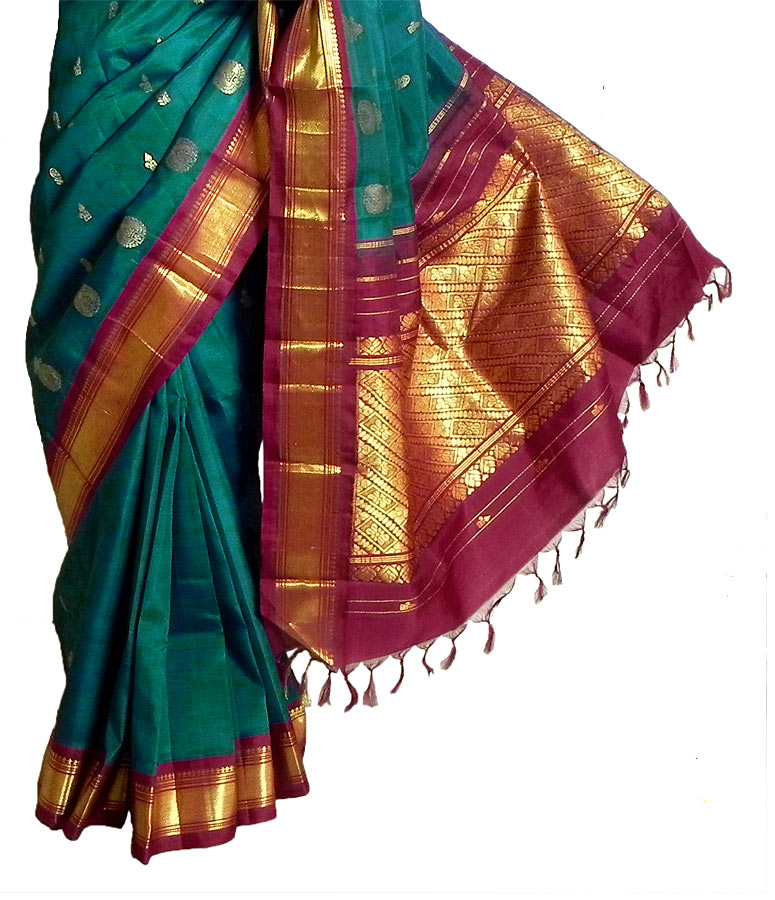 Dhakai One of the most exquisite cotton sari in India originated in Dhaka, Bangladesh. But now, the zamdani work of the sheer cotton sari is done in West Bengal too.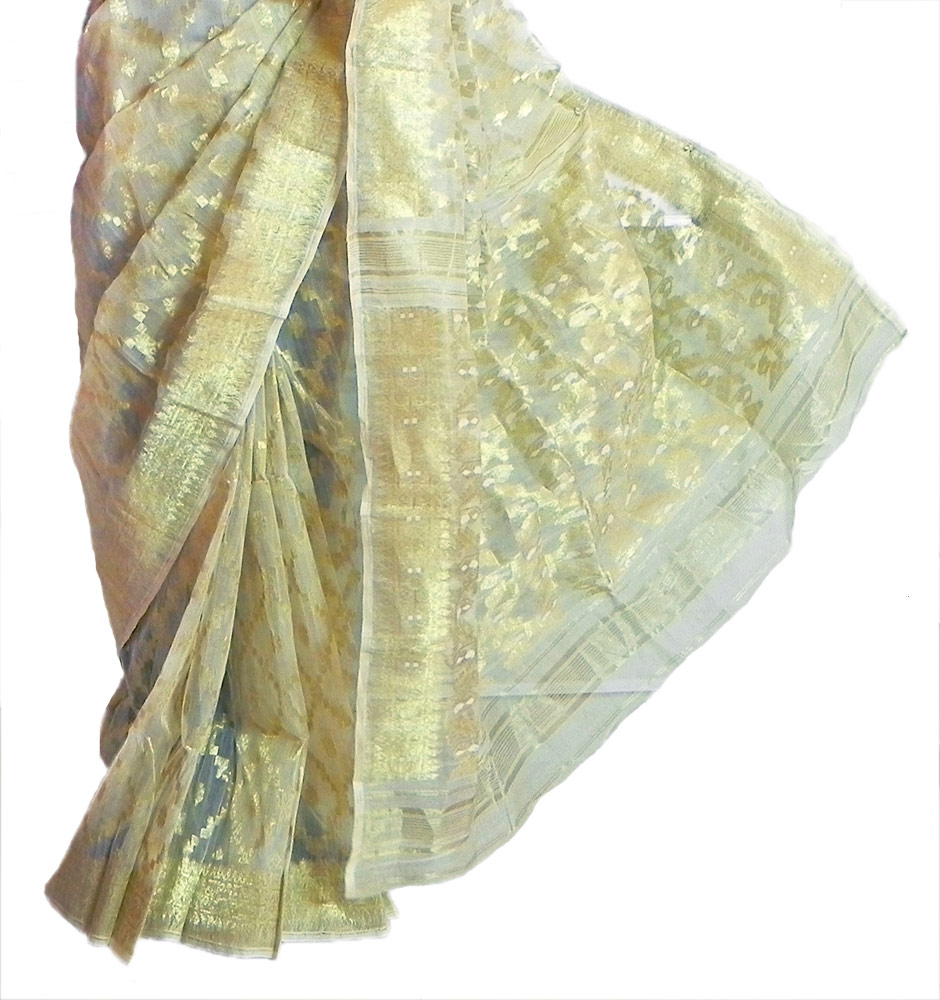 Paithani is the famous sari of Maharashtra. It is said that in the time of the great Maratha kings, real gold thread was used to embroider these saris.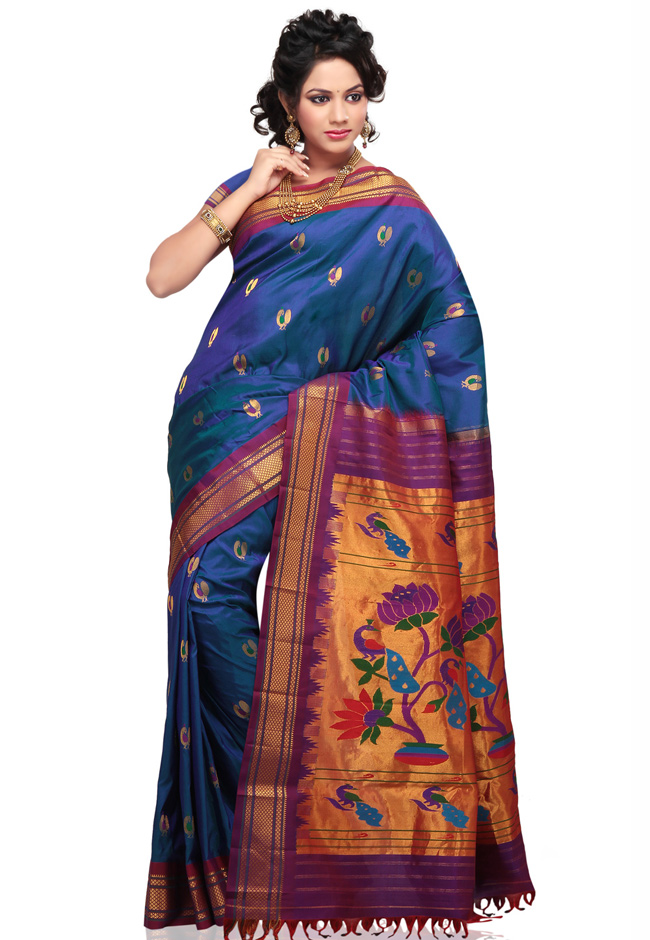 Sambalpuri These are both silk and cotton sari that are made in the Sambalpuri style. This style of embroidery comes from a small place called Sambalpur in Orissa.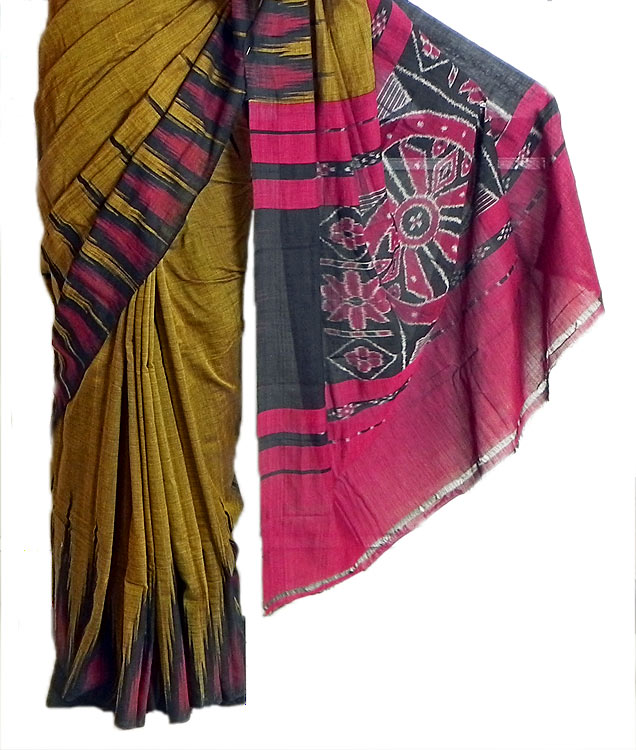 Assam Silk (Moga) The state of Assam produces the best silk in the country. They are famous for weaving delicate gold coloured Moga silk and have their own style of threadwork as well.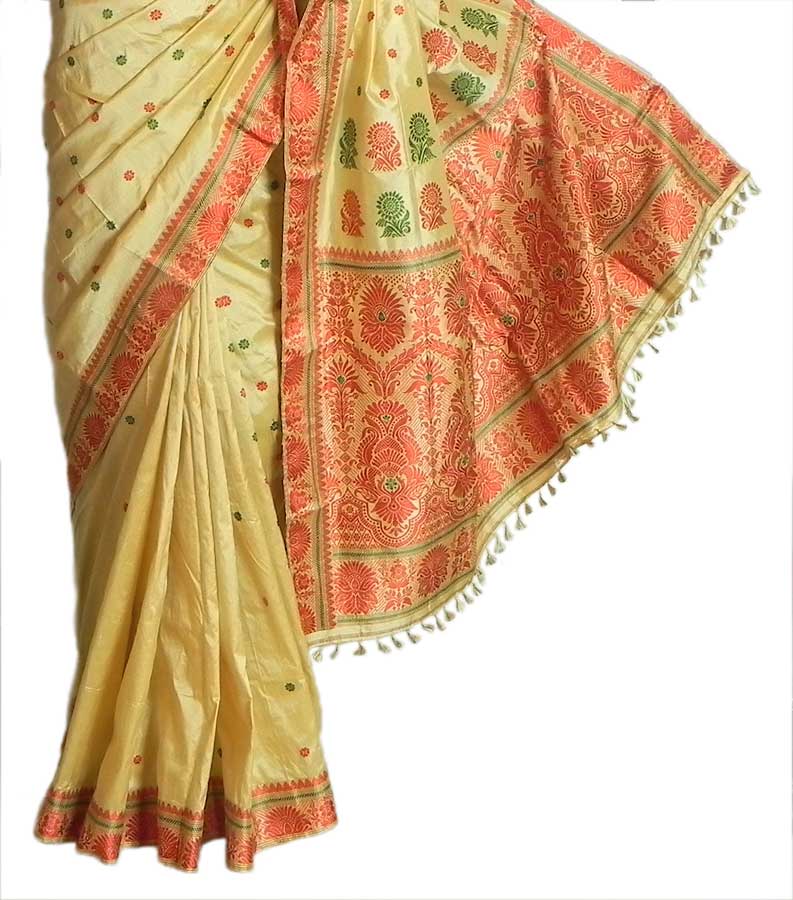 Banarasi Brocade silk saris are famous because of their colours and texture. These saris often have heavy golden embroidery and are popular bridal sari in North India. The famous Varanasi sari has elaborate brocaded ornament, often infused with gleaming zari and woven on very heavy gauge silks. The ornament style associated with it is primarily Persian. Delicate floral and architectural ornaments, figures and animals rendered in detailed multi color threadwork lend the sari its elegance.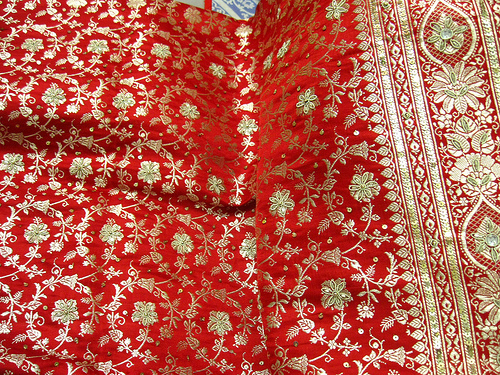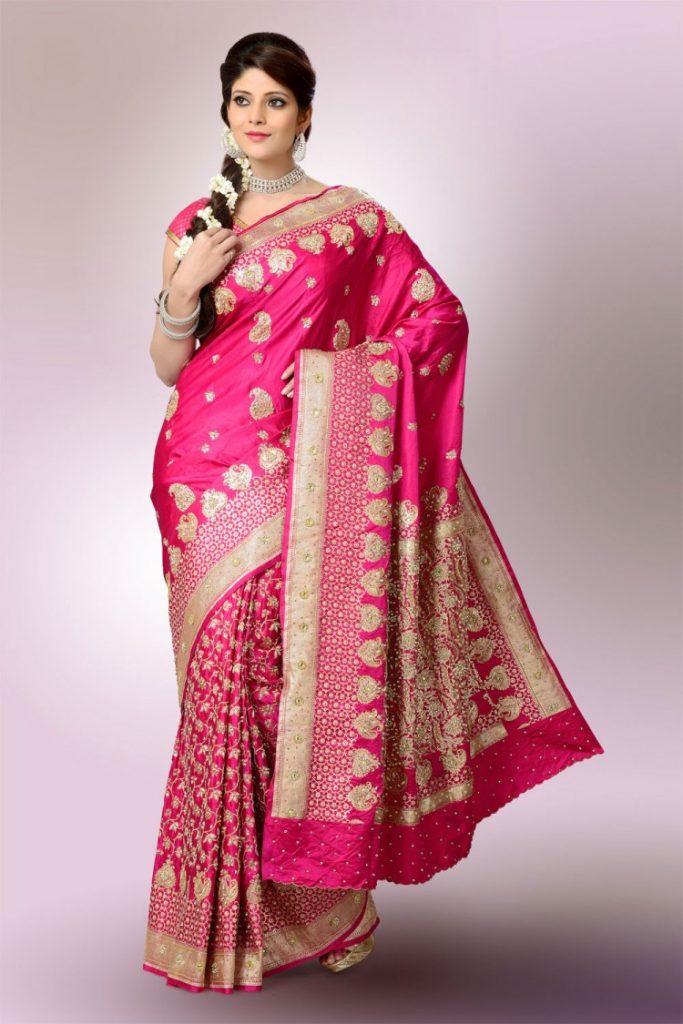 Pochampally When it comes to cotton sari, you will find few others as vivid as Pochampally sari. They have earthy colours and metrical block prints. Pochampalli ikats can be differentiated from their cousins in Orissa by their feel. Pochampalli cloth is smoother than the flannelly Orissa cloth and not quite as heavy. Bold ornament often will all over field work lend these saris their unique vibrancy – great for everyday wear or for adorning a room. This sari collection features ikat ornament made with both warp and weft patterned borders and weft patterned fields.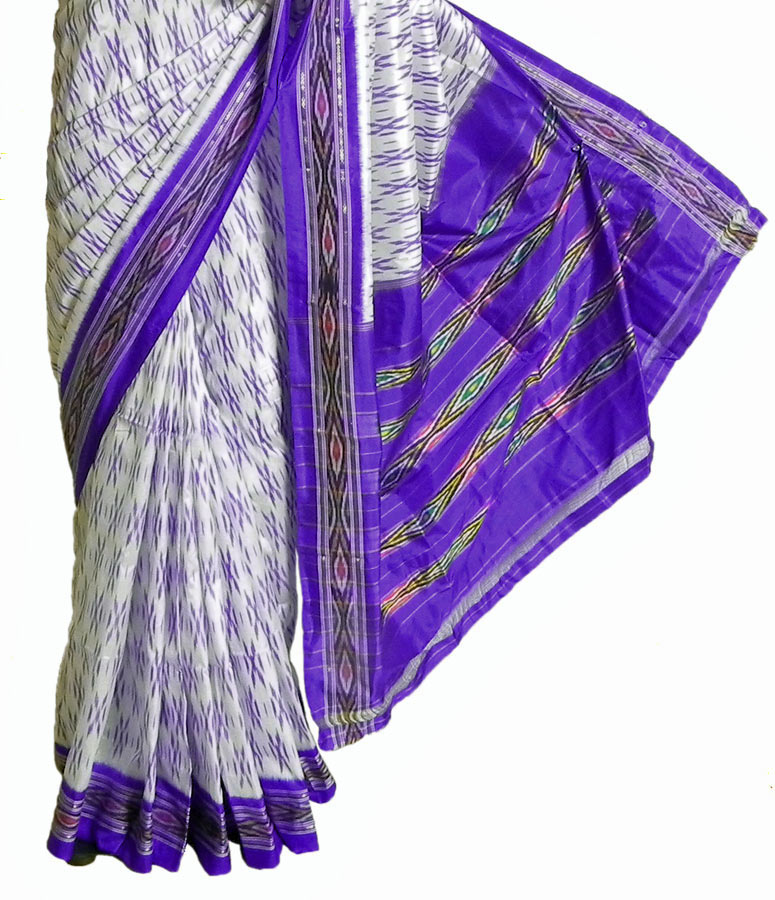 Gota Sari is a special kind of lace border that is attached to the edges of the sari. This kind of work is found in Rajasthan and Uttar Pradesh.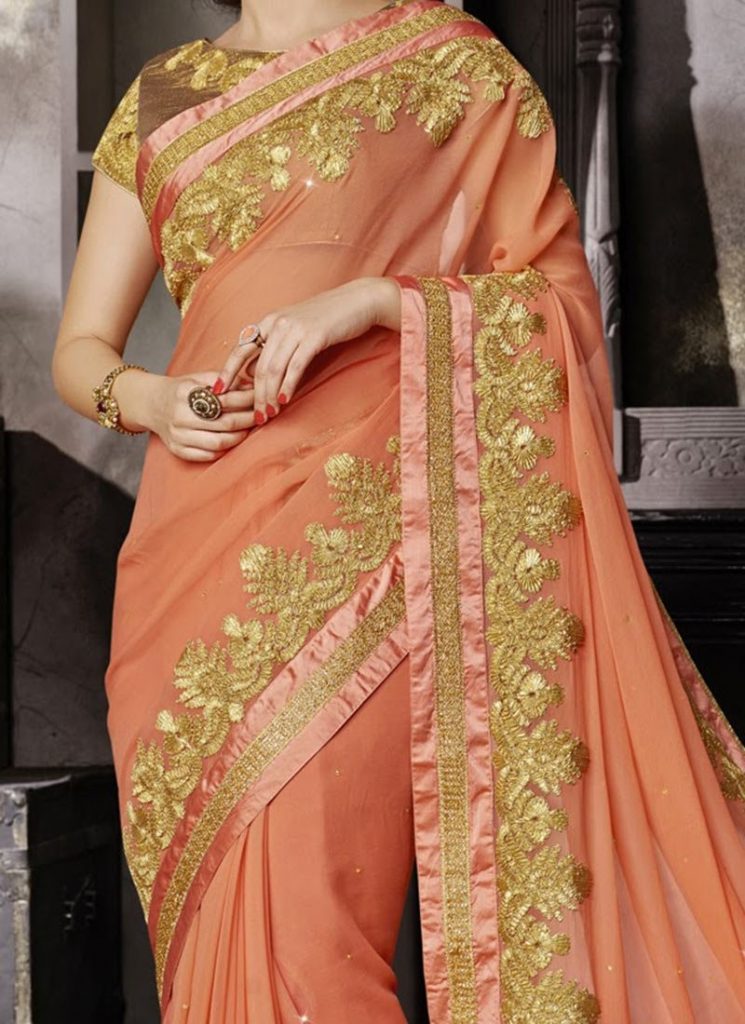 Chanderi is a variety of tissue silk that is so fine that it is semi transparent. Madya Pradesh is famous for producing these elegant pieces of masterful art.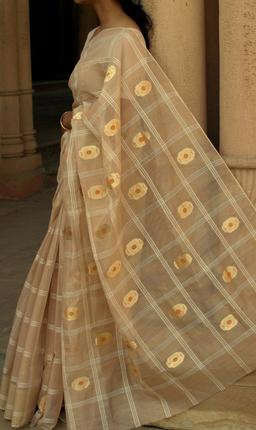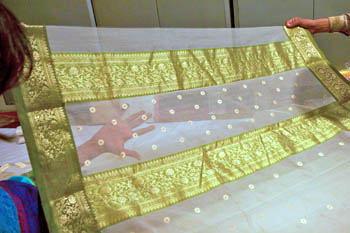 Bomkai Sari is from the tiny village of Bomkai in Orissa known for producing handwoven sari that would take your breath away.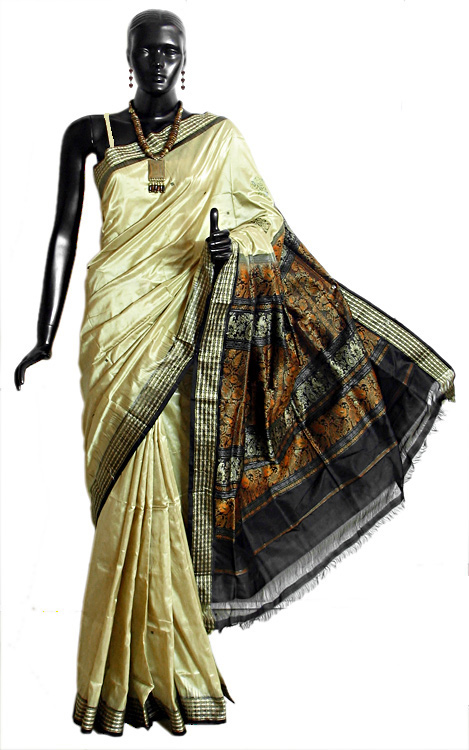 Tant Sari is crisp cotton sari from Bengal. The specialty of this sari is that it is stiffly starched and contains excellent workmanship.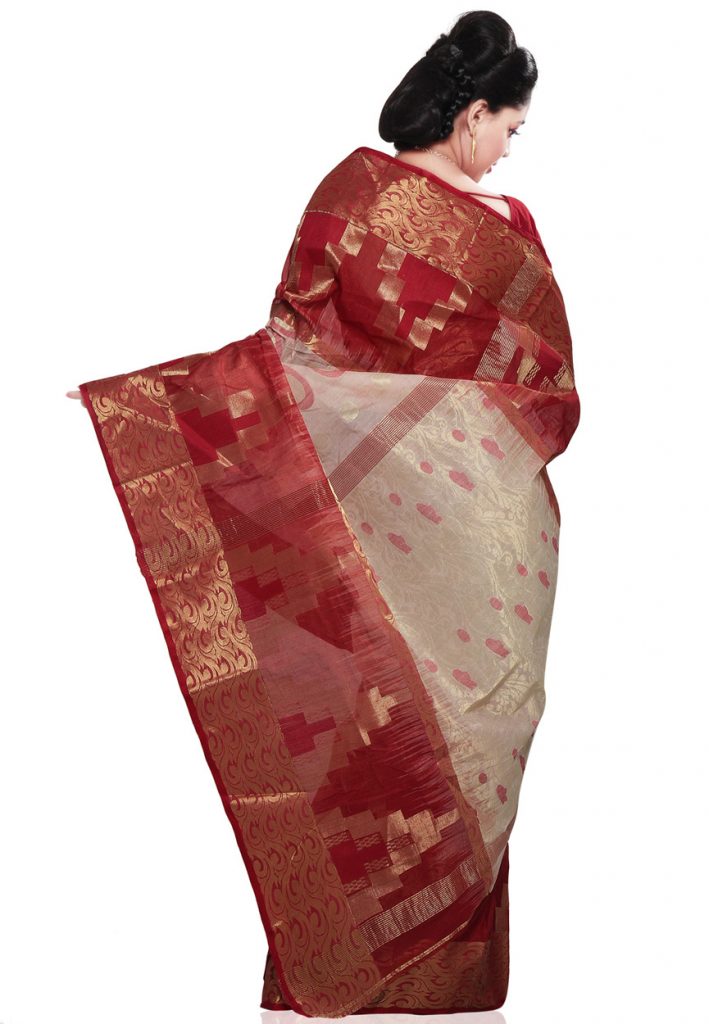 Kota Doria sari are perfect for the turgid heat of the Rajasthan desert, which has inspired this mesh like cloth that is so airy – it's like wearing a fan. Hand loomed Kota Doria sari in pure cotton are a rare find. There are many varieties of machine loomed Kota fabric, which is also soft cloth with an airy feel that picks up the slightest breeze.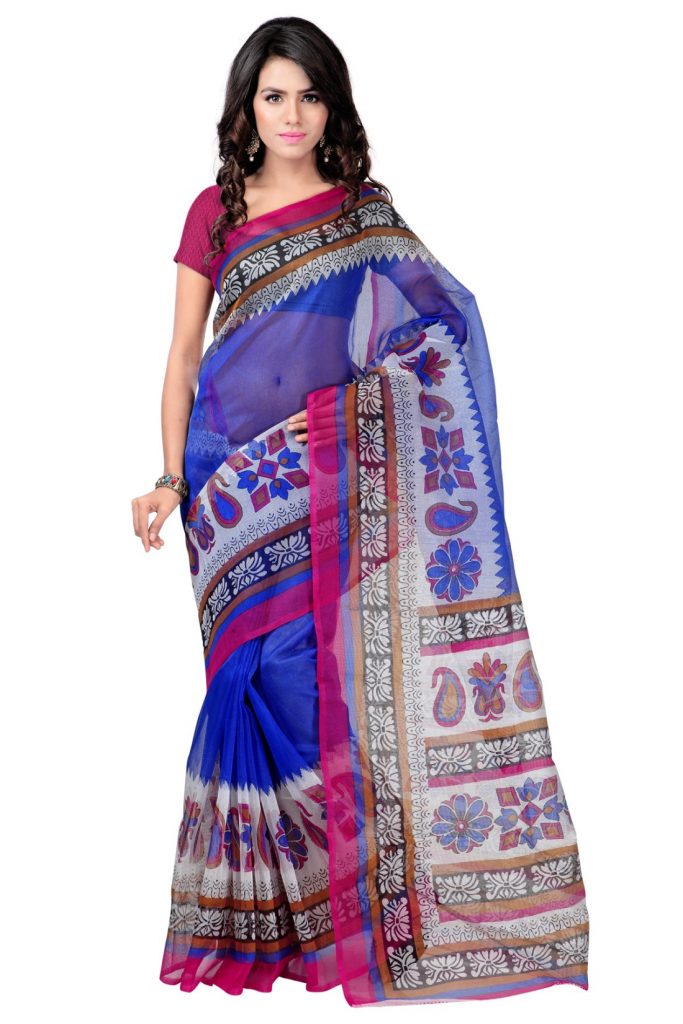 Kotki sari from Orissa can be recognized by the jagged temple patterns on them.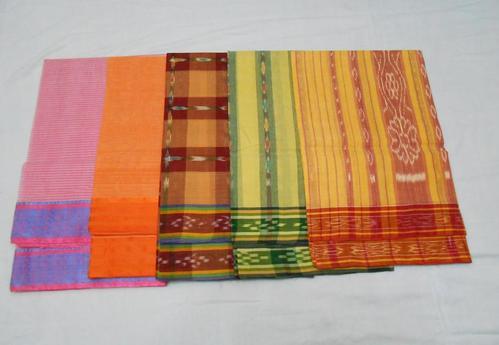 Tussar Silk Sari with its distinctive golden haze and light weight is from Madhya Pradesh. The latest jewel is the Pashmina sari, which is a blend of wool and tussar silk with combinations of threadwork and bagh printing.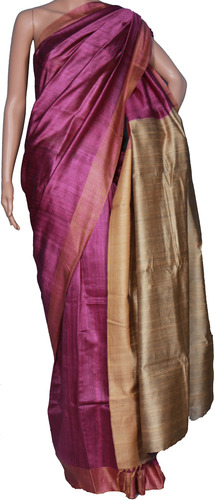 Vafta sari, produced in Madhya Pradesh is an angelic blend of silk and cotton. The light grounds have a lovely golden haze from the silk warp. The drape is as comfy and lofty as cotton but has the dazzle of silk. These are very finely printed in subdued colors using traditional block printing.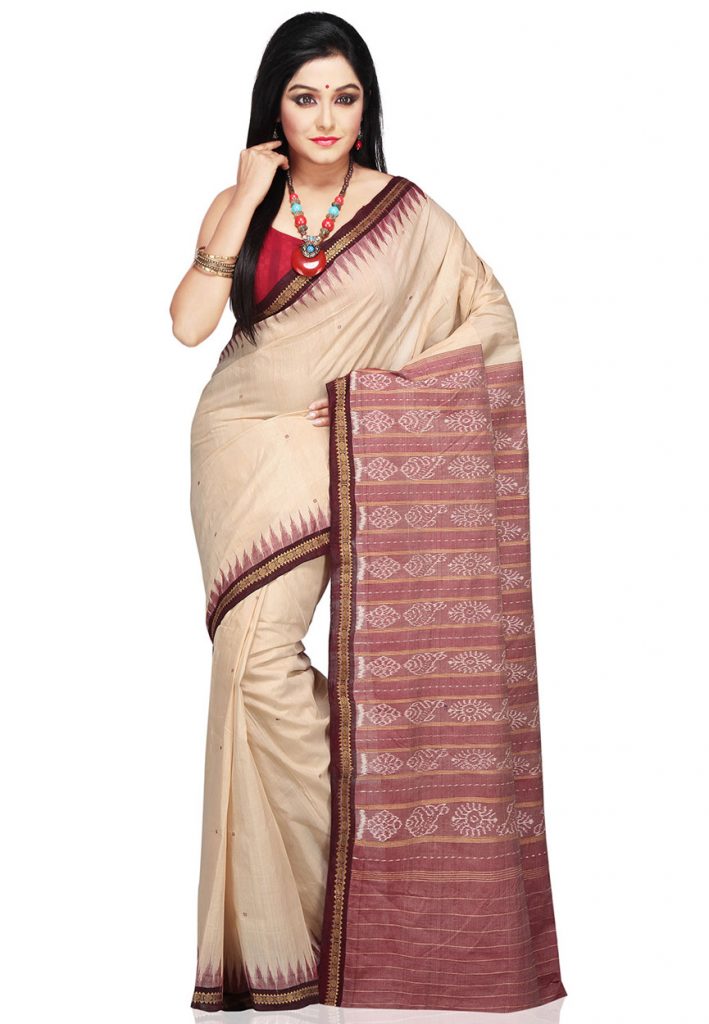 Baluchari saris have detailed figures, animals and architectural scenes are depicted on these sari. The classic Baluchari has scenes from the religious epics of India. Wide borders feature repeat motifs from the pallu, often densely woven vignettes arranged in sections across the cloth. The classic Baluchari sari of Bengal was woven on the same cloth as the Tant sari, but now with many regions weaving these style saris, you can have Baluchari style sari from anywhere.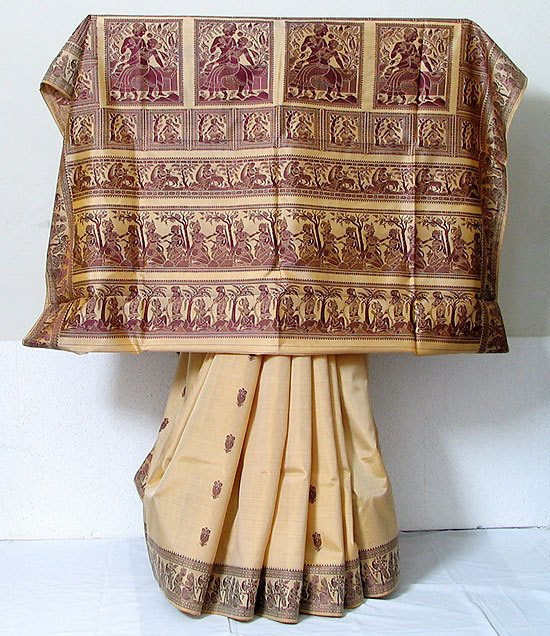 Orissa Ikat saris have adopted the ikat weaving tradition from the Patola area weavers of Gujarat, and are sometimes also referred to as Orissa Patola Ikat. Ikat patterning is done by first dying the threads according to the pattern layout. As the sari is woven the pattern emerges. It's never quite millimeter in sync giving it the delightful jaggy look that bestows ikat work some of its charm, as does it's bold geometric ornament, wide temple style borders all rendered in a uniquely Orissan tribal style.
The cloth is super fine and densely woven, with a slight flannelly touch. Its density and border weight give it a heavier drape that's a delight to wear.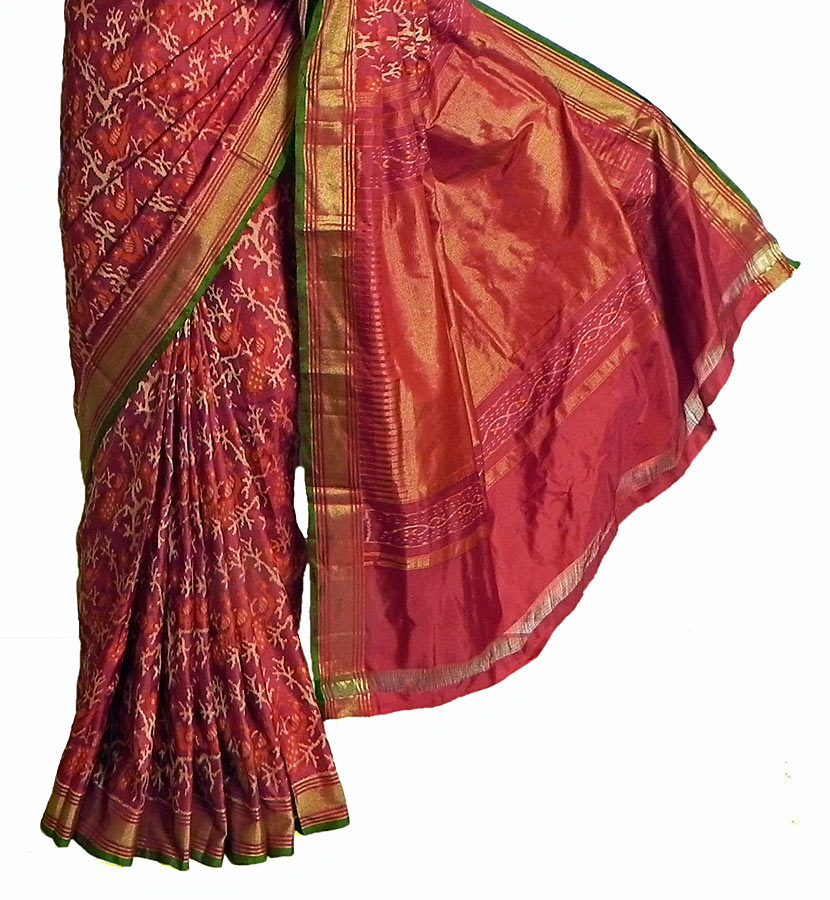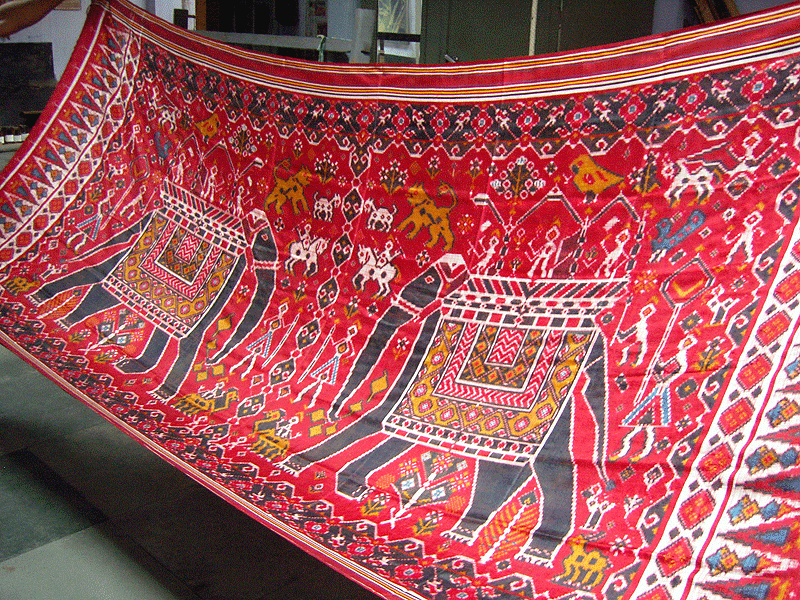 Venkatgiri saris from Andhra Pradesh are a crisp and lightweight cloth, woven with a shiny finish yarn in very fine gauge. When worn it is like a soft gossamer cloud about the body. The cloth stands apart not only in its distinct finish, but also in the subtlety and style of its ornament, often with wide bold zari and threadwork borders. Venkatgiri 'pallus' are generally bold and simple to match the borders, but the high end range has elaborate and heavy zari brocade and buttees.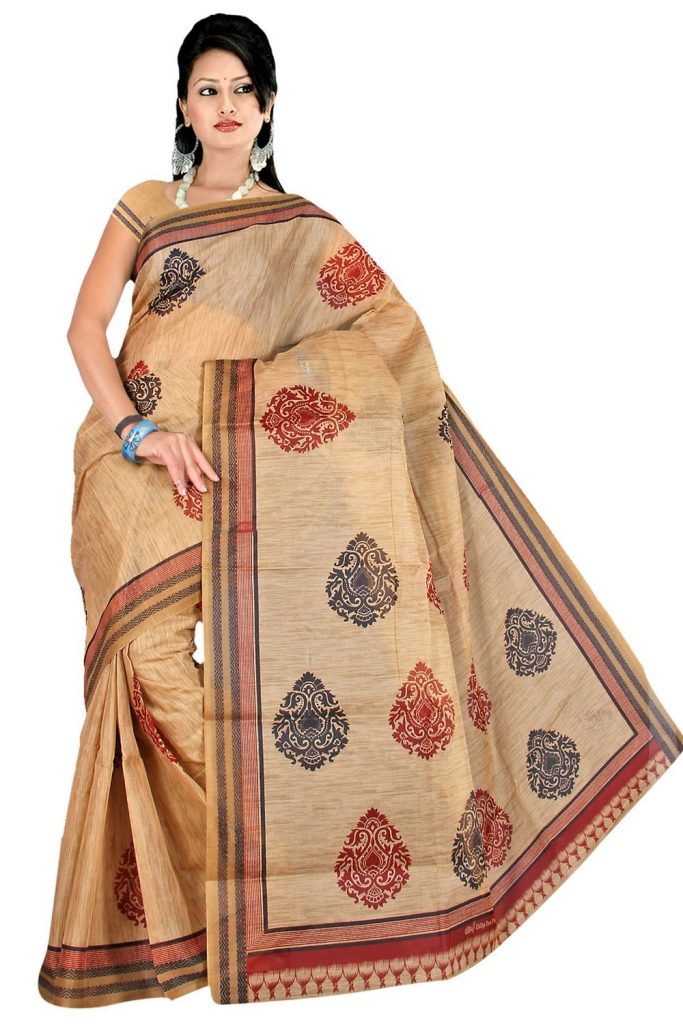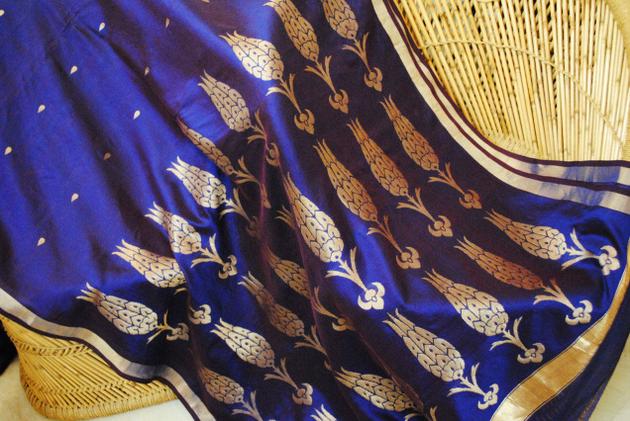 If you love traveling around India and end up in a state famous for its sari, then you will surely like to buy a couple or more.
Do share your favorite sari story with Indoindians…
By Poonam Sagar