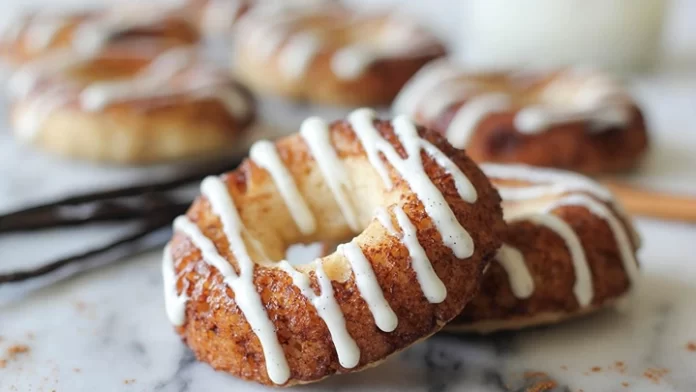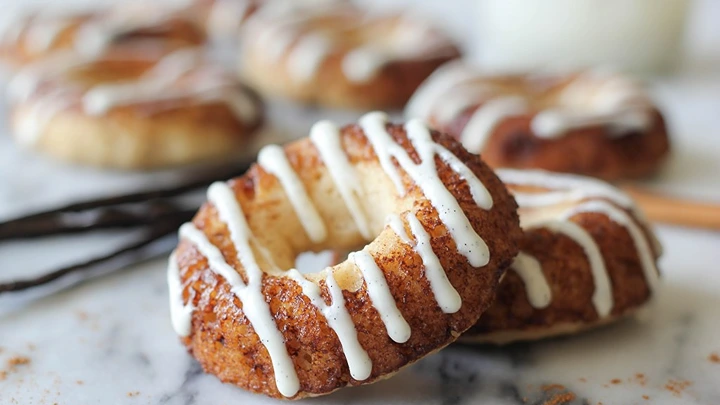 With a blend of the fragrant aroma of cinnamon and the savory taste of Greek yogurt, this Greek Yogurt Cinnamon Roll Donuts is a luxurious and healthy donut recipe.
Try this recipe to enjoy the perfect flavor packed in donuts:
Greek Yogurt Cinnamon Roll Donuts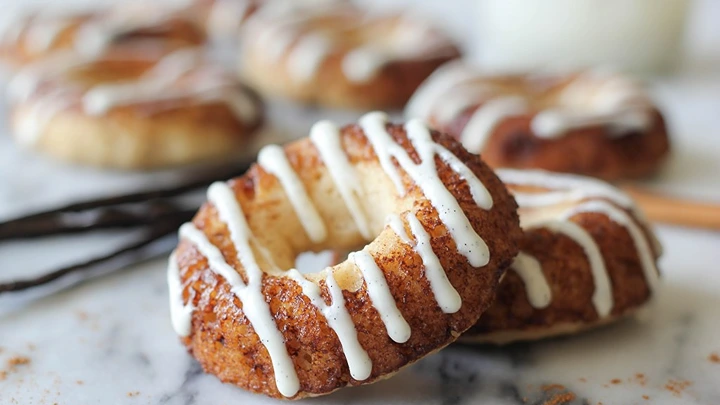 Ingredients:
3/4 cup of all-purpose flour
1/4 cup sugar
2 tablespoons cornstarch
1 teaspoon of baking powder
1/2 teaspoon cinnamon
1/4 teaspoon nutmeg
1/4 teaspoon salt
1/2 cup Greek yogurt
1/4 cup unsalted butter, melted
2 tablespoons of milk
1 1/2 teaspoons of white vinegar
1 large egg
For the Cinnamon Sugar:
2 tablespoons of unsalted butter
1/3 cup dark brown sugar, packed
1 tablespoon cinnamon
2 teaspoons of milk
For the Vanilla Bean Cream Cheese Glaze:
1/4 cup confectioners' sugar
2 tablespoons cream cheese, at room temperature
1-2 tablespoons of milk
1/2 vanilla (around 4.2 gr) bean, seeds scraped
Method:
To make the cinnamon sugar, melt butter in a small saucepan over medium heat. Stir in brown sugar, cinnamon, and milk. Bring to a boil; remove from heat.
Preheat the oven to 160 degrees C. Coat a donut pan with nonstick spray. Pour 1 teaspoon cinnamon mixture into each cavity, spreading it out in an even layer.
In a large bowl, combine flour, sugar, cornstarch, baking powder, cinnamon, nutmeg, and salt.
In a large glass measuring cup or another bowl, whisk together Greek yogurt, butter, milk, vinegar, and egg.
Pour mixture over dry ingredients and stir using a rubber spatula just until moist.
Scoop the batter evenly into the donut pan. Place into oven and bake for 7-8 minutes, or until donuts are slightly browned and spring back when touched.
In the bowl of an electric mixer fitted with the paddle attachment, beat confectioners' sugar, cream cheese, milk, and vanilla bean seeds on medium-high until smooth, about 1-2 minutes. If the glaze is too thick, add more milk as needed.
When the donuts are done, cool for 10 minutes and drizzle with glaze. Allow glaze to set before serving.
Are you ready to try this recipe as a side dish to drinking tea or as a beautiful party snack? Share what you think in the comments section below!